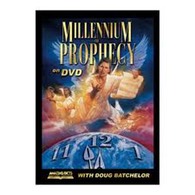 Scripture: John 1:29,Romans 3:23,Hebrews 9:22
                                    The Supreme Sacrifice
Who is the central figure of the book of Revelation? It is not the beast. It is Jesus Christ. The story of Abraham taking Isaac to a mountain to sacrifice him illustrates the plan of salvation. Echoes of the gospel come through the story. God the Father made the sacrifice of having His only begotten Son come to die for the sins of the world. Here are presented the steps of salvation.
  The next Millennium of Prophecy presentation  - The Law of The King

These  DVD presentations are offered at Amazing Facts at the link below.
 http://www.afbookstore.com/item/i/DV-MPSET/n/Doug_Batchelor-Millennium_of_Prophecy_DVD_Set_by_Doug_Batchelo/
You can also view them at no charge at their site
http://www.amazingfacts.org/media-library/media-archives/t/millenium-of-prophecy/sq/3/o/17/th/c.aspx#