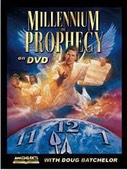 Scripture: Amos 3:7,Acts 2:17,Matthew 7:15
                                                                 Proving the Prophets
What is prophecy? Are there prophets? Can we believe what the Bible says about the future? People are extremely interested in prophecy. How do we know between true and false prophets? We ought to be suspicious if a prophet charges a fee for their work. There are tests for prophets in the Bible.
The next Millennium of Prophecy presentation  -  A Jar of Oil
These  DVD presentations are offered at Amazing Facts at the link below.
 http://www.afbookstore.com/item/i/DV-MPSET/n/Doug_Batchelor-Millennium_of_Prophecy_DVD_Set_by_Doug_Batchelo/
You can also view them at no charge at their site
http://www.amazingfacts.org/media-library/media-archives/t/millenium-of-prophecy/sq/3/o/17/th/c.aspx#