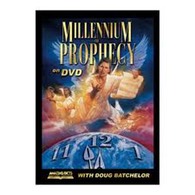 Scripture: Daniel 3:1-30,Revelation 13:1
                                                                              Bowing to Babylon
What is the first beast of Revelation 13? This sermon speaks about Babylon and what it represents in Scripture. The basis of this sermon comes from Daniel 3 and the golden image of Nebuchadnezzar. There are actually two beasts spoken of that are world powers that combine government and religion.
The next Millennium of Prophecy presentation  -  The Mark of Cain

These  DVD presentations are offered at Amazing Facts at the link below.
 http://www.afbookstore.com/item/i/DV-MPSET/n/Doug_Batchelor-Millennium_of_Prophecy_DVD_Set_by_Doug_Batchelo/
You can also view them at no charge at their site
http://www.amazingfacts.org/media-library/media-archives/t/millenium-of-prophecy/sq/3/o/17/th/c.aspx#