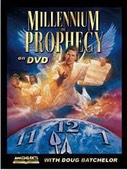 Pastor Doug's Testimony 
Here is the personal testimony of Pastor Doug Batchelor and how God brought him from a life of despair into a relationship with Jesus Christ. Growing up in primarily a nonChristian home, living a life of crime, drugs, and running away, Doug eventually found himself living in a cave up in the mountains above Palm Springs where he found a Bible and met Jesus for the first time.

The next Millennium of Prophecy presentation  -  The Unsinkable Ship
These  DVD presentations are offered at Amazing Facts at the link below.
 http://www.afbookstore.com/item/i/DV-MPSET/n/Doug_Batchelor-Millennium_of_Prophecy_DVD_Set_by_Doug_Batchelo/
You can also view them at no charge at their site
http://www.amazingfacts.org/media-library/media-archives/t/millenium-of-prophecy/sq/3/o/17/th/c.aspx#