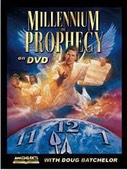 Scripture: 2 Kings 4:1-7,John 16:13,1 Corinthians 12:8-10
                                                                          A Jar of Oil
This sermon speaks on the topic of the Holy Spirit and the gifts of the Spirit. The story of the widow in Elisha's time who owed a large debt and was saved because of a miracle. The oil in the Bible represents the Holy Spirit. The Spirit leads us. We should never speak against the Holy Spirit.

The next Millennium of Prophecy presentation  -  Above the Crowd
These  DVD presentations are offered at Amazing Facts at the link below.
 http://www.afbookstore.com/item/i/DV-MPSET/n/Doug_Batchelor-Millennium_of_Prophecy_DVD_Set_by_Doug_Batchelo/
You can also view them at no charge at their site
http://www.amazingfacts.org/media-library/media-archives/t/millenium-of-prophecy/sq/3/o/17/th/c.aspx#