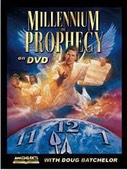 Scripture: Matthew 7:21,Romans 6:16,John 14:15
                                                                      Above the Crowd
This sermon on the apostle Peter teaches us to live above the crowd. A sincere disciple, he did not know himself. He betrayed Christ. But the Lord loved Peter and gave him victory. The Lord calls us to obey God rather than men. We can do good things for the wrong reasons.

The next Millennium of Prophecy presentation  -  Pastor Doug's Testimony
These  DVD presentations are offered at Amazing Facts at the link below.
 http://www.afbookstore.com/item/i/DV-MPSET/n/Doug_Batchelor-Millennium_of_Prophecy_DVD_Set_by_Doug_Batchelo/
You can also view them at no charge at their site
http://www.amazingfacts.org/media-library/media-archives/t/millenium-of-prophecy/sq/3/o/17/th/c.aspx#