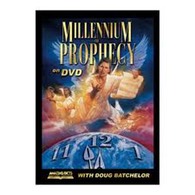 Scripture: 2 Kings 5:1-16,Colossians 2:12,Mark 1:9-10
                                                                                   River of Life
This subject is on getting a new beginning and how to be clean before God. It begins with the story of Naaman, the Syrian leper, who was healed when he washed in the Jordan. We too have the disease of sin and need cleansing. Baptism symbolizes this important step. Christ has given us an example and we ought to follow Him.
The next Millennium of Prophecy presentation  -  Resting The Land

These  DVD presentations are offered at Amazing Facts at the link below.
 http://www.afbookstore.com/item/i/DV-MPSET/n/Doug_Batchelor-Millennium_of_Prophecy_DVD_Set_by_Doug_Batchelo/
You can also view them at no charge at their site
http://www.amazingfacts.org/media-library/media-archives/t/millenium-of-prophecy/sq/3/o/17/th/c.aspx#