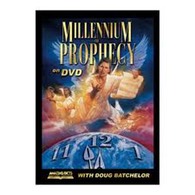 Scripture: Revelation 14:8,Revelation 17:18,Revelation 13:1-10

                                                      The Daughter's Dance
There are more than one mother-daughter teams in the Bible that persecuted the people of God. Jezebel is a primary example when Athaliah led the people to creep into idolatry. A woman in the Bible represents the church. There is a pure woman and an impure woman. Who are these women today?
The next Millennium of Prophecy presentation  -  Ten Times Wiser
These  DVD presentations are offered at Amazing Facts at the link below.
 http://www.afbookstore.com/item/i/DV-MPSET/n/Doug_Batchelor-Millennium_of_Prophecy_DVD_Set_by_Doug_Batchelo/
You can also view them at no charge at their site
http://www.amazingfacts.org/media-library/media-archives/t/millenium-of-prophecy/sq/3/o/17/th/c.aspx#