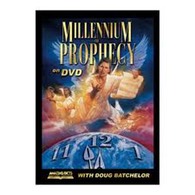 Scripture: Isaiah 14:12-14,Revelation 12:4-9,Job 1:6-12
                                                                    The Rebellious Prince
What is the origin of sin? Did God create a devil? Where did Satan come from? The story of Absalom lays a foundation for us to understand the story of Lucifer and his fall. Bible clearly teaches us that God did not create sin and Satan. Societies picture of the devil isn't what the Bible reveals.
  The next Millennium of Prophecy presentation  - The Supreme Sacrifice
These  DVD presentations are offered at Amazing Facts at the link below.
 http://www.afbookstore.com/item/i/DV-MPSET/n/Doug_Batchelor-Millennium_of_Prophecy_DVD_Set_by_Doug_Batchelo/
You can also view them at no charge at their site
http://www.amazingfacts.org/media-library/media-archives/t/millenium-of-prophecy/sq/3/o/17/th/c.aspx#