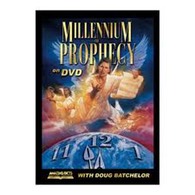 Scripture: John 14:2,Revelation 21:9-27,Matthew 5:5
                                                                     The Glorious Kingdom
The Glorious Kingdom begins with a study of Solomon and the zenith of Israel's history. God has prepared His kingdom that is even greater than Solomon's. Heaven is a real place and the Lord is preparing a place for us and will come back to receive us at the second coming of Christ.
The next Millennium of Prophecy presentation  -  The Witch of Endor

These  DVD presentations are offered at Amazing Facts at the link below.
 http://www.afbookstore.com/item/i/DV-MPSET/n/Doug_Batchelor-Millennium_of_Prophecy_DVD_Set_by_Doug_Batchelo/
You can also view them at no charge at their site
 http://www.amazingfacts.org/media-library/media-archives/t/millenium-of-prophecy/sq/3/o/17/th/c.aspx#