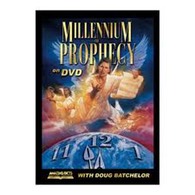 Scripture: Genesis 14:18,Numbers 18:21-24,Matthew 23:23
                                                                Windows of Heaven 
This sermon speaks about returning the stewardship of everything we have, recognizing God owns all. It speaks about returning a tithe of our income and giving offerings. We are in one of the most materialistic times in our world. The Bible has principles to lead us out of being debt free and living at peace.

The next Millennium of Prophecy presentation  -  The Daughter's Dance

These  DVD presentations are offered at Amazing Facts at the link below.
 http://www.afbookstore.com/item/i/DV-MPSET/n/Doug_Batchelor-Millennium_of_Prophecy_DVD_Set_by_Doug_Batchelo/
You can also view them at no charge at their site
 http://www.amazingfacts.org/media-library/media-archives/t/millenium-of-prophecy/sq/3/o/17/th/c.aspx#