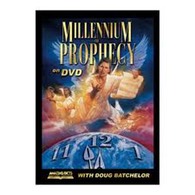 Scripture: Revelation 12:1-5,Revelation 12:13
                                                                   A Tale of Two Women
The Bible speaks of a true and false church using the illustration of two women. You can determine which woman is true and false by the clothes they wear. There are miracle baby boy births in Scripture which represent types of Christ. Why are there so many denominations?
The next Millennium of Prophecy presentation  -  Windows of Heaven
These  DVD presentations are offered at Amazing Facts at the link below.
http://www.afbookstore.com/item/i/DV-MPSET/n/Doug_Batchelor-Millennium_of_Prophecy_DVD_Set_by_Doug_Batchelo/
You can also view them at no charge at their site
 http://www.amazingfacts.org/media-library/media-archives/t/millenium-of-prophecy/sq/3/o/17/th/c.aspx#