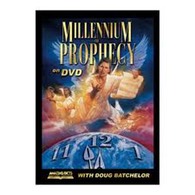 Scripture: Daniel 1:1-21,Genesis 1:29
                                                                        Ten Times Wiser
This sermon discusses what the Bible says about health. What was the original diet of mankind? Are there clean and unclean foods? God is concerned about our health because there is a strong connection between our minds and bodies. Our bodies are the temple of the Holy Spirit.

The next Millennium of Prophecy presentation  -  Voice in the Wilderness

These  DVD presentations are offered at Amazing Facts at the link below.
 http://www.afbookstore.com/item/i/DV-MPSET/n/Doug_Batchelor-Millennium_of_Prophecy_DVD_Set_by_Doug_Batchelo/
You can also view them at no charge at their site
http://www.amazingfacts.org/media-library/media-archives/t/millenium-of-prophecy/sq/3/o/17/th/c.aspx#