Articles at the top are listed as most recent news. However, because of the quanity of reports we are only posting - as of 2/27 - the headlines, with some text and, if possible, the link for further reading.
Promises of Hope
Be strong and of a good courage, 
fear not, nor be afraid of them: 
for the Lord thy God, 
He it is that doth go with thee; 
He will not fail thee, nor forsake thee.       
Deuteronomy 31:6

Fear thou not; for I am with thee: 
be not dismayed; for I am thy God: 
I will strengthen thee;
 yea, I will help thee; 
yea, I will uphold thee with the right hand 
of my righteousness.  
 Isaiah 41:10
...for He hath said, 
I will never leave thee,
 nor forsake thee. 
Hebrew 13:5
Trust in the Lord with all thine heart; 
and lean not unto thine own understanding.

In all thy ways acknowledge him, 
and he shall direct thy paths.

Proverbs 3:5,6
"For God has not given us the spirit of fear, 
but of power, and of love, and of a sound mind" 
2 Timothy 1:7

And I will deliver thee out of the hand of the wicked, and I will redeem thee out of the hand of the terrible.     Jeremiah 15:21
Read Psalms 91 for Hope and Promises
...Thus saith the LORD unto you, Be not afraid nor dismayed by reason of this great multitude; for the battle is not yours, but God's.  2 Chronicles 20:15
These things I have spoken unto you, that in me ye might have peace. In the world ye shall have tribulation: but be of good cheer; 
I have overcome the world.  John 16:33
Events continue to change- and we will attempt to keep up with the truth of this "situation" as we are able.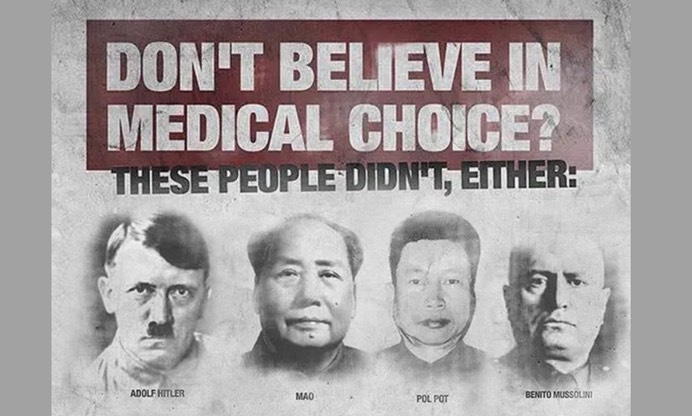 Orthomolecular Medicine News Service
There are indications that Ebola may be one of the next false flag events to be released in the US in 2020… 
UPDATE 11/25/20

Tedros, former communist Ethiopian terrorist, and now and the president of the World Health Organization (who's highest financial contributor is Bill Gates, the leader in world population reduction) recently "suggested" Ebola might make a comeback in the U.S. The day before Tedros stated this, a well known alternative news editor stated - a reliable insider revealed the same information.
This information HERE (same "HERE" as below) reveals the patent for Ebola - owned by the CDC. (FYI - you cannot patent a natural biological.)
UPDATE 1/29/20
The fast infecting Wuhan Corona virus is in the family that Ebola is also in.
It differs from other viral corona viruses  by the long incubation period. The infected host is asymptomatic but is also contagious for up to two weeks before symptoms are expressed. The mortality rate is around 11% according to Zero Hedge. Might it be possible that vitamin C could help fight the new 2020  Wuhan coronavirus?
There are some disturbing features of this corona virus from Wuhan. 
 Click HERE to read two recent articles on this topic.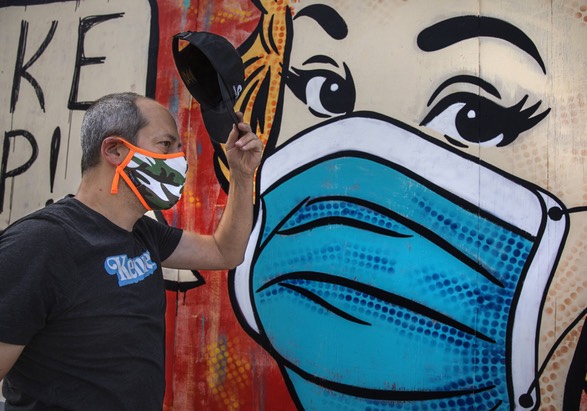 Masks Have No Significant Effect
November 23, 2020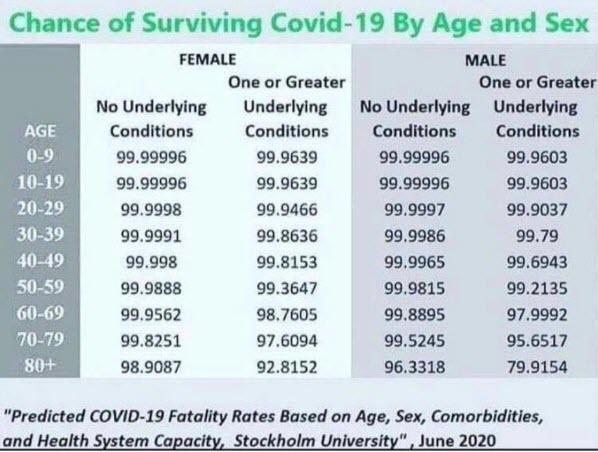 The Great Barrington Declaration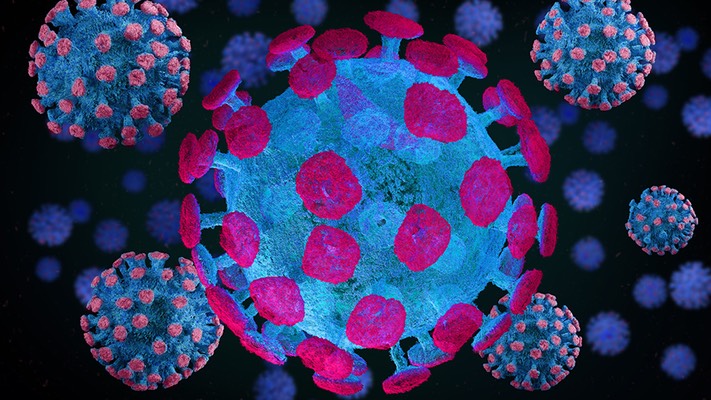 VACCINE DEATH WAVE: UK government posts bid for AI system to process the expected flood of COVID-19 vaccine injuries and side effects described as a "direct threat to patient life"
UNCENSORED AND INDEPENDENT MEDIA NEWS
November 16, 2020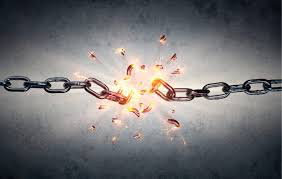 44,000 SCIENTISTS, PUBLIC HEALTH EXPERTS, AND CLINICIANS SIGN A DECLARATION THAT STATES LOCKDOWNS DON'T WORK
November 2020
Physicians:'Masks don't control viruses, 
the masks control you,' 
'The big deal is, they may be soft, and they may look okay, but this is George Orwell's boot on a human face forever if we don't get this off,' one doctor said about mask mandates.
The Cult Of The Brave New Normal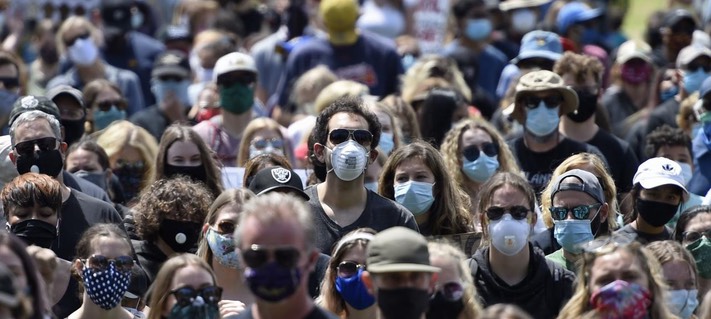 In March, it was just a three-week lockdown, to flatten the curve so as not to overwhelm the NHS. The narrative has quickly evolved. It has progressed from what seemed a reasonable idea of keeping NHS bed space free based on the completely false prediction that hospitals would be overwhelmed by patients suffering from COVID19.
October 26, 2020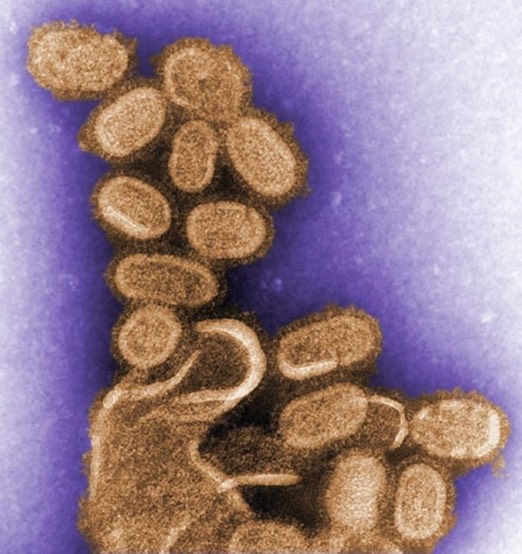 A colorized image of the 1918 virus  - the Spanish flu taken by a transmission electron microscope (TEM).
Covid-19 isn't a pandemic plan, it's an EXTERMINATION plan for humanity
Webmaster note: This seems so outlandish we could call this a conspiracy theory… (Term coined by the CIA)
We really considered if this should be posted - except, it has the appearance of coming true - ESPECIALLY when considering the Great Controversy between God and satan over the last also 6,000 years.
satan is an alien and enjoys the prospect of human elimination. This is evident throughout Scripture.
In Matthew 24:22 Jesus states:
And except those days should be shortened, there should no flesh be saved: but for the elect's sake those days shall be shortened.

Scripture is not mentioned in this article, yet there is a strong application to the time just before Jesus returns. Get ready, get ready!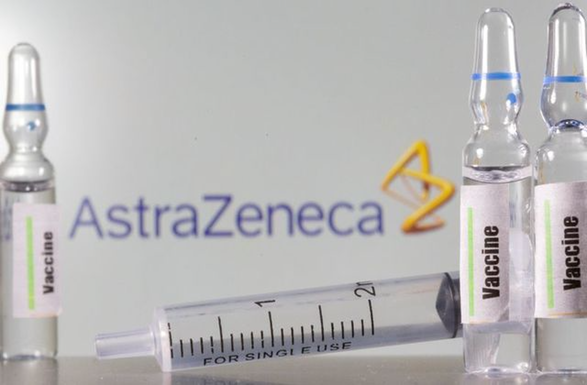 Volunteer in COVID-19 Vaccine Trial 
Dies: Health Officials
October 21, 2020

COVID-19 vaccine trial participant DIES…
 AstraZeneca downplays the death and 
continues the medical experiments on the
 remaining humans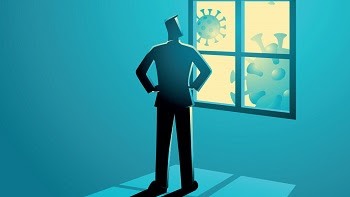 World leaders are planning new lock downs to introduce "The World Debt Reset Program" which includes universal basic income and vaccination requirements
October 2020

Are we being pushed into a One World System of Government?
Who benefits? Where is our Hope?
Coronavirus Directly Invades the 
[Webmaster note: Maybe]
Sept 10, 2020
NEWSMAX.COM
A new COVID-19 treatment developed in Ocala, Florida at AdventHealth

Coronavirus vaccine trial subjects report extreme exhaustion, shortness of breath, day-long headaches and shaking so violently that one of them cracked a tooth

October 1, 2020
UNCENSORED AND INDEPENDENT MEDIA NEWS
Vitamin C Treatment of COVID-19: Case Reports
by Andrew W. Saul and Doctor X
Many years ago, when I was first starting out in the natural healing field, a physician said to me, "You are lucky. You have no license to lose." When doctors are to be silenced, they are simply threatened with loss of their license to practice medicine. State licensing board attacks on physicians are private and administrative. Such proceedings never get to open court; they never get to a jury. It is all behind closed doors. The most effective instrument of compliance is a bureaucracy, not the judiciary.
And it works.
That is why I am publishing this series of 22 case reports from a board-certified specialist but without revealing the doctor's name. I want this physician to keep being able to practice and heal sick people.
Read them and decide for yourself about the merits of vitamin C against COVID-19.
47 y/o female with PMH (previous medical history) of anxiety, depression, hypothyroid presented with 11 day history of fatigue, dry cough, sore throat, muscle aches, SOB (shortness of breath), abdominal pain and loss of appetite. She tested positive for COVID and received 3 consecutive days of IV Vitamin C 25 grams. By day 3, fatigue, cough, SOB and appetite all improved.

63 y/o AAF (African American female) with PMH of sickle cell trait presented with 10 day history of fatigue, dry cough, sore throat, fever, muscle aches, congestion, headache, SOB, nausea. Patient was COVID positive and received 3 consecutive days of IV Vitamin C 7.5/25/25 grams. By day 3, fever and headache resolved. Fatigue, cough, aches, and SOB all significantly improved. 

35 y/o WM (white male) with PMH of HTN (hypertension, i.e. high blood pressure), high cholesterol, sleep apnea presented with 1 week of cough, DOE (dyspnea on exertion, i.e. gets out of breath with exercise), fatigue. Patient was COVID positive and received 3 consecutive days of IV Vitamin C 25 grams. By day 3, fever resolved, fatigue was improving, and cough and DOE significantly improved.

36 y/o WM COVID positive with no PMH presented with 4 day history of dry cough, chills/sweats, SOB and headache. Patient received 3 days of 25 grams of IV Vitamin C. By day 3, cough was still present and patient did have a loss of taste and smell but otherwise had no complaints.

66 y/o male COVID positive with PMH of asthma, DM (diabetes) HTN presented to the clinic with 9 days of fatigue, cough, body aches, sinus congestion, HA (headache), SOB, diarrhea, and loss of appetite. Patient received 3 consecutive days of IV Vitamin C 25 grams. By the end of day 3, fatigue, SOB, cough improved slightly,  and his aches, congestion, diarrhea and HA resolved.

30 y/o AAM (African American male) with PMH of HTN and DM presented with 2 week history of fatigue, sinus congestion, productive cough, SOB and loss of appetite. He tested positive for COVID the day before arriving to our clinic. Patient received 3 consecutive days of IV Vitamin C 25 grams. By day 3, fatigue and sinus congestion improved. His appetite was back to normal. Cough and SOB significantly improved and he was able to walk up stairs again.

19 year old WF (white female) with no past medical  history.  She tested positive for COVID. Symptoms of fatigue and sinus congestion have been present for 1 day.  She completed 3 days of vitamin C IV, 25 grams.  On day 3 she had no symptoms except for slight loss in sense of smell and taste. 

A 19 year old WM with a history of asthma and pertussis as a child.  He tested positive for COVID.  He has been having symptoms of fatigue, dry cough, sore throat, muscle ache , sinus congestion, headache, nausea, vomiting, diarrhea and loss of appetite for 4-5 days prior to visit.   He completed 3 days of vitamin C IV 25. By day 3 he had no symptoms and felt great. 

67 y/o WM with PMH of diabetes and hypothyroid presented with symptoms for 1 month including fever, fatigue, cough, body aches and headache. He tested positive for COVID 1 week prior to his arrival to the clinic. Patient received 3 consecutive days of IV Vitamin C 25 grams. By the end of the 3rd day, his fever, headache and body aches resolved, and fatigue and cough significantly improved.

60 y/o male with PMH of DM2 (diabetes type 2) presented with symptoms for 1 week. COVID positive. Symptoms included fever, fatigue, dry cough, muscle aches, congestion, headache, SOB, abdominal pain, and nausea. He also had chills/sweats and loss of taste and smell. Patient received 3 consecutive days of IV Vitamin C 25 grams. By the end of the 3rd day, his cough was slightly improved, headache was resolved, SOB improved, nausea improved, chills and sweats resolved, and taste and smell were coming back.

59 y/o AAM with PMH of HTN and COVID positive presented with symptoms for 3 weeks. Included fever, fatigue, headache, SOB, chills and sweats. Patient received 3 consecutive days of IV Vitamin C 25 grams. By the end of the 3rd day, fever resolved, fatigue and SOB and cough were all improving.

34 y/o WF with no PMH but COVID positive presented with 4 day history of back pain and HA that did resolve prior to her first IV. She completed 3 days of IV Vitamin C 25 grams and had no symptoms on day 3. 

43 y/o AAF with PMH of endometriosis fibroids and b/l PE (bilateral pulmonary embolism, i.e. blood clots in lungs) and COVID positive presented with symptoms for 8 days. These included fatigue, dry cough, sore throat, mild SOB, diarrhea, chest pain with coughing. Patient received 3 consecutive days of IV Vitamin C 25 grams. By the end of the 3rd day, fatigue, cough and sore throat and chest pain resolved and patient reported feeling much better overall.

38 y/o AAF with PMH of ADHD and COVID positive presented with 2 days of fatigue. Patient received 3 consecutive days of IV Vitamin C 25 grams. By the end of the 3rd day, her fatigue was improved and patient had no other symptoms.

45 y/o AAF with PMH of hypercholesterolemia and CVA (cardiovascular attack i.e. stroke) and COVID positive presented with symptoms for 2.5 weeks. These included fatigue, cough, HA, SOB, nausea, chest tightness, loss of appetite. Patient received 3 consecutive days of IV Vitamin C 25 grams. By the end of the 3rd day, patient reported improvement in fatigue, cough, SOB. Nausea resolved. Chest tightness was minimal. 

41 y/o WM with no PMH and COVID positive presented with 9 days of fatigue, dry cough, and headache. Patient received 3 consecutive days of IV Vitamin C 25 grams. By the end of the 3rd day, fatigue was improving, cough was minimal, and headache had resolved. 

A 67 y/o female with PMH of high cholesterol and COVID positive presented with 1 week of symptoms including fatigue, nausea, fever, and poor appetite. Patient received 3 consecutive days of IV Vitamin C 25 grams. By the end of the 3rd day, fever resolved and fatigue was improving.

A 65 y/o female with PMH of Hashimoto's disease, depression, and COVID positive presented with 2 weeks of fatigue, chest tightness, and poor appetite. Patient received 3 consecutive days of IV Vitamin C 25 grams. By the end of the 3rd day, chest tightness resolved and fatigue was improving and appetite was improving.

31 y/o female with PMH of asthma, anemia, and allergies, and COVID positive presented with 1 week of fatigue, dry cough, congestion, and loss of smell. Patient received 3 consecutive days of IV Vitamin C 25 grams. By the end of the 3rd day, smell had returned, appetite was much improved, congestion resolved, and fatigue resolved. Cough also resolved.

A 67 year old WM with past medical history of kidney stones.  He tested positive for COVID.  He started with symptoms of fever and fatigue. He completed 3 days of vitamin C IV, 25 grams.  By day 3 symptoms had improved and he was back to 95%.

A 38 year old WF with no past medical history.  She tested positive for COVID. She started with symptoms of  fatigue, dry cough, sore throat, muscle ache, sinus congestion and headache that have been present for 2 days prior to her appointment.  She completed 3 days of vitamin C IV 25 grams. By day 3 She felt much better and only had a mild sore throat and PND (Paroxysmal nocturnal dyspnea, i.e. difficulty breathing at night).

A 42 year old WM with no past medical history. Tested positive for COVID.  Symptoms started 10 days ago.  He started with fever and body aches.  He also developed nasal congestion, dizziness, PND and difficulty taking deep breaths.   He completed 3 days of vitamin C IV 25.  By day 3 he felt much better. He still had some fatigue and mild congestion, but overall he felt much better.  He is now able to take deep breaths without problems.
To sum up: Virtually all the above COVID patients received 25,000 mg of vitamin C intravenously for three days. They all recovered, and many recovered with spectacular rapidity. This information is being censored by the commercial news media. It is being kept off Facebook, Twitter, Google and YouTube. That is why OMNS has issued this release. As A. J. Liebling said decades ago, "Freedom of the press is guaranteed only to those who own one."
Withholding vitamin C treatment information from the public withholds it from the patient. We accuse the media of negligence. They can correct this at any time.
Until they do, we will do it for them.
September 27, 2020

'Rogue' Chinese Virologist Joins Twitter, 
Publishes "Smoking Gun" Evidence COVID-19 Created In Lab
Dr. Li-Meng Yan, M.D., Ph.D., a virologist from China who recently fled the communist country as well as her prestigious job at Hong Kong University (HKU), is back in the news with claims that the Wuhan coronavirus (COVID-19) was created by Chinese scientists in a laboratory.

September 14, 2020
DO FACE MASKS WORK?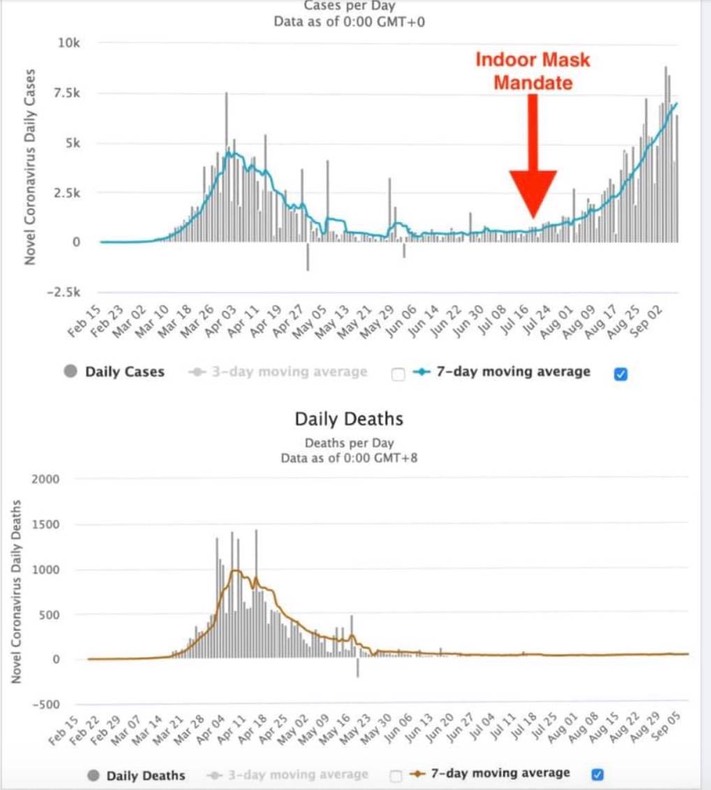 DO FACE MASKS WORK?
Australia Prime Minister Puts Citizens On Notice: All Will Likely Undergo Mandatory COVID-19 Vaccinations

August 19, 2020

COVID-19 Mutation That's "10 Times More Infectious" Than The Original - Discovered In Malaysia                    August 17, 2020

World's Top Epidemiologists - Masks Don't Work!
Denmark boasts one of the lowest COVID-19 death rates in the world. As of August 4, the Danes have suffered 616 COVID-19 deaths, according to figures from Johns Hopkins University.
That's less than one-third of the number of Danes who die from pneumonia or influenza in a given year.
Despite this success, Danish leaders recently found themselves on the defensive. The reason is that Danes aren't wearing face masks, and local authorities for the most part aren't even recommending them.
In Sweden, where COVID-19 deaths have slowed to a crawl, public health officials say they see "no point" in requiring individuals to wear masks.

…and the CDC go back and forth in their recommendations…

August 10, 2020
The Sinister Agenda
 behind Covid-19
However, if hydroxychloroquine is so ineffective for the current covid-19 "crisis", why is it so hard to get now? It used to be widely available for many years and many applications...

Why are so many people "testing positive" when they've actually never been tested at all? 

July 24, 2020

In an obvious case of total science fraud, a huge number of people are "testing positive" for coronavirus even when they've never been tested at all.
That's right: They were NEVER tested, but received letters telling them they were infected. These "false positives," of course, also count toward the national infection totals.
We personally  know  people who have received letters as noted - and never been tested!
More Media-Hyped Hysteria? Fearmongering NBC Doctor Who 'Battled COVID' Admits Never Had Virus 
We weren't the least bit surprised to read that NBC News spent weeks documenting the coronavirus "journey" of one of its contributors with Covid-19 - despite the fact that he never tested positive for the virus!                 

July 12, 2020
Bombshell as flu shots found to cause huge
 increase in coronavirus infections

Children who are vaccinated with flu shots have a 440 percent increase in risk of contradicting other respiratory infections such as coronavirus, researchers found in a published paper.
The finding reveals that influenza vaccines suppress the immune system, creating a vulnerability that can be exploited by other types of viruses which aren't influenza.
The upshot is that the mad push for flu vaccines being witnessed right now is actually pushing a second wave of coronavirus infections and deaths.
Titled, "Increased Risk of Noninfluenza Respiratory Virus Infections Associated With Receipt of Inactivated Influenza Vaccine," the study is found at this link at the National Library of Medicine: https://www.ncbi.nlm.nih.gov/pmc/articles/PMC3404712/


July 12, 2020
GOOD NEWS!!!
July 2, 2020
Click HERE to read the research PROVING the easy cure for COVID-19
Swine Flu From China Could Cause Another Pandemic, Fauci Says

An emerging virus discovered in pigs in China has traits similar to the 2009 swine flu and 1918 Spanish flu, Dr. Anthony Fauci, a member of the White House coronavirus task force, told a Senate committee on June 30, 2020.

We have found an interesting article from July 4, 2007, published in Science Daily
Titled: Scientists Describe How 1918 Influenza Virus Sample Was Exhumed In Alaska
Source: NIH/National Institute of Allergy and Infectious Diseases
Summary:  In an article in the journal Antiviral Therapy, scientists at NIAID narrate the story of how scientists discovered samples of the 1918 strain in fixed autopsy tissues and in the body of a woman buried in the Alaskan permafrost. The article places this discovery in the context of decades of research into the cause of pandemic influenza, and the authors detail the strange convergence of events that allowed them to recover and sequence the virus in the first place.

click on the graphic to read
Ron Paul: The Media Is Lying About The "Second Wave"

June 29, 2020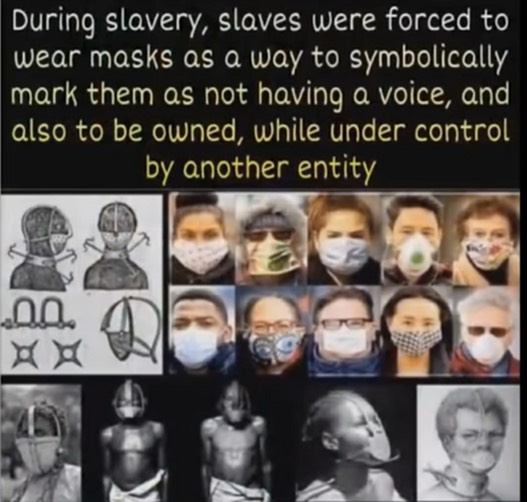 If masks make us dumber and sicker, who is gaining from this?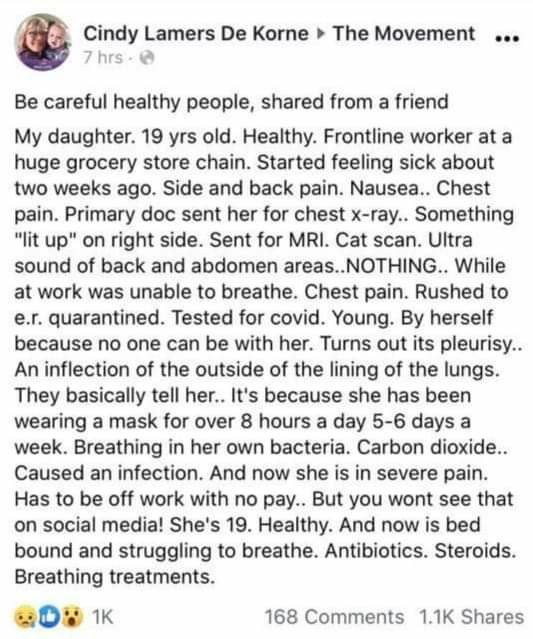 Yet medical "authorities" have lost all credibility by 
flip- flopping on everything from wearing masks to 
asymptomatic spread
6/24/20
Adding to the confusion in all this is the fact that the entire medical establishment has lost all credibility with an increasing number of America, mostly thanks to the wishy washy flip-flopping on key issues. For example, in February the U.S. Surgeon General was demanding that Americans stop buying masks, insisting they didn't work for the general public. Later, he claimed they magically did work after all.
In January, the WHO insisted that the coronavirus wasn't transmissible via humans, and in June, the WHO claimed there was near-zero asymptomatic spread of the virus among humans, contradicting the entire logical basis for social distancing and masks.
Dr. Fauci is widely known as a vaccine-pushing huckster, and the CDC is now seen to be nothing more than a fraudulent front for Big Pharma and the vaccine industry. Even worse, credible evidence has emerged that U.S. hospitals have been deliberately killing patients with covid-19 infections and "ventilator euthanasia" in order to collect more money from Medicare.
Thus, when so-called health "authorities" claim X number of infections or X number of deaths from covid-19, many Americans flat-out don't believe them anymore.
Chinese Scientist, Escorted Out Of Canadian 
Biolab, Sent Deadly Viruses To Wuhan
June 15, 2020
"We have a researcher who was removed by the RCMP [Royal Canadian Mounted Police] from the highest security laboratory that Canada has for reasons that government is unwilling to disclose. The intelligence remains secret. But what we know is that before she was removed, she sent one of the deadliest viruses on Earth, and multiple varieties of it to maximize the genetic diversity and maximize what experimenters in China could do with it, to a laboratory in China that does dangerous gain of function experiments. And that has links to the Chinese military." -Amir Attaran

Breaking: WHO says virtually no spread by asymptomatic carriers, vaccines and masks pointless
June 9, 2020
In stunning news, after five months of claiming the coronavirus could spread via "asymptomatic carriers," necessitating the lockdowns, the mask policies and mandatory vaccines, the WHO has now declared there is virtually no spread at all through asymptomatic carriers.
All at once, the WHO just obliterated any last shred of any argument in favor of mandatory vaccines, masks, lockdowns, quarantines or contact tracing.
This announcement should end all lockdowns and terminate vaccine research. It's all pointless now, since the WHO says covid-19 can only be spread by people with obvious symptoms who are very easy to spot (and avoid).
WHO Says Covid-19 Asymptomatic Transmission Is 'Very Rare'
Jun.08 -- Maria Van Kerkhove, head of the World Health Organization's emerging diseases and zoonosis unit, says transmission of the coronavirus by people who aren't showing symptoms is "very rare." She spoke Monday at a briefing in Geneva.

 President Trump signed Executive Orders to end political bias by
 the tech giants and challenge Sec. 230. Read about it HERE
"It's All [Baloney]"– 3 Leaks That Sink The COVID Narrative
May 31, 2020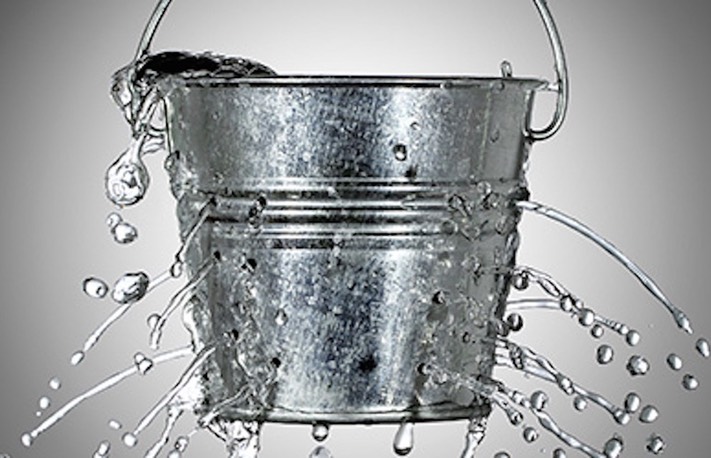 In recent days a series of leaks across the globe have further shown the "official line" on coronavirus does not hold water...

Most people won't get the virus.

Most of the people who get it won't display symptoms.

Most of the people who display symptoms will only be mildly sick.

Most of the people with severe symptoms will never be critically ill.

And most of the people who get critically ill will survive.
This is borne out by the numerous serological studies which show, again and again, that the infection fatality ratio is on par with flu.
There is no science – and increasingly little rational discussion – to justify the lockdown measures and overall sense of global panic.
Nevertheless, it's always good to get official acknowledgement of the truth, even if it has to be leaked.
Here are three leaks showing that those in power know that the coronavirus poses no threat, and in no way justifies the lockdown that is going to destroy the livelihoods of so many.
1. "IT'S ALL [BALONEY]!"
On May 26th Dr Alexander Myasnikov, Russia's head of coronavirus information, gave an interview to former-Presidential candidate Ksenia Sobchak in which he apparently let slip his true feelings.
Believing the interview over, and the camera turned off, Myasnikov said:
It's all [baloney…] It's all exaggerated. It's an acute respiratory disease with minimal mortality […] Why has the whole world been destroyed? That I don't know," 
2. "COVID-19 CANNOT BE DESCRIBED AS A GENERALLY DANGEROUS DISEASE"
According to an e-mail leaked to Danish newspaper Politiken, the Danish Health Authority disagree with their government's approach to the coronavirus. They cover it in two articles here and here (For those who don't speak Danish, thelocal.dk have covered the story too).
There's a lot of interesting information there, not least of which is the clear implication that politicians appear to be pressing the scientific advisors to overstate the danger (they did the same thing in the UK), along with the decision of some civil servants to withhold data from the public until after the lockdown had been extended.
But by far the most important quote is from a March 15th e-mail
The Danish Health Authority continues to consider that covid-19 cannot be described as a generally dangerous disease, as it does not have either a usually serious course or a high mortality rate,"
On March 12th the Danish parliament passed an emergency law which – among many other things – decreased the power of the Danish Health Authority, demoting it from a "regulatory authority" to just an "advisory" one.
3. "A GLOBAL FALSE ALARM"
Earlier this month, on May 9th, a report was leaked to the German alternate media magazine Tichys Einblick titled "Analysis of the Crisis Management".
The report was commissioned by the German department of the interior, but then its findings were ignored, prompting one of the authors to release it through non-official channels.
The fall out of that, including attacks on the authors and minimising of the report's findings, is all very fascinating and we highly recommend this detailed report on Strategic Culture (or read the full report here in German).
We're going to focus on just the reports conclusions, including:
The dangerousness of Covid-19 was overestimated: probably at no point did the danger posed by the new virus go beyond the normal level.
The danger is obviously no greater than that of many other viruses. There is no evidence that this was more than a false alarm.

During the Corona crisis the State has proved itself as one of the biggest producers of Fake News.
After being attacked in the press, and suspended from his job, the leaker and other authors of the report released a joint statement, calling on the government to respond to their findings.
*  *  *
If the current crisis was being approached rationally by all parties, these leaks would seal the debate. Evidence is piling up that the people in charge knew, from the very beginning, that the virus was not dangerous. The question remaining is: Why are these leaks happening now?
May 31, 2020


This just sent to us, by a friend of ours, a physician's wife.
  May 30, 2020
My daughter. 19 yrs old. Healthy. Frontline worker at a huge grocery store chain. Started feeling sick about two weeks ago. Side and back pain. Nausea. Chest pain. Primary doc sent her for chest x-ray. Something "lit up" on right side. Sent for MRI. Cat scan. Ultrasound of back and abdomen areas. NOTHING. While at work was unable to breathe. Chest pain. Rushed to E.R. Quarantined. Tested for covid. Young. By herself because no one can be with her. Turns out its pleurisyAn infection of the outside of the lining of the lungs. They basically tell her: It's because she has been wearing a mask for over 8 hours a day 5-6 days a week. Breathing in her own bacteria. Carbon dioxide. Caused an infection. And now she is in severe pain. Has to be off work with no pay. 
But you wont see that on social media! She's 19. Healthy. And now is bed bound and struggling to breathe. Antibiotics. Steroids. Breathing treatments.
ALERT!!
DoD orders 500 million coronavirus vaccine injectors with optional RFID / GPS tracking

(Natural News) Anyone who thought the US military was preparing to force vaccinate every American with a coronavirus vaccine has just found strong evidence to confirm the plan. According to a press release from the US Dept. of Defense, featuring an announcement from Lt. Col. Mike Andrews, the DoD is partnering with HHS to acquire 500 million ApiJect vaccine injection devices, with deliveries expected to begin in October of this year.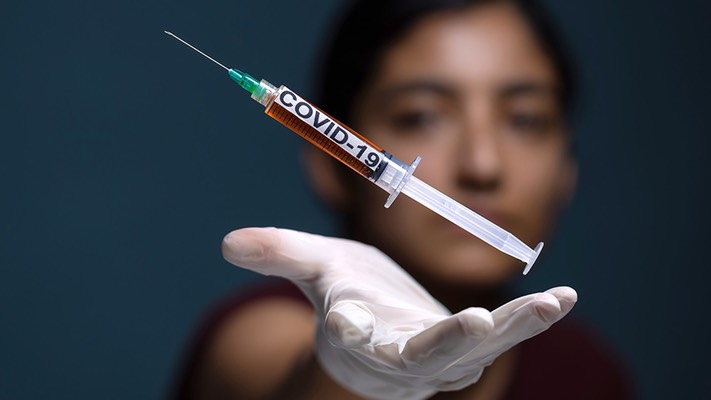 May 12, 2020
"We Sent Them Samples Of A Goat, A Papaya & A Pheasant": Tanzanian President Catches WHO In Epic Lie
As the number of confirmed coronavirus cases explodes across Africa, the creeping involvement of the WHO has made some leaders suspicious of the NGO. Tanzanian President John Magufuli was growing suspicious of the organization, so he reportedly decided to investigate whether the organization was as trustworthy and reliable as it claimed to be.
He played what the local press described as "a trick" on the organization: He sent the WHO samples of a goat, a papaya and a quail for testing.
All three samples reportedly tested positive. When the president heard the news, he reportedly confronted the WHO, then kicked the organization out of the country. Though, to be sure, the WHO has yet to comment on the situation.

May 10, 2020


Tempers Flare Over Lockdown, Masks, & Money: Is All-Out Civil Unrest About To Erupt?

Across the nation, tempers are flaring over the continued lockdowns in many parts of America, and also on the requirement to wear masks in public. I wrote previously about the possibility of civil unrest over the lockdowns, and unfortunately, it appears that's where we're headed.                                               May 5, 2020
Coronavirus Mutates Into Now-Dominant, More Contagious Form As Doctors Ponder 'East Coast vs. West Coast' Strains
A new study from Los Alamos National Laboratory has revealed a new, now-dominant strain of the coronavirus which appears to be more contagious, according to the authors. Meanwhile, doctors in the United States are wondering if the harder-hit East Coast is being hit with a different version of the virus than the West Coast.

May 5, 2020

Vitamin C and Coronavirus: Not a Vaccine;
May 4, 2020
Successful vitamin C treatment of patients with 
COVID-19 infection. YES!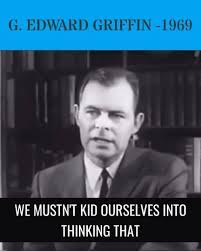 Lipinski 2015, Ebola and Selenium: 
How not to catch the 2019 Novel
Natural Anti-Virals For Coronavirus (COVID-19) (live linked)
March 19, 2020

Link to material in David Martin's presentation 
Sources believe coronavirus originated in Wuhan lab as part of China's efforts to compete with US
April 15, 2020
America's New Breadlines Are Growing…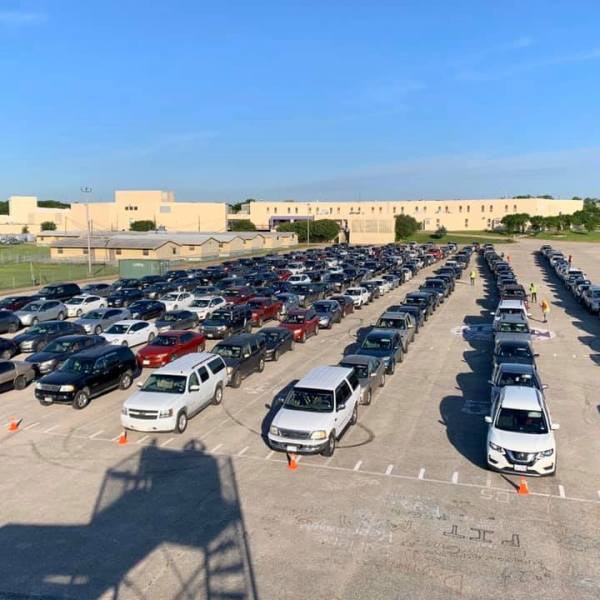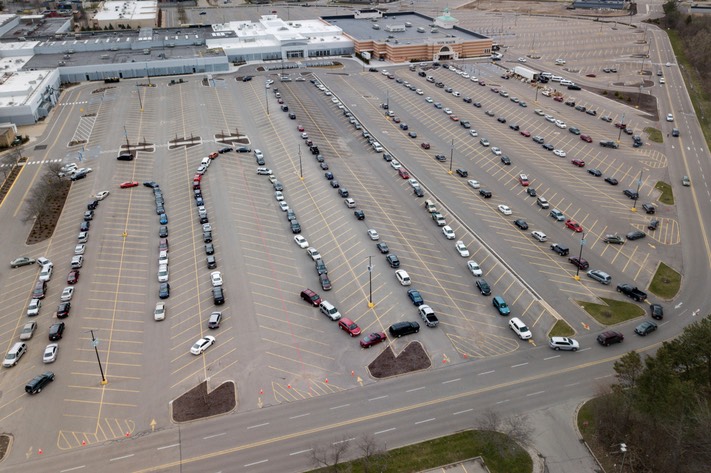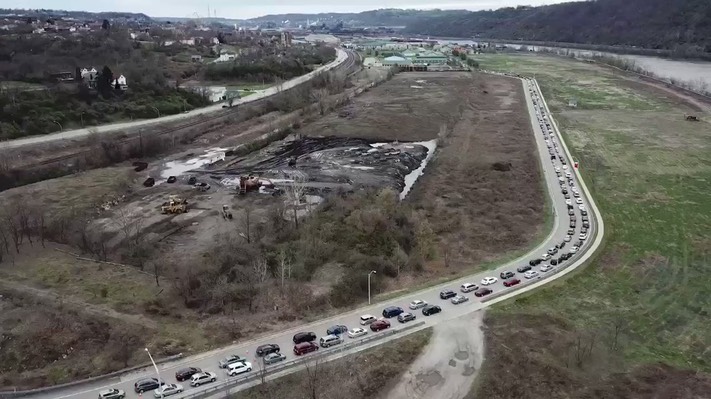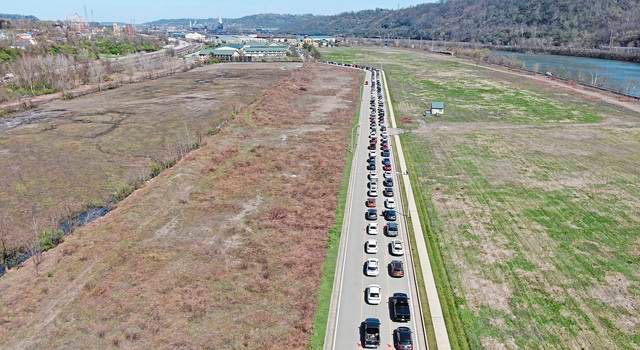 Food Rotting in the Fields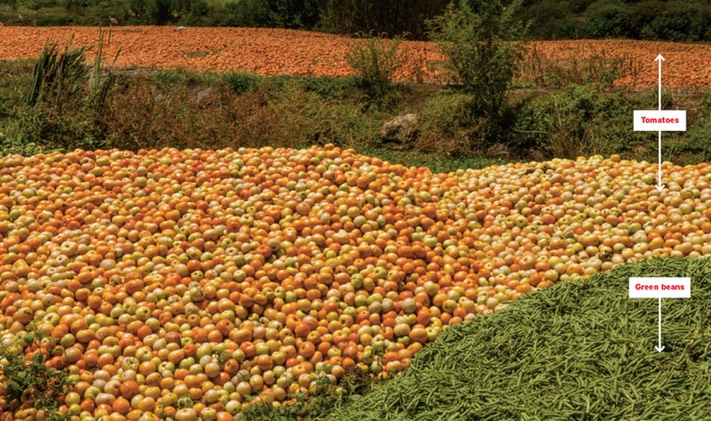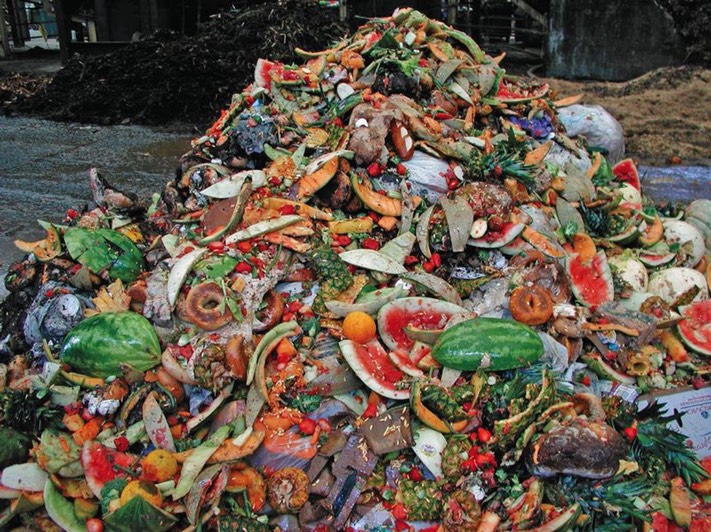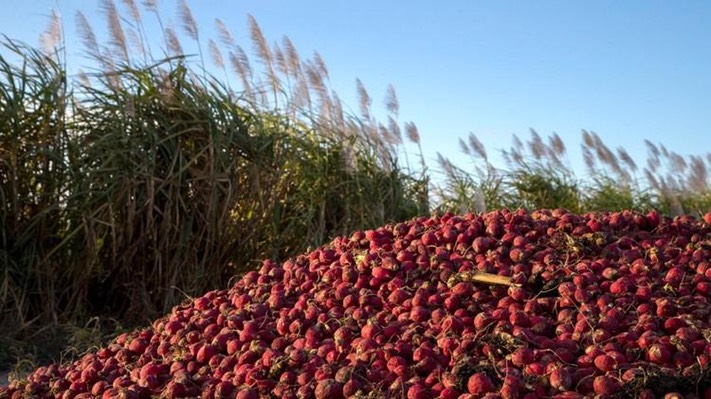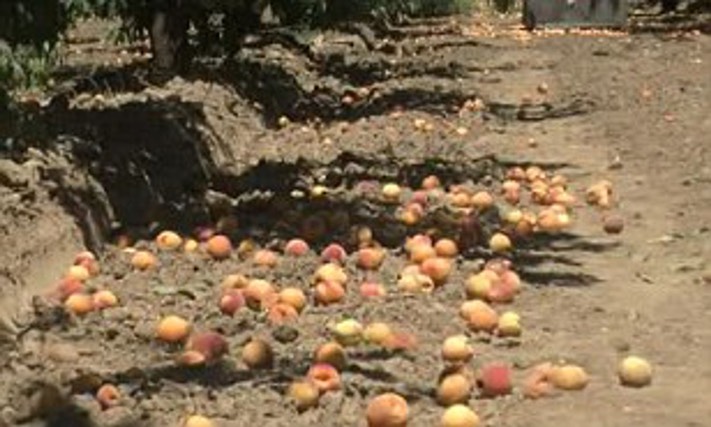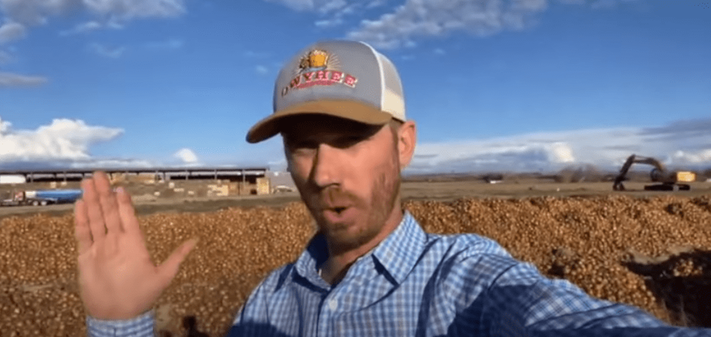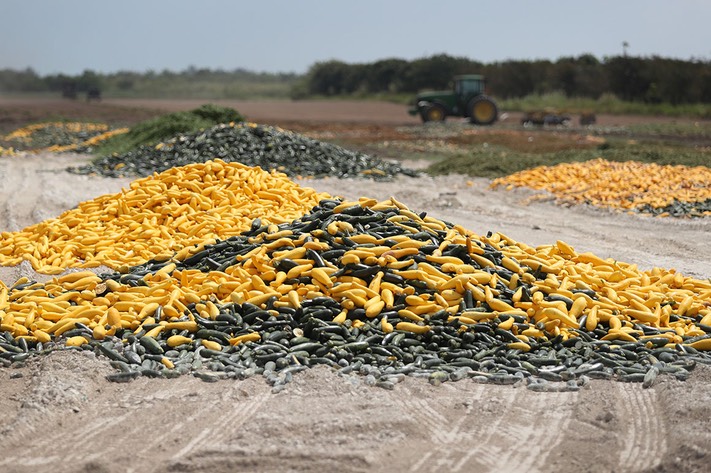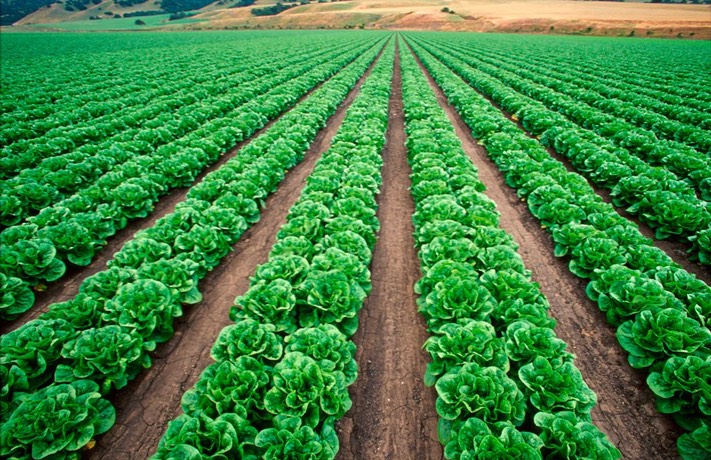 Lettuce - ready to pick - but no harvesters - and limited markets; 
so it will be left to rot and plowed under.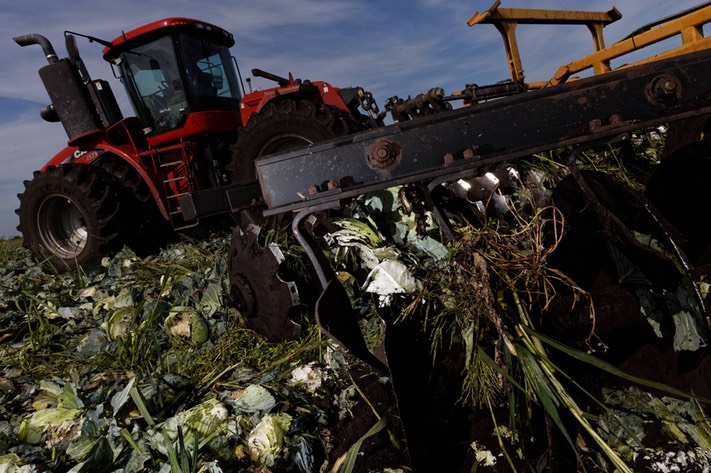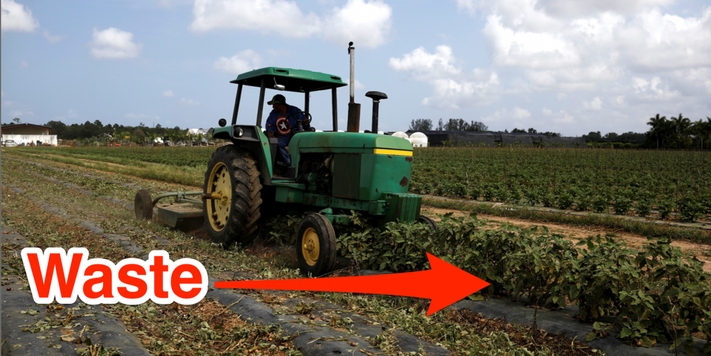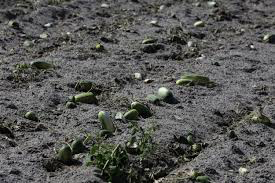 Over the past month, the American economy has collapsed into a depression, with the most significant unemployment spike in history. Millions of people have just lost their jobs, and as we've been documenting, food bank networks across the country are becoming overwhelmed. 
We recently said that some food banks had seen an eightfold increase in the number of people asking for food. The National Guard has been deployed to food banks in Cleveland, Pittsburgh, and Phoenix, to make sure supply chains do not breakdown, which if food shortages did materialize, it could lead to a "social bomb," triggering civil unrest. 
"I've been in this business over 30 years, and nothing compares to what we're seeing now. Not even when the steel mills closed down did we see increased demand like this," said Sheila Christopher, director of Hunger-Free Pennsylvania, which represents 18 food banks across 67 counties.
Today's food bank lines resemble 'breadlines' from the 1930s. However, this time around, Americans are not standing around city blocks waiting for soup, they're sitting in mile-long traffic jams outside donation centers waiting for a care package. 
April 8, 2020

 Nearly every person dying from the coronavirus 
likely has these three things in common
                        March 31,2020
We are starting to realize this map is designed to scare you. The more you 'zoom out' the more widespread the disease appears as the dots stay the same size.  Judge for yourself…
This is no accident...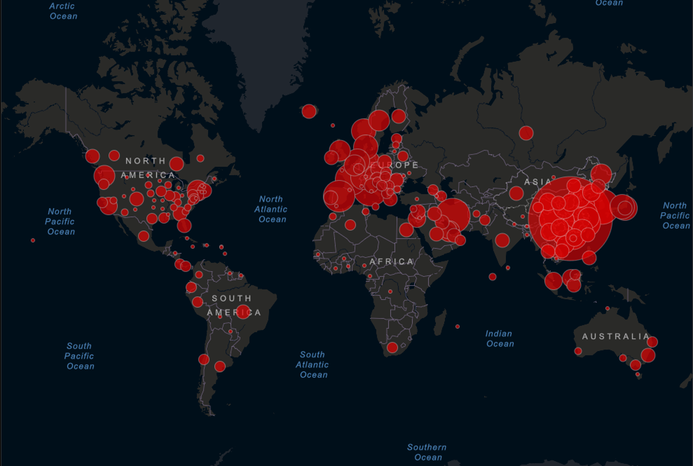 The updating map that Johns Hopkins 
University is using to track the spread  of 
Isn't John Hopkins where Bill Gates funded a computer study - back in October 2019 - to simulate what would happen if this 'situation' took place - exactly as it has taken place? Isn't that all rather 'coincidental'?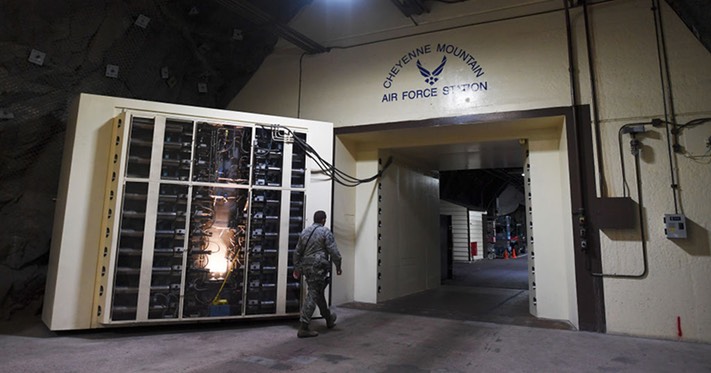 Pentagon Orders Essential Staff To Deep Underground Mountain Bunker As Pandemic Prep Escalates March 29, 30, 2020
North American Aerospace Defense Command (NORAD) & the US' Northern Command (NORTHCOM) held a Facebook Live town hall meeting on Tuesday, March 24, informing the public how their essential teams in charge of homeland security are isolating at the Cheyenne Mountain bunker in Colorado amid the COVID-19 pandemic. 

Air Force General Terrence O'Shaughnessy, who commands NORAD and NORTHCOM, told reporters on Facebook Live last Tuesday that essential staff is being moved from Peterson Air Force Base in Colorado to the underground bunker complex that is 24 miles away in Cheyenne Mountain. The facility is more than 2,000 feet underground and can survive a 30 megaton nuclear explosion.
"To ensure that we can defend the homeland despite this pandemic, our command and control watch teams here in the headquarters split into multiple shifts and portions of our watch team began working from Cheyenne Mountain Air Force Station, creating a third team at an alternate location as well," O'Shaughnessy said. 
"Our dedicated professionals of the NORAD and NORTHCOM command and control watch have left their homes, said goodbye to their families and are isolated from everyone to ensure that they can stand the watch each and every day to defend our homeland.
"It's certainly not optimal, but it's absolutely necessary and appropriate given the situation."
NORAD and NORTHCOM have already used up about 30% of the underground facility, according to The Drive. O'Shaughnessy said with the increased personnel, his "primary concern was … are we going to have the space inside the mountain for everybody who wants to move in there, and I'm not at liberty to discuss who's moving in there."

If the staff at Cheyenne are infected, there is a third team of higher-ranking military officials operating at another facility that can remotely assume command. 
With the virus crisis deepening in the US, confirmed cases have now surged over 124,000, with 2,191 deaths (as of Sunday morning). President Trump signed an executive order Friday, allowing the Departments of Defense and Homeland Security to activate National Guard and reservists to battle the COVID-19 outbreak across the US. 
We noted last week that the US is in the "acceleration phase" of the outbreak, which means the health crisis could get much worse in the coming weeks. 
How much worse?
Well, the Federation of Red Cross and Red Crescent Societies has just warned that social unrest in major Western cities could develop in the coming weeks. 
The evolution of the virus crisis could be social destabilization, hence why the military is preparing. 

Webmaster note: This CoVid-19 is not just the common flu….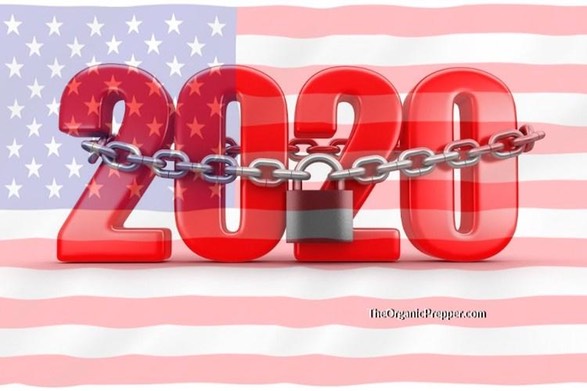 How Long Will America's COVID-19 Lockdown 
Last? Here's What The Patterns Suggest
March 29, 2020 

UPDATE:
US COVID-19 Case Total Passes 100,000, 5th Congressman Tests Positive March 27, 2020
Summary: 
Boris Johnson, Matt Hancock test positive

US stock futures turn lower after 3-day rebound

US passes 100k cases

Italy reports 919 new deaths

Global case total nears 538k

US case total nears 86k, with ~1300 deaths

Trump signs CARES ACT

China border closure begins

Rhode Islands national guard to round up travelers

1 in 10 Americans say they know somebody with the virus

DC mayor advisor dies

New York death toll spikes

5th Congressman tests positive

South Africa lockdown begins as country confirms first 2 deaths

Netherlands reports ~1k new cases, 112 new deaths

Hong Kong reports 65 new cases, largest daily jump

Singapore makes standing too close to somebody else illegal

Bolivia imposes some of world's toughest restrictions

North Korea says 2,280 people still in quarantine

All of Russia placed on lockdown

Hungary PM announces lockdown plans

Israel mobilizes army to enforce lockdowns

President Xi, Trump promise to "unite" to fight virus during call

Scientists in Iceland claim they have found FORTY mutations of the coronavirus – and admit seven cases can be traced back to 'a football match in England'3/ 24/ 2020

21 Million Fewer Cellphone Users in China May Suggest a High CCP Virus Death Toll March 24, 2020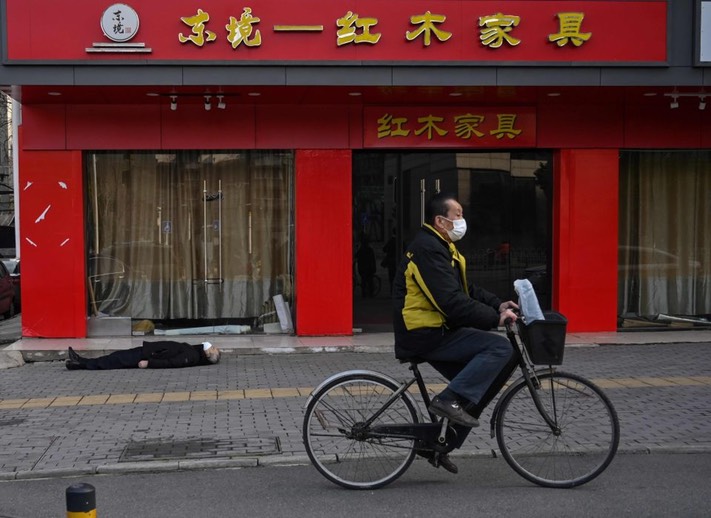 A man wearing a face mask cycles past the body of a man who collapsed and died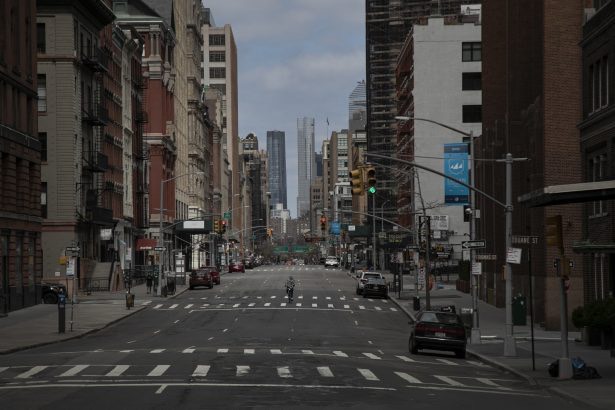 A cyclist rides his bicycle down the middle of a main road in downtown New York City on March 22, 2020. 
           ALERT!!             

Advanced knowledge? CDC started hiring  (live linked) QUARANTINE program managers last November to cover quarantine centers in Texas, California, New York, Washington, Illinois, Massachusetts and more
March 20, 2020
CA Governor Issues State-Wide "Stay At Home" Order, Warns 56% Of Residents Will Be Infected March 19, 2020
Summary: 
Coronavirus death toll in Italy surpasses China

Confirmed cases in the US double in two days

Mnuchin says wants to get checks in Americans' hands within 3 weeks

CA Governor issues state-wide 'stay at home' order

UK nears 3k cases

BoE cuts rates, launches QE after 'emergency' meeting

Confirmed cases in the US climbs ~50% as testing ramps up

Carnival confirms it will lend government ships for virus response

Connecticut reports 2nd death as US death toll hits 137

Cuomo reports nearly 2k new cases, bringing NY total north of 4k

Covid-19 'cluster' confirmed in South Brooklyn

Minnesota designates grocery workers as 'essential employees', giving them access to child care

Total number of Covid-19 cases passes 10k

Cuomo signs NY unemployment-benefit expansion benefit package, warns of 'astronomical jump' in cases

China reports zero new cases in Wuhan for first time in months.

Treasury weighing 50- and 25-year bonds to finance stimulus package

South Africa case total passes 150

India halts incoming international flights for a week

Hong Kong doctors find virus inside 2nd dog

Spain total cases climb 28% overnight

Italian death toll passed China's on Thursday

Pentagon says 2,000 nat'l guardsman deployed around the country

NY implements 90-day delay on mortgage payments due to hardship

FedEx says drop in deliveries in China was smaller than expected

Trump and Xi reportedly agree to deepen medical research ties

State Department advises Americans not to travel abroad

UK gov't denies plans for London lockdown

Amazon closes warehouse for 'deep clean' after worker tests positive

Germany death toll climbs to 43

Treatment trial in Wuhan yields disappointing results

Germany's Bafin bans short selling

Russia reports first death

SPR to buy 30 million barrels immediately, will eventually buy 70 million

Wuhan police erase record of 'admonition' delivered to Dr. Li Wenliang

German gov plans to suspend debt brake on Monday

Netherlands reports another jump in cases after unveiling stimulus package outline

Switzerland warns situation rapidly deteriorating along the Italian border

Senator Dumped Up to $1.6 Million of Stock After Reassuring Public About Coronavirus Preparedness
Intelligence Chair Richard Burr's selloff came around the time he was receiving daily briefings on the health threat.

Soon after he offered public assurances that the government was ready to battle the coronavirus, the powerful chairman of the Senate Intelligence Committee, Richard Burr, sold off a significant percentage of his stocks, unloading between $582,029 and $1.56 million of his holdings on Feb. 13 in 29 separate tranactions29 separate transactions.

ProPublica  
March 19, 2020

Anti-Malaria Drug Shows Promising Results In Treating COVID-19 
While several drugs are currently being tested to treat COVID-19, an inexpensive anti-malaria drug that's been around for over 70 years has been shown to halt coronavirus in patients who have mild to moderate symptoms.

                                      March 19, 2020

Covid-19 Deaths In Italy On Track To Pass China As More Countries Close Borders; Confirmed US Cases Climb 50%
                                      March 19, 2020

Trump Invokes Defense Production Act In Coronavirus Response, Deploys FEMA In All Regions  
President Trump has invoked the Defense Production Act in the US response to the Coronavirus pandemic, noting that HUD will suspend foreclosures through end of April, as work is underway to evaluate possibility of self-tests for virus.
The Defense Production Act (DPA) is the primary source of Presidential authorities to expedite and expand the supply of resources from the U.S. industrial base to support military, energy, space, and homeland security programs.  Homeland security programs eligible for DPA support include:
Efforts to counter terrorism within the United States;

Emergency preparedness activities conducted pursuant to title VI of the Stafford Act;

Protection and restoration of critical infrastructure; and

Continuity of Government.
                                     March 18, 2020

Canadian Border Closed As Outbreak Sees Sudden Resurgence In Asia        March 18, 2020

written by ron paul 
March 16, 2020
Perhaps we should look at this another way…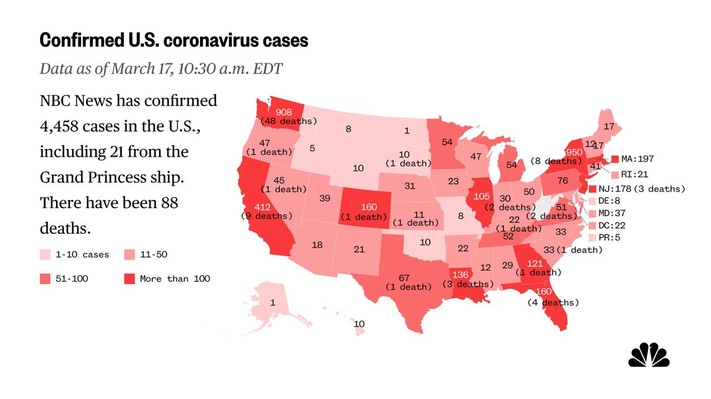 Number Of Confirmed Covid-19 Cases In US 
Passes 5,000 As Global Total Nears 200K March 17, 2020
Summary:
Fed reportedly plans to throw vital lifeline to Commercial Paper market

Confirmed coronavirus cases in the US pass 5k

WH planning $850 billion economic rescue package

2nd rescue package still stalled over Senates' 'minor' changes

Cuomo reports 432 new cases, bringing state total over 1,000 and retaking No. 1 spot

Trump doubles down on "Chinese virus" phrasing after Beijing complains

Kentucky Derby postponed until September

Goldman says "world is in a recession"

Luxembourg declares 'state of emergency'

Mick Mulvaney self-isolating in SC after niece had contact with Brazilian official

EU eases rules, allows some state aid to companies

France says deficit will blow out to 3.9%

NYC Mayor says "absolutely considering" shelter-in-place order

Amazon stops shipments of "non-essential" goods to warehouses

Moscow denies reports of citywide quarantine

Turkey jails 19 over 'provocative' social media posts

Spain turns away 500 cars after setting up border checkpoints

Pakistan reports first death

S&P warns "sudden economic stop" will trigger deep recession

Tom Hanks, Rita Wilson leave quarantine

Poland says minister has caught the virus

8 US banks access discount window

Trump slams Michigan's Democratic Gov.
*  *  *
Update (1250ET): The number of confirmed coronavirus cases in the US has climbed above 5k, another grim milestone, as the global case total breaks above 190,000, on track to surpass 200,000 by the end of the week.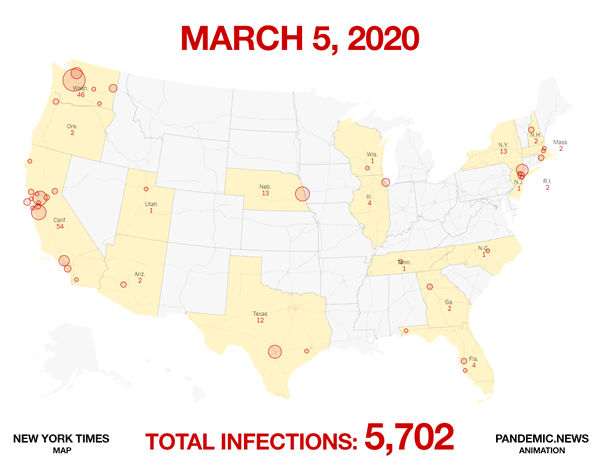 The Lancet: Global case fatality rate from coronavirus settles in at 5.7%, or 57 times higher than the flu… death rate skyrockets to 20% when hospitals get overrun  March 15, 2020
(Natural News) A new study in The Lancetentitled, "Real estimates of mortality following COVID-19 infection" (source), finds that the global death rate from the coronavirus is settling in at around 5.7%, which is 57 times higher than the seasonal flu. The study warns that, "mortality rate of COVID-19 could be as high as 20% in Wuhan, the epicentre of the outbreak."
This is consistent with what we already know about what happens when local hospital beds get overrun and patients no longer have access to critical care. The death rate skyrockets to 10-20%.
As the following chart shows from the study, the calculated case fatality rate appears to be settling at around 5%, with 5.7% the current best calculation: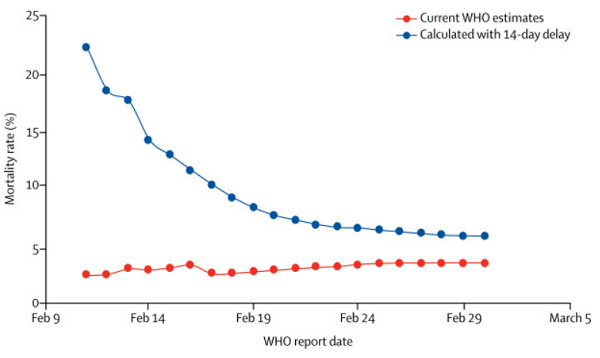 Click here to read more on this topic
BULLETIN: [If you live in NYC] 
BUG-OUT NOW. BUNKER-DOWN NOW
March 14, 2020

New York City 911 is being DELUGED with calls for ambulances from people claiming a family member or friend "just collapsed" in their home or apartment.  Many of the callers mention "coronavirus."   New York Governor Andrew Cuomo moments ago confirmed at least another 115 cases of COVID-19 IN NEW YORK CITY, bringing the statewide total to 613 in New York.
Doctors from three separate NYC Hospitals told me moments ago "Everyone is infected. All h--- is breaking loose; it's out of control already."  
Those of you in New York with plans to "Bug out" when the "situation hits the fan", should do so now.   Bunker down now.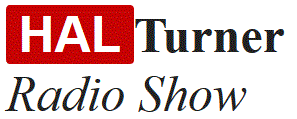 The FDA Is Forcing the CDC to Waste Time Double Testing Some Coronavirus Cases March 12, 2020
The FDA's strict guidance on test confirmations is one of several obstacles that has slowed the federal government's response to COVID-19. The FDA [who has a revolving door with Big Pharma. Lots of $$$ involved in delays, and eventually, $$$$$ vaccines] could change its rules to speed things up, - but hasn't.

A federal directive that's supposed to speed up the response to a pandemic is actually slowing down the government's rollout of coronavirus tests.

The directive, issued by the U.S. Food and Drug Administration, requires that the Centers for Disease Control and Prevention, a sister agency, retest every positive coronavirus test run by a public health lab to confirm its accuracy. The result, experts say, is wasting limited resources at a time when thousands of Americans are waiting in line to get tested for COVID-19.

The duplicative effort is the latest obstacle that is slowing the federal response to COVID-19, which has infected more than 1,300 people and resulted in 38 deaths in the United States. Progress was already delayed because the CDC decided to make its own test rather than adopting the design endorsed by the World Health Organization. The test then didn't work properly and had to be fixed. The problems were further compounded by delays in certifying tests by private laboratories as well as a shortage of supplies and raw materials used for testing.

On Feb. 4, the FDA, which regulates devices as well as drugs, released a document called an Emergency Use Authorization to govern the use of the test. The goal of the emergency authorization is to short-circuit the typically onerous regulatory review that the agency imposes on new diagnostic devices — a process that can take months to years.
In the face of an imminent outbreak, however, the stringently written EUA appears to have become more of a hindrance than a help. Because of the requirement that the CDC rerun tests conducted by public health labs, as of two weeks ago the CDC's website was lagging in its tally because it was only reporting confirmed cases. The CDC is now reporting both presumptive positives, which have been tested only by local labs, as well as cases it has confirmed.
The Entire Western World Is Shutting Down As Authorities Brace For "Millions" Of Coronavirus Cases March 12, 2020    by Michael Snyder of TheMostImportantNews.com           
This week, the number of confirmed coronavirus cases in the U.S. and Europe has absolutely exploded, and authorities all over the western world are rushing to shut down public gatherings of all kinds.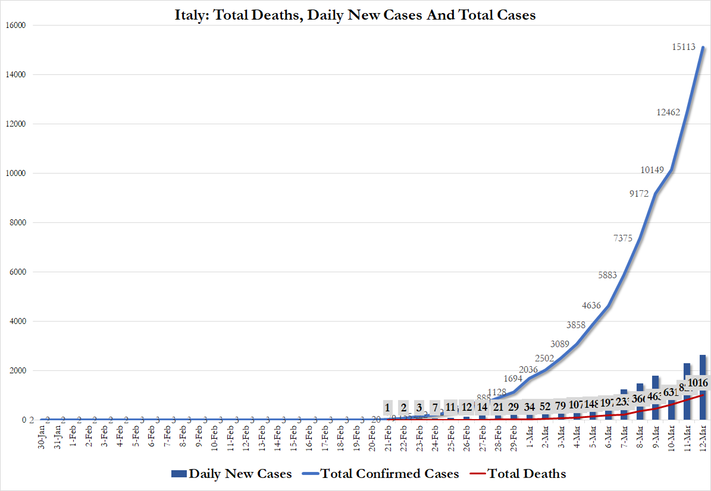 Italian Death Toll Passes 1,000, Mortality Rate Hits 6.7%
Summary: 
Scott Gottlieb says US can still avoid "Italy-like" outcome

UK reports 2 more deaths

Trudeau and wife to self-quarantine after wife reports flu-like symptoms

2nd Utah Jazz player tests positive

NJ cutting off nightclub liquor sales after 10pm

Deaths in Italy above 1,000

NHL "pauses" play

Major League Baseball will delay start to 2020 season

Dr. Fauci says test shortage is major government 'failing'

Rick Scott 2nd Senator to self-quarantine over virus

Senate cancels recess, will stay open next week

Reporter claims Gobert was careless in the lockerroom

2020 champions league tournament postponed until next year

US Major League soccer suspends play

Trump says we may need to extend travel ban

Reports claim once again that Merkel is ready to whip out the checkbook

Goldman asks workers in NY to work from home in 'staggered shifts'

EU officials condemned Trump's travel ban

Trump says 'markets are going to be fine'

Spain has approved a €2.8 billion rescue package

Olympic torch lit in front of just 100 spectators

La Liga suspends season after Real Madrid player tests positive

3 F1 racers quarantined

Blackstone advises portfolio companies to draw down revolving credit lines

NHL rumored to be planning a league play suspension as playoffs begin

Passenger on JetBlue flight from NY to FLA tests positive for virus

Spanish cabinet being tested for coronavirus

Scandinavia begins shuttering schools

Iran reaches out to 3 million Iranians who may have been infected

Market participants wary of dissipating bond market liquidity

Global deaths pass 4,600
Update (1352ET): 

Italy's civil protection agency has reported yet another unsettling jump in newly confirmed cases and deaths, bringing the death toll within the country above 1,000 deaths, becoming the first country outside China to (officially) top that threshold (we suspect Iran has secretly recorded at least as many).



March 12, 2020

Authored by Yascha Mounk, an associate professor at Johns Hopkins University, via The Atlantic March 11, 2020
We don't yet know the full ramifications of the novel coronavirus. But three crucial facts have become clear in the first months of this extraordinary global event.
And what they add up to is not an invocation to stay calm, as so many politicians around the globe are incessantly suggesting; it is, on the contrary, the case for changing our behavior in radical ways—right now.

The first fact is that, at least in the initial stages, documented cases of COVID-19 seem to increase in exponential fashion. On the 23rd of January, China's Hubei province, which contains the city of Wuhan, had 444 confirmed COVID-19 cases. A week later, by the 30th of January, it had 4,903 cases.  [an11+ fold increase]  Another week later, by the 6th of February, it had 22,112. [a 4.5+ fold increase]
The same story is now playing out in other countries around the world. Italy had 62 identified cases of COVID-19 on the 22nd of February. It had 888 cases by the 29th of February, [a 14.3+ fold increase} and 4,636 by the 6th of March. [a 5.2+ fold increase]
Because the United States has been extremely sluggish in testing patients for the coronavirus, the official tally of 604 likely represents a fraction of the real caseload. But even if we take this number at face value, it suggests that we should prepare to have up to 10 times as many cases a week from today, and up to 100 times as many cases two weeks from today.
The second fact is that this disease is deadlier than the flu, to which the honestly ill-informed and the wantonly irresponsible insist on comparing it. Early guesstimates, made before data were widely available, suggested that the fatality rate for the coronavirus might wind up being about 1 percent. If that guess proves true, the coronavirus is 10 times as deadly as the flu.
The third fact is that so far only one measure has been effective against the coronavirus: - extreme social distancing.

US Coronavirus Cases Double In 48 Hours- 
3/9 thru 3/10
The map that Johns Hopkins University is using to track the spread of this virus
 has become extremely popular (live linked)

Authored by Michael Snyder via TheMostImportantNews.com
WHO's Tedros Finally Admits: "Covid-19 Has Become A Pandemic": Live Updates
March 11, 2020

Dr. Fauci Warns "Worst Is Yet To Come": Coronavirus Is "10x More Lethal Than The Flu," Could Infect "Millions" Of Americans
Summary:
First death in Indonesia

Washington State to ban events over 200

'Waffle House' employee in Atlanta confirmed

Chicago cancels St. Paddy's Day parade

NY sends in National Guard

IADB cancels meeting in Colombia as virus spreads across Latin America

Mnuchin says first part of virus stimulus plan will be ready in 2 days

Dr. Fauci warns virus 10x more deadly than flu and could infect millions if not handled early

FEMA evacuates Atlanta office over coronavirus scare

3 Boeing workers test positie

Washington DC advises cancellation or postponement of all gatherings with more than 1,000 people

Harvard to prorate room and board for students

Hoyer says Congress should think about suspending tour groups

US cases surpass 1,000

UK Health Minister catches virus

Ireland, Bulgaria, Sweden report first deaths

Connecticut declares state of emergency

UK total hits 456 following largest daily jump on record (83 new cases)

Global cases pass 120,000

South Korea reports new outbreak in call center

Japan reportedly planning to declare state of emergency
*  *  *
Update (1220ET): Three Boeing workers have tested positive for the virus, the company said. Though Boeing offered few details, we suspect the employees are probably based in Washington State, where Boeing builds its planes. This follows a flurry of disappointing news from the company, including an announcement that it would draw down the rest of a $13 billion credit facility.
                                                                  March 11, 2020

Merkel Expects 60-70% Of Germans To Be Infected With Coronavirus  
Angela Merkel says she expects around 60-70 per cent of Germans will be infected with the coronavirus, which equates to about 53 million people.     
                                                                  March 11, 2020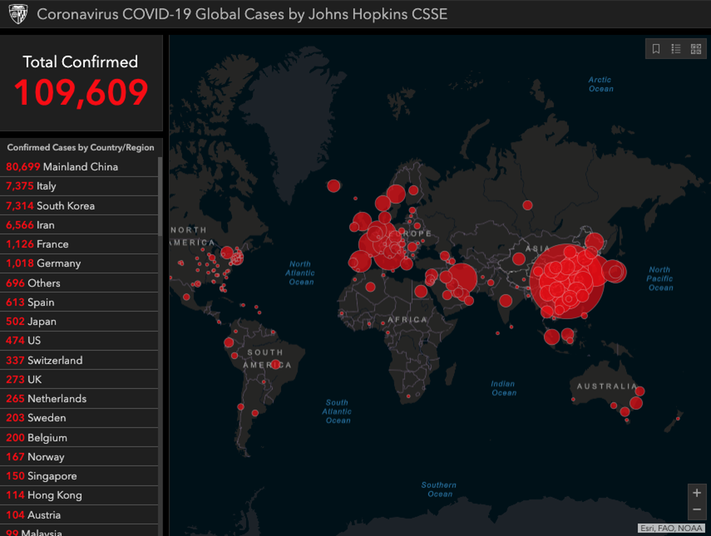 March 11, 2020


Johns Hopkins Doctor Warns, 'What Happened 
In Wuhan Could Happen Here'
Renowned Johns Hopkins surgeon, researcher and policy expert Martin Makary told CNBC on Tuesday morning that the virus outbreak in Wuhan, China, could be easily replicated across America.
"What happened in Wuhan could happen here. Why do we think otherwise?" Makary said.
Makary said the immune system of a typical American is "not stronger than the Chinese immune system," adding that "viruses don't care about politics and they don't care about location."
With 750 cases of Covid-19, the airborne virus is quickly spreading across the US, now seen in more than 30 states, with officials in several states declaring a state of emergency. The lack of test kits, limited travel restrictions, and no vaccine for 12-18 months suggest that the information below will get a lot higher numbers in the coming weeks: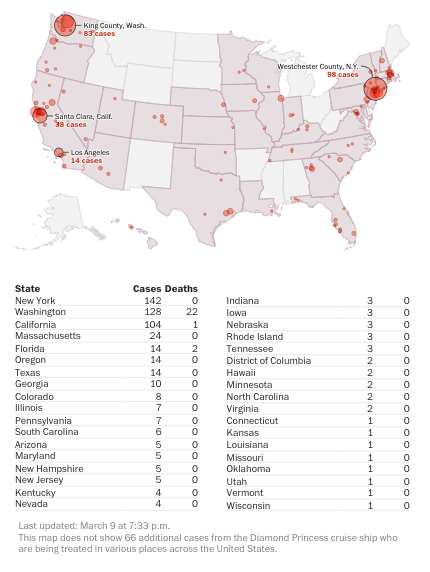 March 10, 2020


Coronavirus deaths 4003, 3/20 (stated the governments  noted- and you can "take that to the bank")

China: 3119   Italy: 463   Iran: 237   South Korea: 53   France: 30   Spain: 30   US: 22   Japan: 17 Iraq: 6   UK: 5   Australia: 3   Netherlands: 3   Hong Kong: 3   Switzerland: 2  Germany: 2             San Marino: 2   Canada: 1   Thailand: 1   Egypt: 1   Taiwan: 1   Argentina: 1   Philippines: 1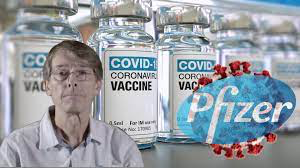 March 10, 2020
"Mission Accomplished"?: President Xi Declares
 Victory Over Coronavirus In Visit To Wuhan 
March 10, 2020
President Xi is making his second major public visit since the outbreak began in late December. This time, he's traveling to Wuhan - the epicenter of the outbreak - in what appears to be a "Mission Accomplished" moment for the leader of the world's largest country in its battle against the novel coronavirus and Covid-19.

Webmaster note: This is GREAT news from China!!! - but what about the rest of the world?

Update for March 10, 2020
This map below shows locations in the US that have confirmed cases of COVID-19, scaled by the number of cases in each place. On Jan. 20, the CDC confirmed the first US case of COVID-19, a 35-year-old man in Snohomish County, Washington, who had recently traveled to Wuhan. Since then, cases have been confirmed across the country, with the largest outbreaks in California, New York, and Washington state.
March 10, 2020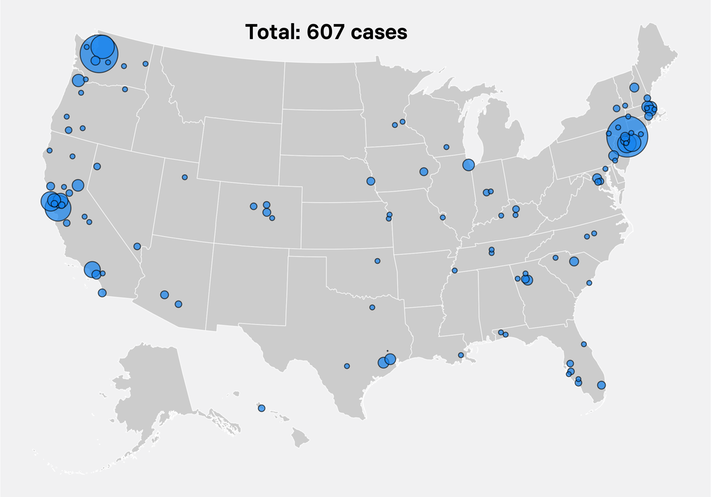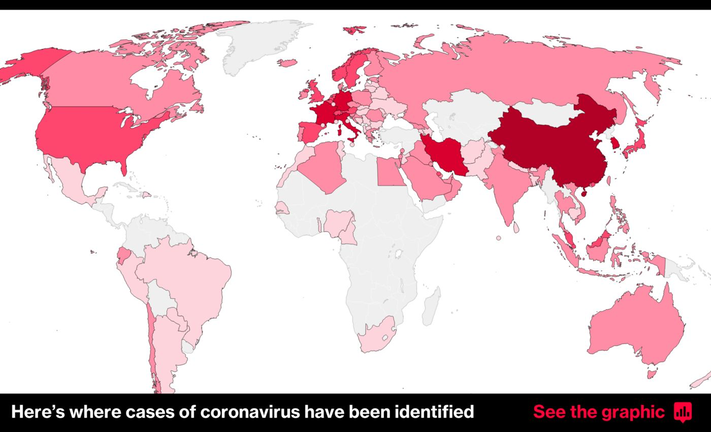 China to Destroy Paper Currency From Hardest-Hit Coronavirus Regions March 9, 2020
China's central bank says it plans to destroy most of the banknotes collected by hospitals, markets, and buses in some regions hard hit by the new coronavirus. Fan Yifei, deputy governor of the Chinese central bank, said they plan to out pump 600 billion yuan ($85.6 billion) of freshly printed paper currency to replace the bills taken out of circulation. In other areas of the country, the government has ordered banks to remove incoming paper currency from circulation and replace it with the new cash. They have been directed to keep the cash under quarantine for 14 days and disinfect it at high temperatures and with ultraviolet light before returning it to the public.

Leaked medical conference documents reveal US hospitals preparing for 96 million coronavirus infections and 480,000 deaths March 9, 2020
(Natural News) Leaked documents from a lecturer at the American Hospital Association (AHA) conference in February reveal that US hospitals are preparing for:
– 96 million coronavirus infections
– 4.8 million hospitalizations
– 480,000 deaths in the USA
Tri-State - NY, NJ, CONN - COVID-19 Cases Surge 216% in Days; Port Authority Boss Among Newest Infected: March 9, 2020
What we Know
The number of novel coronavirus cases in the tri-state area surged by more than 216 percent between late Friday and Monday afternoon, from 49 cases to more than 150




New York was up to at least 143 cases statewide, 20 of them in the five boroughs, as of Monday afternoon; the lion's share of those cases are in Westchester County




New Jersey had 11 positive samples that had been sent to the CDC for confirmation as of Monday; Connecticut has a presumptive positive as well
WHO Says Coronavirus "Starting To Look Like A Pandemic" As Italy Reports Another Massive Jump in Cases, Deaths: March 9, 2020
Summary:
First 2 Coronavirus deaths recorded in Germany

WHO's Dr. Tedros says threat of pandemic has become "very real"

Confirmed cases near or pass 1,000 in France, Germany and Spain

Germany state of Brandenburg has between 4k and 5k in home quarantine

Trump to meet with Wall Street CEOs Wednesday

South Korea imposes travel advisory, confirms another 96 cases; 3 new deaths (total: 54)

Hungary stops flights to and from Northern Italy

PM Johnsons says UK won't close parliament

Trump to hold WH meeting on fiscal stimulus

Italian PM promises "massive shock therapy" to save economy from coronavirus

Deutsche Bank cancels 150-year-anniversary celebrations

Dozens of flights leave northern Italy despite quarantine, even as airlines cancel routes

Moody's says US economy headed for recession

Cuomo confirms 142 new cases in New York State, bringing total confirmed in NYC to 19

NY has started making its own sanitizer

Columbia University cancels classes, Princeton moves lectures online

78 new public health labs open across US Monday

Spain PM says he will have 'emergency plan' to tackle outbreak

UK confirms another 45 cases

VP Pence will hold press conference at 5:30ET Monday

Amtrak shutters 'Acela Corridor'

Korean construction worker contracted by US military tests positive

Total number of cases jumps above 9,000 while deaths hit 463

'Grand Princess' docks in Oakland

Another cruise ship disaster might be shaping up in Fla.

Trump congratulates VP Pence via tweet

New cases in South Korea drop as Philippines case total doubles

EUCO President says conference call will be held to coordinate EU response

Germany and France finmins hold talks to discuss crisis

Missouri declares first "presumptive" positive Sunday night; father of patient breaks quarantine

Dutch infections climb to 321
Update (1340ET): As the government boosts testing following the imposition of a sweeping quarantine impacting most of the Italian north, for the third day in a row, officials have pointed a more than 1,000-case jump in the total coronavirus infections, and a 25% increase in deaths.

"This Is The Most Frightening Disease I've Ever Encountered In My Career" Says Architect Of National Pandemic Strategy March 8, 2020
An infectious diseases expert at the forefront of the search for a coronavirus vaccine said on Friday that it was the most "frightening disease" he's ever encountered, and that "war is an appropriate analogy" for what the country is facing, as "50 - 70 percent of the global population" may become infected.

US Coronavirus Cases Surpass 500 As Italian Deaths Surge 57%  March 8, 2020

Summary:
Italy reports 2nd straight 1,000+ jump in cases, deaths jump 60%; mortality rate in Italy hits 5%

Total US cases surpass 500

Portugal president goes into self-quarantine

New York State confirms 16 new cases bringing total north of 100

Santa Clara reports 5 more cases to 37

Mass confirms 15 more cases tied to Biogen conference

Mayor de Blasio says NYC could see hundreds of cases in 2-3 weeks

Death toll hits 21 as 2 more cases confirmed in Washington State

Oregon declares state of emergency

16 million Italians wake up under quarantine

Egypt reports Africa's first coronavirus death, a German citizen

Pope Francis cancels Sunday address

Dr. Fauci warns community spread is getting out of control.

'Grand Princess' to dock in Oakland on Monday

Saudi Arabia quarantines province

France, Germany call for bans on events with over 1,000

Still no word on timing of when 'Grand Princess' will land

Patient in Japan develops meningitis

Spain death toll hits 17, 600+ cases

Cuomo says he wants to avoid closing NYC schools, transit if possible

Iran official death toll hits 194

Daegu Mayor says outbreak may be slowing as number of new cases falls
All Hospital Beds In The US Will Be Filled With Patients 'By About May 8th' Due To Coronavirus: Analysis 
March 8,2020
A sobering analysis of how coronavirus is likely to impact the US healthcare system suggests that hospitals will be quickly overwhelmed with patients, and that all available beds will be filled by around May 8th if the virus tracks with Italy's figures and 10% of patients require an ICU.
We can expect that we'll continue to see a doubling of cases every 6 days (this is a typical doubling time across several epidemiological studies). Here I mean *actual* cases. Confirmed cases may appear to rise faster in the short term due to new test kit rollouts.
We're looking at about 1M US cases by the end of April, 2M by ~May 5, 4M by ~May 11, and so on. Exponentials are hard to grasp, but this is how they go.
[Webmaster note: Our calculations are lower than projected above by about 50-60%. Factors such as increasing Spring/Summer temperatures and sunlight, better citizen responses to personal health concern/improvements, intentional reduced/redirected traveling plans, increased use of natural and supplemental vitamins C and D, and increased trust in, and prayers to our Heavenly Father for His will to be done for wisdom and healing to slow/change the projected viral impact.]
UPDATE! New projections show only 1.1 million deaths in the USA by July 4th if social distancing achieves 25% suppression
As the healthcare system begins to saturate under this case load, it will become increasingly hard to detect, track, and contain new transmission chains. In absence of extreme interventions, this likely won't slow significantly until hitting >>1% of susceptible population. 
What does a case load of this size mean for healthcare system? We'll examine just two factors — hospital beds and masks — among many, many other things that will be impacted. 
The US has about 2.8 hospital beds per 1000 people. With a population of 330M, this is ~1M beds. At any given time, 65% of those beds are already occupied. That leaves about 330k beds available nationwide (perhaps a bit fewer this time of year with regular flu season, etc).
Let's trust Italy's numbers and assume that about 10% of cases are serious enough to require hospitalization. (Keep in mind that for many patients, hospitalization lasts for *weeks* — in other words, turnover will be *very* slow as beds fill with COVID19 patients).
By this estimate, by about May 8th, all open hospital beds in the US will be filled. (This says nothing, of course, about whether these beds are suitable for isolation of patients with a highly infectious virus.) 
If we're wrong by a factor of two regarding the fraction of severe cases, that only changes the timeline of bed saturation by 6 days in either direction. If 20% of cases require hospitalization, we run out of beds by ~May 2nd. 
If only 5% of cases require it, we can make it until ~May 14th. 2.5% gets us to May 20th. This, of course, assumes that there is no uptick in demand for beds from *other* (non-COVID19) causes, which seems like a dubious assumption. 
As healthcare system becomes increasingly burdened, Rx shortages, etc, people w/ chronic conditions that are normally well-managed may find themselves slipping into severe states of medical distress requiring intensive care & hospitalization. But let's ignore that for now.
Alright, so that's beds. Now masks. Feds say we have a national stockpile of 12M N95 masks and 30M surgical masks (which are not ideal, but better than nothing). 
There are about 18M healthcare workers in the US. Let's assume only 6M HCW are working on any given day. (This is likely an underestimate as most people work most days of the week, but again, I'm playing conservative at every turn.) 
As COVID19 cases saturate virtually every state and county, which seems likely to happen any day now, it will soon be irresponsible for all HCWs to not wear a mask. These HCWs would burn through N95 stockpile in 2 days if each HCW only got ONE mask per day. 
One per day would be neither sanitary nor pragmatic, though this is indeed what we saw in Wuhan, with HCWs collapsing on their shift from dehydration because they were trying to avoid changing their PPE suits as they cannot be reused.
How quickly could we ramp up production of new masks? Not very fast at all. The vast majority are manufactured overseas, almost all in China. Even when manufactured here in US, the raw materials are predominantly from overseas... again, predominantly from China. 
Keep in mind that all countries globally will be going through the exact same crises and shortages simultaneously. We can't force trade in our favor. 
Now consider how these 2 factors – bed and mask shortages – compound each other's severity. Full hospitals + few masks + HCWs running around between beds without proper PPE = very bad mix. 
HCWs are already getting infected even w/ access to full PPE. In the face of PPE limitations this severe, it's only a matter of time. HCWs will start dropping from the workforce for weeks at a time, leading to a shortage of HCWs that then further compounds both issues above. 
We could go on and on about thousands of factors – # of ventilators, or even simple things like saline drip bags. You see where this is going. 
Importantly, I cannot stress this enough: even if I'm wrong – even VERY wrong – about core assumptions like % of severe cases or current case #, it only changes the timeline by days or weeks. This is how exponential growth in an immunologically naïve population works. 
Undeserved panic does no one any good. But neither does ill-informed complacency. It's wrong to assuage the public by saying "only 2% will die." People aren't adequately grasping the national and global systemic burden wrought by this swift-moving of a disease. 
I'm an engineer. This is what my mind does all day: I run back-of-the-envelope calculations to try to estimate order-of-magnitude impacts. I've been on high alarm about this disease since ~Jan 19 after reading clinical indicators in the first papers emerging from Wuhan. 
Nothing in the last 6 weeks has dampened my alarm in the slightest. To the contrary, we're seeing abject refusal of many countries to adequately respond or prepare. Of course some of these estimates will be wrong, even substantially wrong.
But I have no reason to think they'll be orders-of-magnitude wrong. Even if your personal risk of death is very, very low, don't mock decisions like canceling events or closing workplaces as undue "panic".
These measures are the bare minimum we should be doing to try to shift the peak – to slow the rise in cases so that healthcare systems are less overwhelmed. Each day that we can delay an extra case is a big win for the HC system. 
And yes, you really should prepare to buckle down for a bit. All services and supply chains will be impacted. Why risk the stress of being ill-prepared? 
Worst case, I'm massively wrong and you now have a huge bag of rice and black beans to burn through over the next few months and enough Robitussin to trip out.
One more thought: you've probably seen multiple respected epidemiologists have estimated that 20-70% of world will be infected within the next year. If you use 6-day doubling rate I mentioned above, we land at ~2-6 billion infected by sometime in July of this year. 
Obviously I think the doubling time will start to slow once a sizeable fraction of the population has been infected, simply because of herd immunity and a smaller susceptible population. 
But take the scenarios above (full beds, no PPE, etc, at just 1% of the US population infected) and stretch them out over just a couple extra months. 
That timeline roughly fits with consensus end-game numbers from these highly esteemed epidemiologists. Again, we're talking about discrepancies of mere days or weeks one direction or another, but not disagreements in the overall magnitude of the challenge. 
This is not some hypothetical, fear-mongering, worst-case scenario. This is reality, as far as anyone can tell with the current available data. 
That's all for now. Standard disclaimers apply: I'm a PhD biologist but *not* an epidemiologist. Thoughts my own. Yadda yadda. Stay safe out there. /end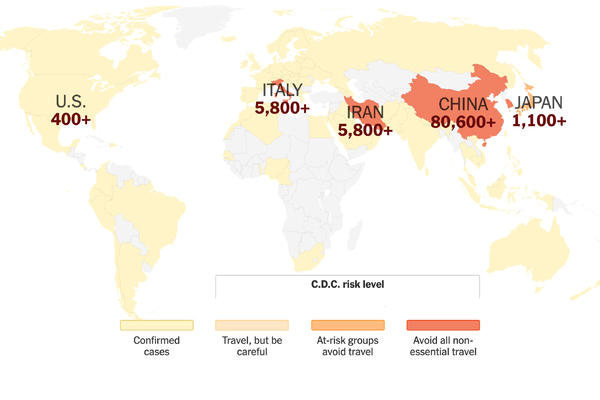 New York State declares an emergency, and cases rise to 89. March 7, 2020
Global Confirmed Coronavirus Cases Surpass 100,000
Summary: 
13th death in the US (12th in WA.) -  Now 14 deaths
2nd death in UK, France reports 2 new deaths bringing total to 9
French total cases hits 577.
2,733 asked to voluntarily quarantine in NYC
Switzerland, the Netherlands report 1st deaths
Slovakia only country in Europe without coronavirus
Russia accuses Italy of spreading virus
Singapore reports 13 new cases, largest one-day jump since outbreak began
US case total: 234
South Korea, Japan feud over virus
Microsoft, Adidas, Lockheed say at least 1 employee has contracted virus
China claims it can have vaccine ready by April
Pompeo says China withheld information, leaving US "behind the curve"
March 6, 2020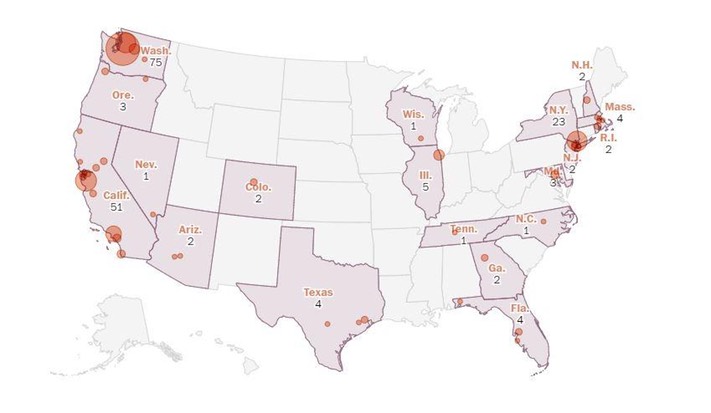 March 6, 2020

NASA images reveal massive DROP in pollution in China following coronavirus outbreak March 5, 2020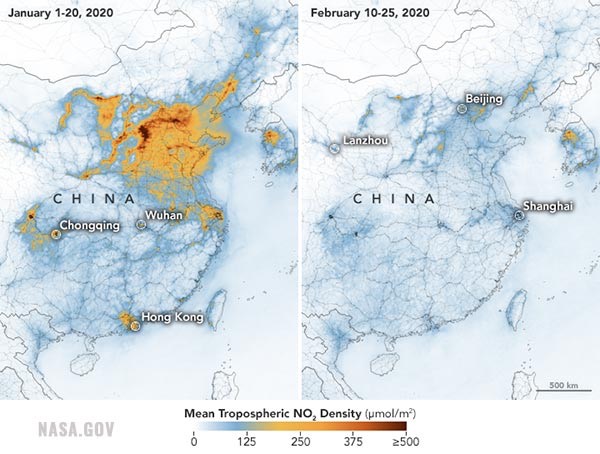 Scientists monitoring the ongoing the coronavirus (COVID-19) outbreak in China have found one surprising bit of silver lining. Satellite images from NASA revealed a significant drop in pollution over some of China's biggest cities.
According to NASA, there has been a significant decrease in nitrogen dioxide (NO2) emissions in China due to the economic slowdown following the coronavirus outbreak. NO2 emissions usually come from motor vehicles, industrial facilities and power plants.
ALERT: Pandemic projection model shows 2.16 million deaths in USA by July 4th if nothing done to halt nearly all domestic travel (air, rail and roads) March 5, 2020
(Natural News) Today I [Mike Adams] finished tweaking the first draft of a pandemic projection model that simulates the spread of the coronavirus in the United States. The assumptions of the model are explained here, and you will find they are extremely conservative (using R0 value of just 1.82, for example).
The model's predictions are nothing short of apocalyptic if the virus is allowed to spread without restraint across the United States. According to the model, there will be 2.16 million dead Americans by July 4th if domestic travel is not aggressively halted very soon
Coronavirus spreads to NYC and increases, Texas, New Jersey, Tennessee and Nevada as epidemic sweeps across America 
 (Natural News)  Importantly, NIH director Dr. Fauci warns that 15-20% of infected patients may require hospitalization. That means America might need tens of millions of hospital beds, yet the entire country only has 980,000 hospital beds in existence… and most of those are already occupied. Once the hospital beds get full, the mortality rate climbs to around 15% as infected people are, effectively, sent home to die.  
March 5,2020
WHO admits global coronavirus death rate HIGHER than initially thought: Now 3.4% March 5,2020
(Natural News) The global mortality rate for coronavirus (COVID-19), the disease caused by the new coronavirus that first appeared in China and is now spreading across the globe, is much higher than what was previously thought, the World Health Organization(WHO) said.
The WHO, in an announcement from their headquarters in Geneva on Tuesday, set the new rate at 3.4 percent, a number that's much higher compared to their previous estimate, which was pegged at 2 percent.
"Globally, about 3.4% of reported COVID-19 cases have died," WHO Director-General Tedros Adhanom Ghebreyesus said during the press briefing.
San Francisco Mayor Hints At Possible Widespread Outbreak In City; WA's King County Reports 20 New Cases: Live Updates March 5,2020
Covid-19 Cases In New York State Double To 22 As Seattle Closes 26 Schools For 2 Weeks: Live Updates March 5,2020
The Italian death roll is surging…

Summary:
New Jersey confirms first presumptive case

NY state cases double to 22

Seattle closes 26 schools

Pentagon tracking 12 possible COVID-19 cases

Illinois reports 5 more cases

NYC reports 2 more cases, raising total to 4

Italy postpones referendum vote; death toll hits 148

WHO's Tedros: "Now's the time to pull out the stops"

Tennessee confirms case

Nevada confirms first case

New Delhi closes primary schools

EU officials weigh pushing retired health-care workers back into service to combat virus

Italy to ask EU for permission to raise budget deficit as lawmakers approve €7.5 billion euros

Beijing tells residents not to share food

30-year-old Chinese man dies in Wuhan 5 days after hospital discharge

Cali authorities tell 'Grand Princess' cruise ship not to return to port until everyone is tested

Global case total passes 95k

Lebanon sees cases double to 31

France reports 2 more deaths

EY sends 1,500 Madrid employees home after staffer catches virus

Trump says he has a "hunch" true virus mortality rate is closer to 1%

Switzerland reports 1st death

South Africa confirms 1st case

UK chief medical officer confirms 'human-to-human' infections are happening in UK

UK case total hits 115

Google, Apple, Netflix cancel events

HSBC sends research department and part of London trading floor home

Facebook contract infected in Seattle

Microsoft, Google, Amazon, Netflix cancel events and/or ask employees to work from home

Netherlands cases double to 82

Spain cases climb 40, 1 new death

Belgium reports 27 new cases bringing total to 50

Germany adds 87 cases bringing total to 349

Here We Go Again: Cali Bars 'Grand Princess' Cruise Ship From Docking As Passengers Report Virus Symptoms: 
March 5,2020
Summary:
New Jersey confirms first presumptive case

Seattle closes 26 schools

Pentagon tracking 12 possible COVID-19 cases

Illinois reports 5 more cases

NYC reports 2 more cases, raising total to 4

Italy postpones referendum vote; death toll hits 148

WHO's Tedros: "Now's the time to pull out the stops"

Tennessee confirms case

Nevada confirms first case

New Delhi closes primary schools

EU officials weigh pushing retired health-care workers back into service to combat virus

Italy to ask EU for permission to raise budget deficit as lawmakers approve €7.5 billion euros

Beijing tells residents not to share food

30-year-old Chinese man dies in Wuhan 5 days after hospital discharge

Cali authorities tell 'Grand Princess' cruise ship not to return to port until everyone is tested

Global case total passes 95k

Lebanon sees cases double to 31

France reports 2 more deaths

EY sends 1,500 Madrid employees home after staffer catches virus

Trump says he has a "hunch" true virus mortality rate is closer to 1%

Switzerland reports 1st death

South Africa confirms 1st case

UK chief medical officer confirms 'human-to-human' infections are happening in UK

UK case total hits 115

Google, Apple, Netflix cancel events

HSBC sends research department and part of London trading floor home

Facebook contract infected in Seattle

Microsoft, Google, Amazon, Netflix cancel events and/or ask employees to work from home

Netherlands cases double to 82

Spain cases climb 40, 1 new death

Belgium reports 27 new cases bringing total to 50

Germany adds 87 cases bringing total to 349
* * *
Update (1230ET): Illinois has confirmed 5 more cases of Covid-19, bringing the US case total to 159.
NYC Confirms 2 More Cases As Virus Spreads To New Jersey; First Patient Dies In Switzerland As Global Cases Near 100,000: Live Updates WaPo claims Iran reporting just 10% of total case March 5, 2020
A Beijing Hospital Confirms Covid-19 Attacks Central Nervous System March 4, 2020
Coronavirus in Oregon (March 3): Hundreds likely infected, Hillsboro hospital workers quarantined
There may be 300 to 500 Oregonians who are or were unknowingly carrying the coronavirus; 'dozens' of Hillsboro hospital workers are in isolation.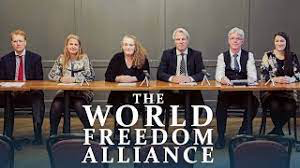 Sign In
Search
"Pandemic Proportions": COVID-19 Is Starting To Spiral Out Of Control All Over The Globe March 3, 2020
This is already the most frightening virus outbreak that we have seen in the past several decades, and it appears that it is just getting started. 

by Michael Snyder

A week ago, there were about 3,000 confirmed cases outside of China and now there are more than 10,000.  4,812 cases have been confirmed in South Korea, 2,036 cases have been confirmed in Italy, and 1,501 cases have been confirmed in Iran at this point.  Of course by the time you actually read this article those numbers are likely to be significantly higher.  It is like we are watching a really bad Hollywood disaster movie play out right in front of our eyes, and so far every effort to contain this virus has failed.  On Monday, Dr. Anthony Fauci stunned many people when he told NBC News that COVID-19 has likely reached "pandemic proportions"…

Here's what's coming for America as the coronavirus spreads… city-scale quarantines, overrun hospitals, domestic flight lockdowns and MEDICAL MARTIAL LAW    March 3, 2020
This is a panic article. It could go this route, but we think this is a worst case scenario. Warmer weather should lessen the infectino rate - as it happens every year with the flu.
(Natural News) Now that the CDC has invoked its "rule by secrecy" mode by hiding coronavirus testing numbers in order to deceive America (while it quietly "seeds" infected people into the population), it's abundantly obvious that the coronavirus outbreak in America is going to be used to invoke medical martial law.
There are already thousands of infections across America which have not yet been tested — all by design, of course, as the CDC withheld testing kits from hospitals and local health officials across the country. By our best estimates, there are currently between 5,000 and 10,000 infections in America, mostly along the West Coast (Seattle and Northern California) with new outbreaks taking place in New York City, Miami, Chicago and other major cities.
Right now, domestic air travel is spreading the virus like crazy, since it spreads during the asymptomatic phase when people don't even know they're infected. There is currently no screening of domestic air travelers, and no domestic flights routes have been locked down (although that's coming soon).
Importantly, the coronavirus has already broken containment in America and is now impossible to contain. It will impact every major city in America.
Here are a few of my predictions for where we're going with this. So buckle up and get ready, because the coronavirus is coming to a city near you:
#1) Hospitals will be overrun in regions of America – As the exponential growth rates cause an explosion in infection cases, hospital beds that can handle biocontainment demands will quickly be full. We are close to that condition at this very moment, in fact.
#2) Entire cities in America will be placed under quarantine lockdown status: This may take a while to be fully recognized and declared, but it will occur. Once you are caught in a quarantine, you will not be allowed to leave, for fear that you might spread the disease to other cities.
#3) School closures will become commonplace: This is already beginning to occur, and the practice will rapidly spread.
#4) Over the coming week, there will be tens of infections confirmed in America: By the end of this week (Sunday night), we should expect somewhere around 100 new cases having been confirmed this week.
#5) Within 30 days, if lab testing is allowed to take place, you will see hundreds of coronavirus infections confirmed in America. Watch for cases to jump to 200, then 500, etc. If the testing is allowed to take place, this is inevitable.
#6) Within 90 days, if the labs are legitimately trying to test everyone they can, you will see thousands of coronavirus infections confirmed in America. By June, in other words, there will be thousands of confirmed infections in America, and possibly over 10,000 by that time.
#7) Unless there's a miracle intervention, eventually the number of coronavirus infections confirmed in America will exceed 100,000. This is mathematically inevitable, especially with the widespread negligence, incompetence and even criminal maliciousness of federal agencies that are right now telling Americans to NOT prepare. The federal government, of course, may never allow these numbers to see the light of day, since the CDC and the Trump administration now appear to be modeling their response after communist China (basically just lie about everything and hide the truth).
#8) Restrictions on domestic air travel, armed highway checkpoints: Once the quarantines begin, you will see armed roadside checkpoints and domestic air travel restrictions put in place. America will become a medical police state.
#9) Forced vaccines and "show me your papers" police state protocols. Eventually, once the vaccine is rolled out, you will see calls for mandatory vaccines and restrictions on human rights for people who are not vaccinated (no right to hold a job, no right to travel on public transportation, no right to be a parent, etc.). Prepare to be required to carry proof that you've been vaccinated. "Show me your papers."
#10) The near-collapse of entire cities into lawlessness and chaos: Although it might take a year or more for the full extent of the coronavirus pandemic to work its way across the nation, at some point entire cities will seemingly descend into lawlessness and chaos. The U.S. military is already reportedly planning for up to 3.3 million deaths in America as a possible scenario. The quarantines, paycheck losses and the severing of food supply lines will wreak havoc in cities like Seattle and San Francisco, where homelessness and filth are already out of control, even without a pandemic.
Just remember, you are told there's no need for YOU to prepare, even while the military and government are buying every truckload of emergency supplies they can find.
It's criminal. When the Surgeon General tells you to STOP buying masks because they don't work, and then says hospital staffers need all those masks because they DO work, you know he's lying.
Get prepared with gear, or get ready to die. That about sums it up.
Locations with Confirmed COVID-19 Cases
Global Map March 3, 2020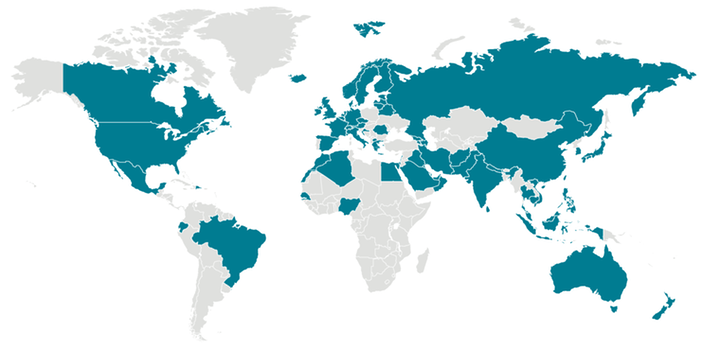 Locations with Confirmed COVID-19 Cases, by WHO Region
Africa
Americas
Brazil

Canada

Dominican Republic

Ecuador

Mexico

United States
Eastern Mediterranean
Afghanistan

Bahrain

Egypt

Iran

Iraq

Kuwait

Lebanon

Morocco

Oman

Pakistan

Qatar

Saudi Arabia

United Arab Emirates
Europe
Andorra

Armenia

Austria

Azerbaijan

Belarus

Belgium

Croatia

Czech Republic

Denmark

Estonia

Finland

France

Georgia

Germany

Greece

Iceland

Ireland

Israel

Italy

Latvia

Lithuania

Luxembourg

Monaco

Netherlands

North Macedonia

Norway

Romania

Russia

San Marino

Spain

Sweden

Switzerland

United Kingdom
South-East Asia
India

Nepal

Sri Lanka

Thailand
Western Pacific
Australia

Cambodia

China

Hong Kong

Indonesia

Japan

Macau

Malaysia

New Zealand

Philippines

Republic of Korea

Singapore

Taiwan

Vietnam
                              States Reporting Cases of COVID-19 to CDC*
Alaska no
Alabama no
Arkansas no
Arizona yes
California yes
Colorado no
Connecticut no
Delaware no
Florida yes
Georgia yes
Hawaii no
Iowa no
Idaho no
Illinois yes
Indiana no
Kansas no
Kentucky no
Louisiana no
Massachusetts yes
Maryland no
Maine no
Michigan no
Minnesota no
Missouri no
Mississippi no
Montana no
North Carolina no
North Dakota no
Nebraska no
New Hampshire yes
New Jersey no
New Mexico no
Nevada no
New York yes
Ohio no
Oklahoma no
Oregon yes
Pennsylvania no
Rhode Island yes
South Carolina no
South Dakota no
Tennessee no
Texas no
Utah no
Virginia no
Vermont no
Washington yes
Wisconsin yes
West Virginia no
Wyoming no

       March 3, 2020
Coronavirus updates live: U.S. death toll rises to 6 as South Korea declares 'war' on coronavirus March 3, 2020
Around 40 people have been reported dead in the last 24 hours due to coronavirus in countries outside of China, more than the 31 new deaths reported in mainland China in the same time period. This is the first time since the virus started spreading that deaths in China didn't outnumber those in the rest of the world. In total, at least 3,100 people have died, including six in Washington State.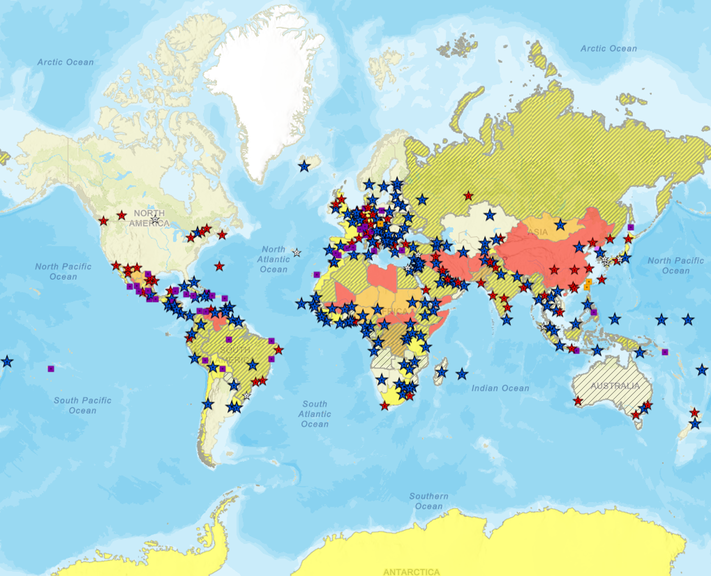 Summary:
2nd US death reported in Washington State
2 new cases confirmed in Tampa Bay
Santa Clara County confirms 2 more cases, bringing county total to 9
Gottlieb warns US cases likely in 'low thousands'
Illinois announces 4th case
Boris Johnson: "A very significant expansion" of the virus is "clearly in the cards"
Italian death toll climbs 18 to 52 while total cases surpasses 2,000
BMW tells 150 to quarantine after Munich employee infected
WHO's Tedros: Virus is "common enemy" of humanity so don't focus on blame
Jordan reports first two cases
Death toll in France doubles, total cases climb to 191
Tunisia reports first case
UK total climbs to 40
OECD warns global growth could fall by half
Indonesia reports first cases
"Progress is being made" toward a vaccine
Cuomo says NY expects more cases
India confirms 2 more cases
'Official' Iran death toll hits 66
EU confirms 38 deaths across 18 members
First cases confirmed in Fla.
2 Amazon employees test positive in Milan
Virus now in 7 US states: Washington, California, Illinois, Rhode Island, New York, Florida and Oregon
San Antonio virus patient re-hospitalized after testing positive
China warns it could face 'locust invasion'
CORONAVIRUS U.S. OUTBREAK UPDATE AS DOZENS OF NEW CASES CONFIRMED IN CALIFORNIA, FLORIDA, NEW YORK, WASHINGTON   March 2, 2020
The COVID-19 virus has seen dozens of new cases reported across the U.S. since last Friday, including the first two deaths in the U.S. in Washington state, the first cases in New York and Florida as well as more cases in California, Rhode Island, Illinois and Oregon.
The latest cases have raised the total number of cases in the country to around 89, a jump from around 60 cases last Friday. Both Washington and Florida have declared a state of emergency since the latest cases.
The two male patients who died in Washington were treated at a hospital in Kirkland and were reported to have had underlying health conditions. One of them was in his 50s, while the other was in his 70s. The state has reported at least 13 cases of the virus so far, according to the Washington State Department of Health.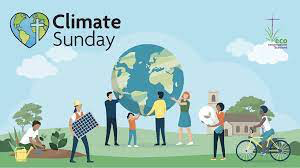 Were Coronavirus Samples Destroyed By China To Coverup The Outbreak? March 1, 2020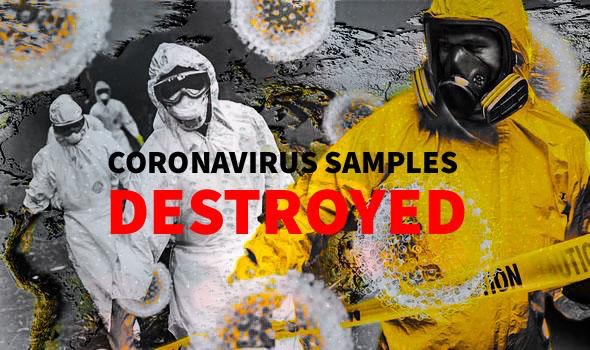 Since the outbreak of Coronavirus in Wuhan, the Chinese Communist Party has concealed the epidemic from the local government to the central government and shirked from its responsibility. Recently, Caixin, a Beijing-based media group published a shocking report that the Hubei Provincial Health and Medical Commission ordered the destruction of Coronavirus samples. Soon after the story was gagged with the article subsequently taken down.
News Media Attacks Vitamin C Treatment of COVID-19 Coronavirus March 1, 2020
A MUST read.
Yet Ascorbate is a Proven, Powerful Antiviral
by Andrew W. Saul, Editor-in-Chief
(OMNS Mar 1, 2020) First of all, the naysayers are too late. Vitamin C is already being used to prevent and treat COVID-19 in China and in Korea. And it is working. 
Here is a verified official statement from China's Xi'an Jiaotong University Second Hospital:
"On the afternoon of February 20, 2020, another 4 patients with severe coronavirus pneumonia recovered from the C10 West Ward of Tongji Hospital. In the past 8 patients have been discharged from hospital. . . [H]igh-dose vitamin C achieved good results in clinical applications. We believe that for patients with severe neonatal pneumonia, and for critically ill patients, vitamin C treatment should be initiated as soon as possible after admission. Numerous studies have shown that the dose of vitamin C has a lot to do with the effect of treatment. High-dose vitamin C can not only improve antiviral levels, but more importantly, can prevent and treat acute lung injury (ALI) and acute respiratory distress (ARDS)."
Here is a report from Korea: 
"At my hospital in Daegu, South Korea, all inpatients and all staff members have been using vitamin C orally since last week. Some people this week had a mild fever, headaches and coughs, and those who had symptoms got 30,000 mg intravenous vitamin C. Some people got better after about two days, and most had symptoms go away after one injection." (Hyoungjoo Shin, M.D.)
There are at least three high-dose intravenous vitamin C studies underway in China. Literally by the truckload, tons of vitamin C has been sent into Wuhan. 
Here is a report from a physician in China:
"We need to broadcast a message worldwide very quickly: Vitamin C (small or large dose) does no harm to people and is the one of the few, if not the only, agent that has a chance to prevent us from getting, and can treat, COVID-19 infection. When can we, medical doctors and scientists, put patients' lives first?" (Richard Z. Cheng, MD, PhD, International Vitamin C China Epidemic Medical Support Team Leader)
News media attacks on vitamin C are centered on false allegations of dangers with megadoses. This tactic lets the media ignore the truth that even LOW doses of vitamin C reduce symptoms and death rates. Do not let the media spin this issue. Advocates of vitamin C are medical doctors, not spin doctors. They are experienced, credentialed clinicians who have read the science, a small sample of which follows: 
Even small supplemental amounts of vitamin C can keep severely ill patients from dying. 
[Hunt C et al. Int J Vitam Nutr Res 1994;64:212-19.] 

Infants with viral pneumonia treated with vitamin C had reduced mortality. 
[Ren Shiguang et al. Hebei Medicine 1978,4:1-3] 

Moderate doses of vitamin C shortened ICU stay by 97% in a subgroup of 1,766 patients 
[Hemilä H, Chalker E. Nutrients. 2019 Mar 27;11:4.] 

200 mg of vitamin C reduced duration of severe pneumonia in children. Oxygen saturation was improved in less than one day. 
[Khan IM et al. J Rawalpindi Med Coll (JRMC); 2014;18(1):55-57]
The Orthomolecular Medicine News Service, and its editorial board of nearly four dozen physicians, academics and health professionals (listed below) feel it is necessary to report on what the advertiser-supported, corporate-controlled commercial media refuses to acknowledge: even small amounts of vitamin C dramatically decrease severity of symptoms, and increase survival rates, among severely ill viral patients. Large doses work better. Intravenous large doses work better still. 
OMNS has been relentlessly reporting on this for weeks: 
Feb 28, 2020 Vitamin C and COVID-19 Coronavirus
Feb 23, 2020 TONS OF VITAMIN C TO WUHAN: China Using Vitamin C against COVID
Feb 21, 2020 Three Intravenous Vitamin C Research Studies Approved for Treating COVID-19
Feb 16, 2020 Early Large Dose Intravenous Vitamin C is the Treatment of Choice for 2019-nCov Pneumonia
Feb 13, 2020 Coronavirus Patients in China to be Treated with High-Dose Vitamin C
Feb 10, 2020
VITAMIN C AND ITS APPLICATION TO THE TREATMENT OF nCoV CORONAVIRUS: How Vitamin C Reduces Severity and Deaths from Serious Viral Respiratory Diseases
Feb 2, 2020 Hospital-based Intravenous Vitamin C Treatment for Coronavirus and Related Illnesses
Jan 30, 2020 Nutritional Treatment of Coronavirus
Jan 26, 2020 Vitamin C Protects Against Coronavirus
The greatest danger with COVID-19 coronavirus is illness progression to SARS (Severe Acute Respiratory Syndrome) and pneumonia. Physicians have successfully used vitamin C against viral pneumonia since the 1940s. That's the point made in a 10-minute video that was abruptly removed from YouTube, supposedly for being a violation of their "community standards":  https://www.brighteon.com/646ad120-775a-4464-a0d1-609be7a0a9dc
OMNS favors a community of people of all nations dedicated to immediately employing all existing, science-based measures to stop a dreaded disease for which there is no conventional cure. Vitamin C is available now. It is not new. And it is not "unproven." Vitamin C has been used as an antiviral since the 1930s. (1) It has been used in very high injected doses since the 1940s. (2) In the decades since, vitamin C has been used for influenza, SARS and viral pneumonia. (3) 
"Vitamin C can truthfully be designated as the antitoxic and antiviral vitamin." 
(Claus W. Jungeblut, M.D., Professor, Columbia University College of Physicians and Surgeons) 
All OMNS releases are duly referenced to the research literature. Yet if you post what you are reading now on Facebook, it is likely to be blocked or labeled "false information." Since when is reviewing the medical literature "fake news"? 
It is our editorial viewpoint that withholding vitamin C treatment information from the public withholds it from the patient.
We accuse the media of negligence. They can correct this any time. 
Until they do, we will do it for them. 
References
(1) Jungeblut CW. Inactivation of poliomyelitis virus by crystalline vitamin C (ascorbic acid). J Exper Med 1935. 62:317-321.
Jungeblut CW. Vitamin C therapy and prophylaxis in experimental poliomyelitis. J Exp Med, 1937. 65: 127-146.
Jungeblut CW. Further observations on vitamin C therapy in experimental poliomyelitis. J Exper Med, 1937. 66: 459-477. 
Jungeblut CW, Feiner RR. Vitamin C content of monkey tissues in experimental poliomyelitis. J Exper Med, 1937. 66: 479-491.
Jungeblut CW. A further contribution to vitamin C therapy in experimental poliomyelitis. J Exper Med, 1939. 70:315-332. 
Saul AW. Taking the cure: Claus Washington Jungeblut, M.D.: Polio pioneer; ascorbate advocate. J Orthomolecular Med, 2006. Vol 21, No 2, p 102-106. http://www.doctoryourself.com/jungeblut.html and http://orthomolecular.org/library/jom
(2) http://orthomolecular.org/resources/omns/v16n09.shtml and http://www.orthomolecular.org/resources/omns/v09n16.shtml Frederick Robert Klenner's papers are listed and summarized in Clinical Guide to the Use of Vitamin C (ed. Lendon H. Smith, MD, Life Sciences Press, Tacoma, WA, 1988. This book is posted for free access at http://www.seanet.com/~alexs/ascorbate/198x/smith-lh-clinical_guide_1988.htm
(3) Cathcart RF. (1981) Vitamin C, titrating to bowel tolerance, anascorbemia, and acute induced scurvy. Med Hypotheses. 7:1359-76. http://www.doctoryourself.com/titration.html
Cathcart RF. (1993) The third face of vitamin C. J Orthomolecular Med, 7:197-200. Free access at http://www.doctoryourself.com/cathcart_thirdface.html
Additional Dr. Cathcart papers are posted at http://www.doctoryourself.com/biblio_cathcart.html
Nutritional Medicine is Orthomolecular Medicine
Orthomolecular medicine uses safe, effective nutritional therapy to fight illness. For more information: http://www.orthomolecular.org
Another view has been presented by Rush Limbaugh and is different from Chris Martenson and Tucker Carlson. Rush thinks this is primarily an attack, hyped up by the MSM, on our president, Donald Trump - and the coronavirus is really no worse that the chronic flu. Feb 24, 2020
Decide for yourself! 
We apologize for Rush's "need" to take the Lord's name in vain and have deleted that from the transcript
"The coronavirus is an effort to get Trump"
BREAKING: Solano County, California coronavirus patient wasn't tested for 11 days because California has virtually zero test kits… DOZENS of hospital workers exposed Feb 27, 2020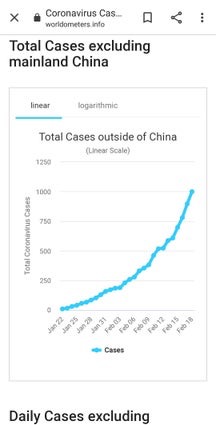 Orange County declares state of emergency; Los Angeles flight attendant tests positive for the coronavirus   Feb 26, 2020

CDC Confirms First US Coronavirus Case Of 'Unknown Origin' As South Korea Infections Soar: Live Updates

Feb 26, 2020
Scientists Discover HIV-Like "Mutation" Which Makes Coronavirus Extremely Infectious Feb 26, 2020
While mainstream scientists continue to perform mental gymnastics to insist that the new coronavirus wasn't man-made, new research from scientists in China and Europe reveal that the disease happens to have an 'HIV-like mutation' which allows it to bind with human cells up to 1,000 times stronger than the Sars virus, according to SCMP.

Recall that at the end of January, a team of Indian scientists wrote in a now-retracted, scandalous paper claiming that the coronavirus may have been genetically engineered to incorporate parts of the HIV genome, writing "This uncanny similarity of novel inserts in the 2019- nCoV spike protein to HIV-1 gp120 and Gag is unlikely to be fortuitous in nature," meaning - it was unlikely to have occurred naturally.

Fast forward to new research by a team from Nankai University, which writes that COV-19 has an 'HIV-like mutation' that  allows it to quickly enter the human body by binding with a receptor called ACE2 on a cell membrane.

CDC's Dr. Nancy Messonnier says the coronavirus pandemic will spread in the USA, a matter of "when" not "if" … Feb 26, 2020
(Natural News) When listening to the CDC's Dr. Nancy Messonnier warn about the coming pandemic outbreaks across America, you no longer have to read between the lines.
She's just flat out saying it now: It's coming. Get prepared. If you aren't prepared, you are  foolish.
"Now is the time for businesses, hospitals, communities, schools and everyday people to begin preparing," Dr. Messonnier recently told reporters on a conference call, according to CNBC. "We are asking the American public to work with us to prepare for the expectation that this could be bad."
The Wall Street Journal adds this unambiguous statement that needs no interpretation:
"We expect we will see community spread in this country," meaning the virus circulating within local communities, said Dr. Messonnier. She added that the question isn't if the virus will expand in the U.S.,  - but when.   
Leaked Docs Reveal Covid-19 Infections Up To 52 Times Higher Than 'Official' Figures In China's Shandong Province  Feb 26, 2020
The novel coronavirus outbreak in eastern China's Shandong province is much worse than the officially reported, according to a series of internal government documents obtained by The Epoch Times.

83 Being Monitored For Coronavirus In Long Island's Nassau County: Live Updates Feb 26, 2020
Summary:
CDC reports 6 new cases among repatriated Americans
83 being monitored in Nassau County
Iran deaths hit 19
Brazil confirms first case in South America
France confirms 2nd death
Tokyo pushes back against Tokyo Games cancellation talk
Greece confirms first case
Germany unleashes fiscal stimulus after confirming new cases
Dems one-up Trump with $8.5 billion package.
Kuwait, Iraq, Lebanon, Bahrain confirm new cases
Finland confirms 2nd case
1st 2 cases reported in Pakistan
HHS Secretary tells Congress infectious disease fund has no extra uncommitted cash
Congress begins talks on corona virus spending bill with vote expected early next month
Germany health minister warns we're at beginning of epidemic in Germany; 5 new cases
Italy confirms 12th death, cases soar above 400
North Macedonia confirms first case
South Korea cases soar above 1,200 as gov't begins testing of 200k patients
Brazil confirms infected patient came on plane from Paris
Ericsson confirms one of its employees in Croatia tested positive

Coronavirus spreads to Germany, Switzerland, Croatia, Iraq, Spain, Algeria, Austria and Brazil while cases explode in Italy by 45% in one day Feb 26, 2020

World Health Organization chief is a Chinese puppet, STILL claiming there is no coronavirus "pandemic" as global cover for the Communist regime Feb 25, 2020
Michigan monitoring 325 people for coronavirus infections, but has tested ZERO Feb 25, 2020
The state of California has tested ZERO people for coronavirus… all testing done by the CDC, which has so far tested fewer than 200 Californians IN TOTAL Feb 25, 2020
Fed up with CDC delays and excuses, U.S. laboratory association urgently requests FDA allow state and local labs to run coronavirus tests without CDC approval Feb 25, 2020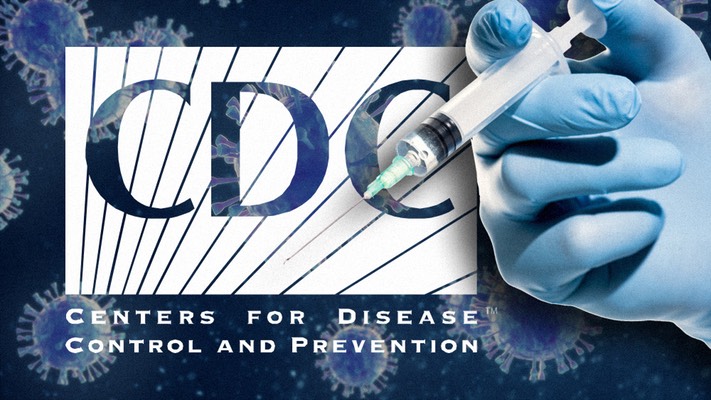 It's now becoming increasingly clear that the CDC has ordered state labs to halt all coronavirus tests in a desperate effort to avoid all testing and thereby find no evidence of "community outbreaks."
The CDC's intention is to obviously cause the coronavirus to spread as widely as possible in America by prohibiting nearly all testing in the United States.
The worse the epidemic gets in America, the more funding and power the CDC receives from the "crisis" once it's finally unveiled.
Now, the Association of Public Health Laboratories (APHL), totally fed up with CDC excuses, delays and broken "diagnostic kits," is asking the FDA for emergency approval to create and run their own local tests for coronavirus infections.
"As of Monday, only five U.S. states – California, Illinois, Nebraska, Nevada and Tennessee – have the capability to test for the virus, according to the Association of Public Health Laboratories (APHL)," reported CNBC today. "The group, which represents state and local public health labs, sent a letter to FDA Commissioner Dr. Stephen Hahn seeking permission to develop tests for the virus."
The APHL CEO, Scott Becker, stated what we've been saying for weeks: "We're weeks and weeks into this response and the desire is to begin community-based surveillance and make sure we have the diagnostics as close to the population as possible, and we're not there," he said.
Of course we're not there. That's because the CDC is working hard to make sure virtually no one gets tested.
Fewer than 500 people tested in the entire United States, thanks to CDC negligence
While South Korea has so far tested at least 28,000 people for the virus, the CDC has so far tested just 426. That's despite the fact that California alone is monitoring 8,000 people for possible coronavirus infections. To date, virtually none of those people have been tested at all, and the same story is repeated across Washington, Oregon, Hawaii, Michigan and just about everywhere.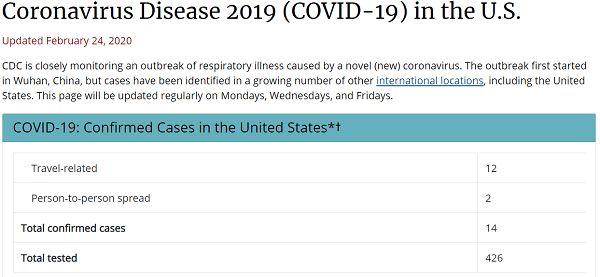 Instead of conducting real-world community surveillance (i.e. local testing of thousands of people) to try to halt the coronavirus, the CDC has developed a flow chart that essentially prohibits the testing of anyone who was infected in the United States and who hasn't recently visited China: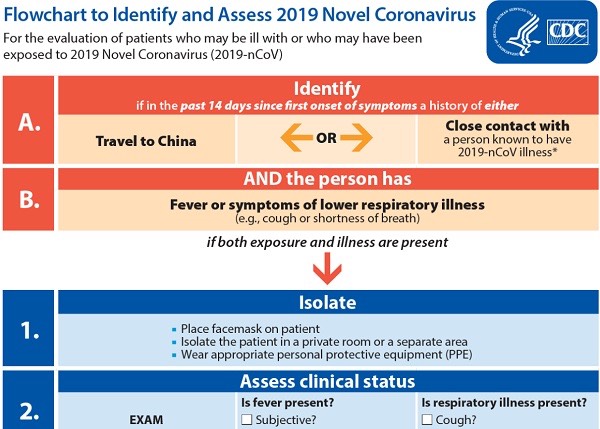 Based on this flow chart, Americans who are infected by other, asymptomatic Americans won't be tested for the coronavirus, meaning the CDC will have no way whatsoever to determine how many infections are spreading.

As long as there's no testing, there will be "no evidence" of outbreaks
This is what has allowed CDC officials like Dr. Messonnier to state, "There is no evidence of sustained person-to-person transmission of the virus in in the United States."
Of course there isn't any evidence. You're not testing anyone.
Note carefully that the CDC does not say, "There is no transmission of the virus in the United States." They state, instead, they have no evidence of such transmission.
Obviously you can't have any evidence if you don't run any tests, and this seems to be the entire "narrative control" goal of the CDC: Make sure no one is testing for the coronavirus, then deceive the president and make sure the outbreak gets to insane levels before anyone notices. Once the full extent is finally known, blame President Trump for not doing enough.
Once state labs start testing for the coronavirus, we will very quickly see hundreds of confirmed cases in the United States
It almost goes without saying here, but the moment state and local laboratories start testing for the coronavirus — and you can quote me on this prediction — you're going to start seeing explosive reports of hundreds of infections across the country.
Many of these infections will be reported in San Diego, San Francisco and the Bay Area. Another cluster will be found in Seattle, and yet another in Honolulu.
The CDC already knows this is the case, and they've likely already briefed the U.S. Senate on this during today's super secret "classified" Senate briefing (that no one in the public is allowed to view).
What's coming next is quarantines, lockdowns of U.S. cities and medical martial law.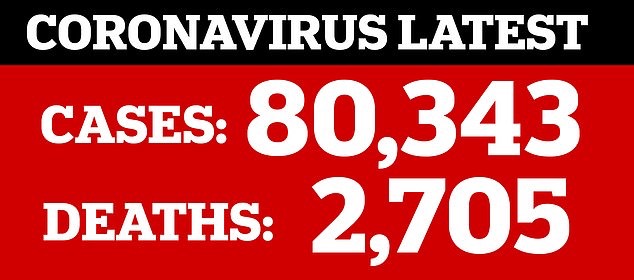 Feb 25, 2020
Realistic estimates: 300,000+ infected, 30,000+ dead
Harvard Professor Believes 40 to 70 Percent of World Population Will Be Infected With Coronavirus With a Year 

 Feb 25, 2020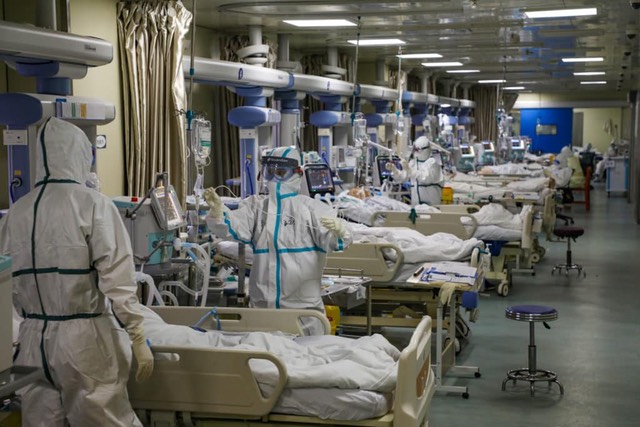 As concerns have increased about a potential pandemic, a Harvard epidemiology professor said he thinks the coronavirus — or COVID-19 — could be headed for a major break out. 
In an article titled, "You're Likely to Get the Coronavirus," James Hamblin, a staff writer at The Atlantic, explained the likelihood that the coronavirus will continue to spread rapidly.
Marc Lipsitch, a professor of epidemiology at Harvard University, told Hamblin that he thinks it is likely that the coronavirus will infect roughly between 40 and 70% of the world's population within the year.
However, Lipsitch notes that not every case will be fatal or even severe, "It's likely that many will have mild disease, or may be asymptomatic."
Hamblin notes that roughly 14% of the world's population is infected with the flu but is asymptomatic. 
Currently, it appears that the spread of the disease has slowed in China. However, in other countries such as Italy, Iran, and South Korea, it appears to be spreading rapidly. 
In Iran, there have been 100 confirmed cases of the coronavirus and roughly 1,000 suspected cases of the disease. On Tuesday, Iraj Harirchi, Iran's deputy health minister announced that he had been infected with the coronavirus. 
Lipsitch estimated with a that in the United States, there are probably upwards of 200 people infected with the coronavirus — higher than the official number of 35 confirmed cases. 
As the virus spreads globally, investors have been rattled as worries about the supply chain led to the largest drop in the stock market in two years. 
CNBC reports that companies whose revenues could be directly impacted by the coronavirus, such as Delta Airlines, led the decline in the stock market followed by technology companies. But some experts voiced confidence that the U.S. economy will remain strong despite the impact the disease has had on businesses.
Despite widespread concerns about the spread of the coronavirus, WHO officials said on Monday that they had seen some positive trends related to the spread of the disease. As The Wall Journal reports, that WHO officials believe the outbreak in China has already reached its peak and is slowing. 
While they say the disease has the potential to reach a pandemic level, they feel it has not reached that point yet.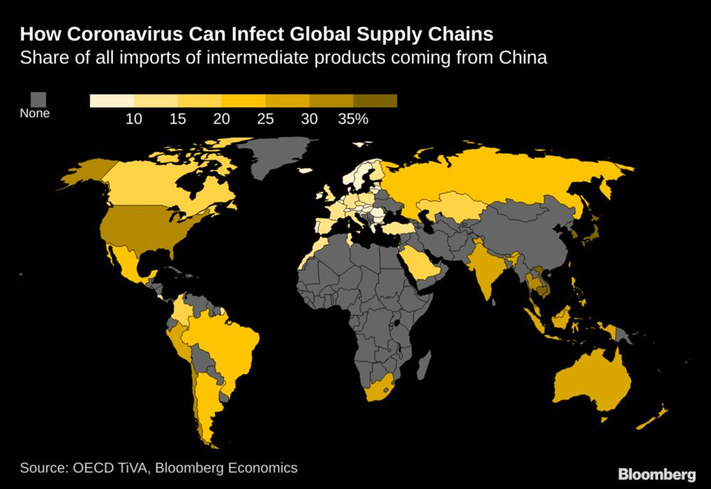 China's economy continues to collapse as domestic car sales plunge a whopping 92% on spread of Wuhan coronavirus Feb 24, 2020
By JD Heyes
Chinese President Xi Jinping finally made a public statement about the rapid, uncontrolled spread of the Wuhan coronavirus over the weekend, and it wasn't optimistic.
As reported by the South China Morning Post and republished by POLITICO, Xi made an "unprecedented" teleconference call that was open to every county government and military unit throughout the country to discuss the seriousness of the outbreak.
The news site noted: 
He said the epidemic was "the fastest spreading, with the most infected and was the most difficult to prevent and control" since the founding of the People's Republic. 
"This is a crisis for us and it is also a major test," he said, acknowledging that the country needed to learn from the "obvious shortcomings exposed" in its response, so it could improve its ability to handle future crises.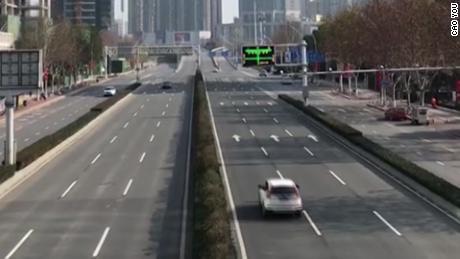 While he also said that, essentially, the Communist government has everything under control, the scale of his announcement — to every governing and military entity in China — undermines that confidence.
And it should, because by all indications, the virus is not only taking its toll on the population, it is dismantling the world's No. 2 economy, sector by sector.
As The Epoch Times reported late last week, for example, sales of Chinese passenger vehicles has tanked a whopping 92 percent "on an annual basis the first 16 days of February," according to the China Passenger Car Association. 
Sales of passenger vehicles only amounted to 4,909 units during the first 16 days of the month, the organization reported, which fell from 59,930 vehicles sold over the same period a year ago. These are the first figures to demonstrate just how hard the Wuhan coronavirus is hitting the world's largest auto market.
Because of quarantines and other strict measures meant to control the movement of the population, car sales and other economic activity are way down. But car sales have essentially tanked completely.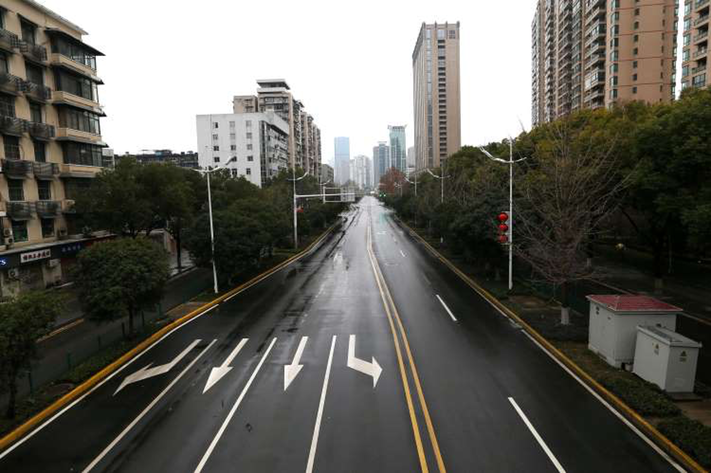 Largest car market in the world is virtually shut down
"Very few dealerships opened in the first weeks of February and they have had very little customer traffic," said the CPCA report, according to the Times. (Related: Coronavirus pandemic exploding across the globe: South Korea surpasses 600 infections, Italy declares national emergency, Japan infections skyrocketing, nearly 2,000 non-China infections worldwide and doubling every few days.)
In all, analysts with the group say that China's automobile sales will probably be off by more than 10 percent during the first half of 2020, and that's only if government health officials manage to bring the epidemic under control by April. If that happens, car sales will still be off by at least 5 percent year-over-year from 2019, the country's top auto industry body, the China Association of Automobile Manufacturers (CAAM), told Reuters last week.
In order to stabilize the automobile market, which saw sales of 25 million vehicles last year, the Commerce Ministry announced plans to introduce measures aimed at boosting purchases.
Like the company Carvana in the U.S., a company called Geely in China has launched a service where consumers can purchase vehicles online and have them delivered directly to their homes, thus alleviating the need for citizens to expose themselves to traditional car dealerships.
Other carmakers like Mercedes-Benz and Tesla, meanwhile, are beginning to promote online fairly heavily, a pace that has quickened as the virus spread beyond Wuhan City, were it originated, and authorities warned people to stay out of public places to avoid being exposed.
Geely said consumers could customize their vehicles on the company's website. In addition, the company will arrange for test drives where representatives will meet customers at their homes so they don't have to come into a dealership.
Geely also said its February production fell by two-thirds because workers were sidelined at home and could not report. The company claims that about 90 percent of workers are slated to return by month's end, but we'll see.
The virus might have something to say about that.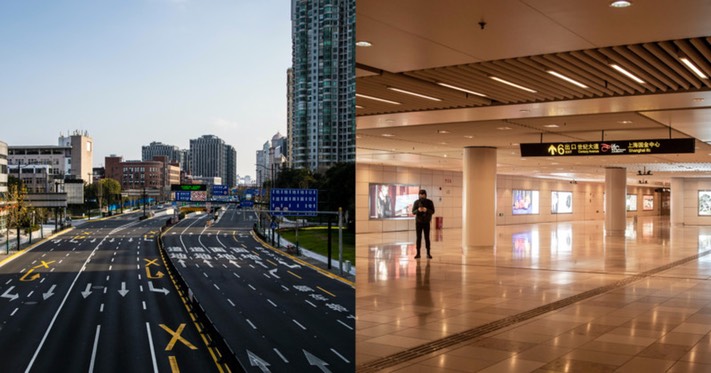 Stocks Slide As CDC Confirms 53 Cases In The US Feb 24,2020


"Tsunami-Like" Coronavirus Floods South Korea With New Cases; Europe Begins To Isolate Italy: Live Updates  

Feb  23, 2020
Summary:
South Korea raised its national threat level to "red alert" for the first time since the H1N1 swine flu outbreak in 2009. The total number of confirmed cases in the country reached 763, a jump of 161 overnight, and a 25-fold increase in the past week.
The Italian government said it has 152 confirmed cases, up from three in a matter of days. Three people have died. Authorities have locked down about a dozen small towns and canceled events across the north, including Venice's Carnival.
Iran has confirmed eight deaths related to the coronavirus, the most outside of China, media reported Sunday. South Korea confirmed its seventh death.

4 more cases confirmed in UK

200 Israelis quarantined

Japan confirms more cases; Japanese Emperor expresses hope for Tokyo Games

Trump says US has everything 'under control' as he asks Congress for more money

EU's Gentiloni says he has 'full confidence' In Italian health officials

Turkey, Pakistan close borders with Iran as confirmed cases soar

Global Times says virus may not have originated at Hunan seafood market

Axios reports shortages of 150 essential drugs likely.
* * *
Update (2015 ET): The epidemic in South Korea is accelerating exponentially, with the country reporting 161 additional virus cases, bringing the total of 763, a 25-fold increase in cases in one week, along with two more deaths bringing the death toll there to seven. The Kospi is continuing its decline and is down 3.0% and approached the 2100 level on the downside.
Global explosion of coronavirus - Korea, Italy, Japan, Iran... CDC hiding numbers in USA Feb 23,2020

We warned that this day would come. The coronavirus pandemic is now exploding globally, with over 2,000 infections now outside China.
South Korea's cases have exploded to over 600. Italy has declared a state of emergency after the third death there. Japan is seeing sustained transmission on a local level, and Iran now has 8 deaths and an estimated 400+ infections that still haven't been tracked down.
Meanwhile the CDC is lying to the public in America, actually prohibitingthe testing of Americans who were infected by other Americans (as a way to block any reporting of "community outbreaks.")
There are too many bombshells breaking by the hour to even cover properly, but here's the bare minimum you need to see to get up to speed:
Must read: Fewer than 600 people tested in the entire United States as the CDC prohibits testing of Americans infected by other Americans.
Pandemic exploding across the world: Korea, Japan, Italy, Iran, 2,000 non-China infections confirmed, thousands more yet to be diagnosed.
Also, we're working on a bombshell story about the Fairview Development Center in Costa Mesa, California, a shadowy secret medical experimentation facility with a history of mass deployment of hypnotic drugs on patients, violent abuse, mysterious deaths. Currently there are 200 staffers there, but only six patients... total shadow front for mass medical experimentation in America... U.S. Air Force just tried to transfer up to 50 infected patients there, to "seed" massive outbreak in Los Angeles... zero containment facilities at Fairview, no isolation rooms, described as a "prison camp" by San Diego police officer...
Coronavirus pandemic exploding across the globe: South Korea surpasses 600 infections, Italy declares national emergency, Japan infections skyrocketing, nearly 2,000 non-China infections worldwide and doubling every few days
While the communist-infiltrated World Health Organization still refuses to declare the coronavirus outbreak a "pandemic" -- absurdly claiming there are no sustained local outbreaks …
February 23, 2020 By Mike Adams
South Korea Reports 123 New Coronavirus Cases, Raising Total To 556; Death Toll Hits 4  Feb 22,2020
Summary:
South Korea reports 123 new cases, 1 new death

Italy announces 79 cases, declares "national emergency"; Nothern Italy put on lockdown. 

Japan cases triple in a week to 121

Japan confirms "seriously ill" patient in Tokyo

Hubei reports daily numbers

Chinese scientists find virus in urine

Experts propose 27 day quarantine, say 14 days likely not long enough

Cases outside China go exponential

32 UK and European citizens arrive back in UK on evac flight

Outbreak reported in South Korean psychiatric ward

WHO team visits Wuhan; will give Monday press conference

Iran reports 10 new cases, deaths climb to 6

San Diego says 200 under 'medical observation'

Young woman infected five relatives without ever showing symptoms

South Korea cases surge 8-fold in 4 days to 433; country reports third death
* * *
Update (2040ET): South Korea has finally released its numbers for Saturday. Authorities recorded an additional death, bringing the total to four, and another 123 confirmed cases, bringing the total to 556.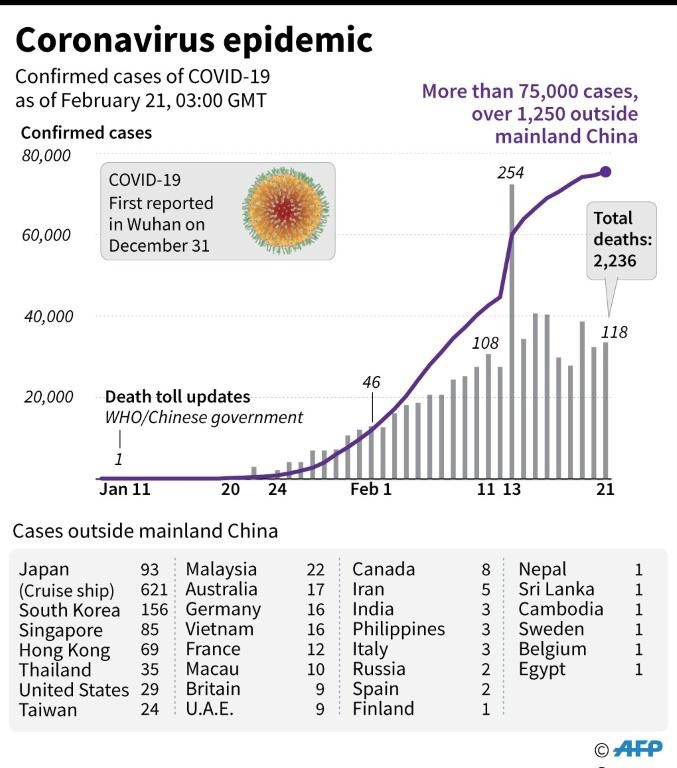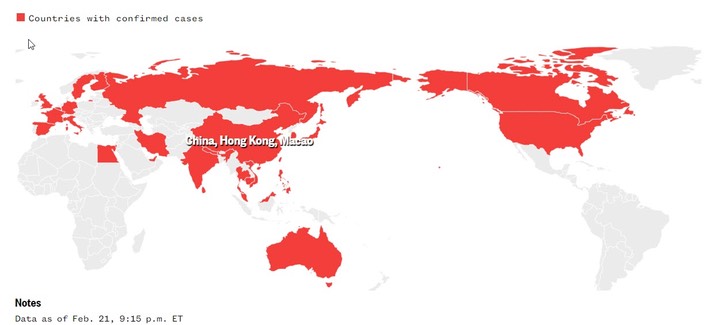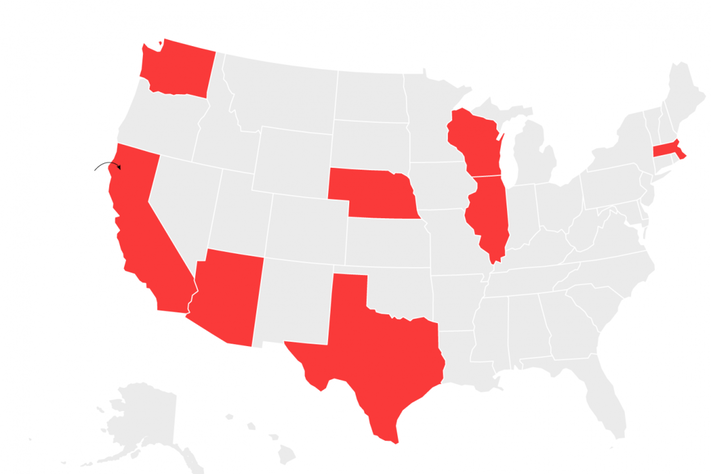 Feb 21, 2020
Coronavirus infections EXPLODE in South Korea as spread accelerates across Iran, Lebanon and Israel Feb 21,2020
Literally overnight, CoVid-19 coronavirus infections doubled in South Korea to 204, representing an alarming explosion of human-to-human transmission outside of China and indicating that China was just the first wave of an accelerating global pandemic. (See Pandemic.news for focused updates, podcasts, videos and science documents.)
With the number of non-China infections more than doubling in the last week, we are now seeing exponential growth in infection numbers across Asia, even as China is desperately manipulating its own numbers to try to present an image that it has the coronavirus under control. Notably, China just brought in 40 new mobile incineration ovens to dispose of "animal corpses" in its fight against the virus. And by "animals," they of course mean people (whom they treat as animals all the time anyway).
Italy Declares "National Emergency" As Coronavirus Cases Surge, Northern Italy On Lockdown: Virus Updates
Feb 22, 2020 
Summary:
Italy announces 79 cases, declares "national emergency"; Nothern Italy put on lockdown. 

Japan cases triple in a week to 121

Japan confirms "seriously ill" patient in Tokyo

Hubei reports daily numbers

Chinese scientists find virus in urine

Experts propose 27 day quarantine, say 14 days likely not long enough

Cases outside China go exponential

32 UK and European citizens arrive back in UK on evac flight

Outbreak reported in South Korean psychiatric ward

WHO team visits Wuhan; will give Monday press conference

Iran reports 10 new cases, deaths climb to 6

San Diego says 200 under 'medical observation'

Young woman infected five relatives without ever showing symptoms

South Korea cases surge 8-fold in 4 days to 433; country reports third death
* * *
Update (1940ET): Health officials from two South Korean provinces have reported a total of 28 new cases ahead of a national update, according to BNO.
Researchers Find 61.5% Of Coronavirus Patients With Severe Pneumonia Won't Survive Feb 22, 2020
Since the Wuhan coronavirus first appeared late last year, researchers have been studying it, though for the first month or so, only Chinese scientists had access to the data.
But now that China has shared its data with the world, research has been appearing more quickly, with more opportunities for peer review.
According to a study published in the Lancet on Friday, patients who are especially vulnerable to severe COVID-19 infections - a group that includes the very old, very young and those with co-occurring conditions - die at a higher rate from COVID-19 than they did from SARS and MERS.

CDC official warns U.S. hospitals: Be ready for "surge" of coronavirus patients in America Feb 21,2020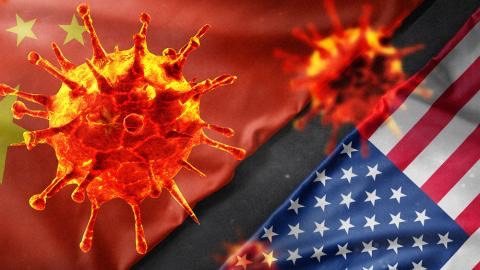 Newstarget.com 
In yet another bombshell message from the CDC, a top CDC official named Dr. Anne Schuchat is openly warning U.S. hospitals to get prepared for a wave of coronavirus infections.
"A larger spread of the COVID-19 coronavirus across the U.S. could overwhelm emergency rooms and cause supply shortages of some crucial medical supplies," warns CNBC (stating the obvious). CNBC also cites Dr. Schuchat:
"This is the time to open up your pandemic plans and see that things are in order," Dr. Anne Schuchat, a top official of the Centers for Disease Control and Prevention…
"For instance," she continued, health-care providers need to plan for a "surge at a hospital, the ability to provide personal protective equipment for your workforce, the administrative controls and so forth that you might put place in a health care setting."
CNBC adds, "Schuchat's warning came as U.S. and world health officials increasingly sound the alarm of a possible pandemic outbreak of the deadly new coronavirus that has killed more than 2,100 people in China in the last seven weeks."
NYU hospital preparing for coronavirus transmission in NYC
According to that same story, NYU Langone Health in NYC "has designated the new virus as a 'level 1' priority." From the story:
NYU is also preparing for a level 2 or 3 scenario, she added, where there is transmission in the city and it begins to impact hospital operations. The health-care system has implemented a conservation plan and medical supplies, especially respirator masks, are only given to staff as needed, she said.
All this is on top of CDC director Dr. Robert Redfield recently telling CNN that, "This virus is probably with us beyond this season, beyond this year, and I think eventually the virus will find a foothold and we will get community-based transmission."
You can watch Dr. Redfield state that in a video interview with CNN. 
See it here:  CDC director Dr. Robert Redfield recently telling CNN 
In that video, he also explains:
"Our whole issue right now is as I said, aggressive containment to try to give us more time, it's gonna take one to two years to get that [vaccine] developed and out, to prepare the health systems, to be able to be flexible enough to deal with the potential second major cause of respiratory illness…"
He also adds, "Right now there's no evidence to me at all that this outbreak is under control, it's definitely not controlled…"
So then, why is the entire lying mainstream media deceiving the American public and telling people this pandemic is completely under control and will never arrive in America and there's nothing to be concerned about?
The answer, of course, is that they're lying. The media now seems to be far more concerned with caring for people's feelings rather than their safety. So making sure nobody is afraid has now become far more important to the media than making sure people are prepared.
It's a recipe for an outbreak of real panic once the masses figure out they've been lied to all along.
Listen to this podcast, and you can now download all the MP3 files for these podcasts at the new website Pandemic.news.
CONFIRMED: CoVid-19 coronavirus found to contain unique "gain-of-function" property "for efficient spreading in the human population" … exact quote from science paper just published in Antiviral Research Feb 20,2020
(Natural News) We now have bombshell, smoking gun evidence that the CoVid-19 "Wuhan" coronavirus was specifically engineered as an offensive biological warfare weapon, designed to target to exterminate human beings.
A new study published in the peer-reviewed journal Antiviral Research (Vol. 16, April 2020) is entitled, "The spike glycoprotein of the new coronavirus 2019-nCoV contains a furin-like cleavage site absent in CoV of the same clade."
It reveals that the CoVid-19 coronavirus contains unique features that allow it to function as a more efficient weapon system for human-to-human transmission, which helps explain why the virus has been impossible to contain (even under "quarantine" conditions, which have universally failed in China, Japan, Korea and elsewhere).
As the science authors of the paper explain in the full text, "This furin-like cleavage site… may provide a gain-of-function to the 2019-nCoV for efficient spreading in the human population." (Emphasis added)
Further, the science paper finds that there is no known viral ancestry to the CoVid-19 coronavirus, meaning it did not evolve from nature. It was engineered, and the science paper authors also state that the virus contains elements from MERS, stating, "Before the emergence of the 2019-nCoV, this important feature was not observed in the lineage b of betacoronaviruses."
The abstract and full PDF (paid) of the study are available through this link at ScienceDirect.com:
https://www.sciencedirect.com/science/article/pii/S0166354220300528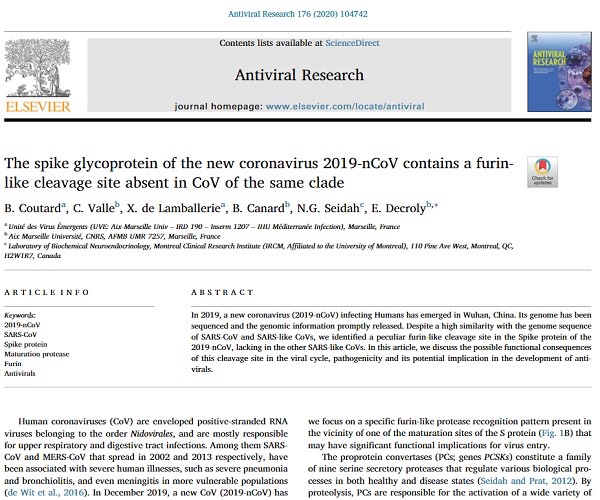 The "smoking gun" aspects of this research were brought to light earlier today by Prof. Frances Boyle who appeared on the Alex Jones Show (2nd broadcast hour, Feb. 19th, 2020, InfoWars.com) to reveal his findings that confirm the Wuhan coronavirus was an engineered biological weapon.
Tomorrow we will publish the full transcript from that interview, containing stunning new details about the origin of the viral weapon. You can watch the full 47-minute segment here, via Brighteon.com. The full interview is also available on Banned.video.
Brighteon.com/b4e196ff-d85f-45c4-b4e0-8bc1bea6dc09
Iran Reports 9 Coronavirus-Linked Deaths As WHO Warns Number Of Cases Outside China 'Won't Stay Low For Very Long' Feb 20, 2020
Update (1010ET): Talk about a spike in deaths: Iran is now reporting 9 deaths after shocking the world by revealing that two Chinese nationals infected with the virus had died in the city of Qoms earlier this week.
The Iranian regime has reportedly imposed a China-style crackdown on Qoms, deploying military and crowd-control police across the city.
It's just the latest sign that the cases and deaths ex-China are accelerating.
CNBC's Eunice Yoon reports that Beijing has warned Hubei not to allow people back to work before March 10.
Following the WHO's daily press conference, Director General Dr. Tedros said the WHO had confirmed 1,000 cases outside mainland China (with more than half of them infected aboard the 'Diamond Princess'), and 7 deaths, likely excludes some of the deaths announced over the past 12 hours. Though he added that the data coming out of China "appeared to show a decline in new cases."
"Outside China, we have seen a steady drip of new cases, but we have not yet seen sustained local transmission, except in specific circumstances like the Diamond Princess cruise ship," he added.
More ominously, Dr. Tedros exclaimed that the outbreak is far from over, and if governments don't take adequate steps to fight the virus, the number of cases outside China "won't stay low for very long."
Worried about more shortages of personal protective equipment like facemasks, Dr. Tedros pleaded with a dozen different manufacturers to do whatever they can to keep up appropriate global supplies.
The director said the WHO expects to have more data from two clinical trials for treatments in roughly 3 weeks.
Since we haven't posted a breakdown of new cases yet today, we figured we'd share this list of countries, cases and deaths courtesy of the Associated Press:
According to the Associated Press, the latest figures provided by each government's health authority as of Thursday in Beijing are:
Mainland China: 2,118 deaths among 74,576 cases, mostly in the central province of Hubei

Hong Kong: 65 cases, 2 deaths

Macao: 10

Japan: 727 cases, including 634 from a cruise ship docked in Yokohama, 3 deaths

Singapore: 84

South Korea: 51, 1 death

Thailand: 35

Taiwan: 24 cases, 1 death

Malaysia: 22

Vietnam: 16

Germany: 16

United States: 15 cases; separately, 1 U.S. citizen died in China

Australia: 14

France: 12 cases, 1 death

United Kingdom: 9

United Arab Emirates: 9

Canada: 8

Iran: 5 cases, 2 deaths

Philippines: 3 cases, 1 death

India: 3

Italy: 3

Russia: 2

Spain: 2

Belgium: 1

Nepal: 1

Sri Lanka: 1

Sweden: 1

Cambodia: 1

Finland: 1

Egypt: 1
In other news, UK passengers aboard the 'Diamond Princess' will be evacuated by their government on Friday. The chartered evacuation flights (following the standard template) will land at Boscombe Down airbase in Wiltshire. Elsewhere in the anglosphere, Australia has extended its travel ban for arrivals from China into a fourth week. It will last until Feb. 29, the Guardian reported.
* * *
Hours after Japanese press reports claimed that two passengers who contracted COVID-19 aboard the 'Diamond Princess' diedyesterday - news that was later confirmed by Japanese authorities - South Korea reported its first fatality while one of its major cities asked citizens to stay inside and avoid venturing outdoors, according to the Washington Post.
According to Japanese government officials, both of the virus-related fatalities were Japanese citizens in their 80s who had been moved off the ship more than a week ago for treatment in a Japanese hospital, though the government has so far declined to release names.
The latest reports Thursday morning confirmed another 13 cases aboard the DP bringing the total to 634. The odds that individuals being released from the 2 week quarantine on Thursday and Friday might have contracted the virus, but have yet to show symptoms, remains high. The death in South Korea raised the death toll ex-China to 10.
Early Large Dose Intravenous Vitamin C is the Treatment of Choice for 2019-nCov Pneumonia 
Feb 16,2020
Richard Z Cheng, MD, PhD; Hanping Shi, MD, PhD; Atsuo Yanagisawa, MD, PhD; Thomas Levy, MD, JD; Andrew Saul, PhD.
(OMNS February 16, 2020) The 2019-nCov (coronavirus) epidemic originated in Wuhan, China and is now spreading to many other continents and countries, causing a public fear. Worst of all, there is no vaccine or specific antiviral drugs for 2019-nCov available. This adds to the public fear and gloomy outlook. A quick, rapidly deployable and accessible, effective and also safe treatment is urgently needed to not only save those patients, to curtail the spread of the epidemic, but also very important in the psychological assurance to people worldwide, and to the Chinese in particular. Acute organ failure, especially pulmonary failure (acute respiratory distress syndrome, ARDS) is the key mechanism for 2019-nCov's fatality. Significantly increased oxidative stress due to the rapid release of free radicals and cytokines etc. is the hallmark of ARDS which leads to cellular injury, organ failure and death. Early use of large dose antioxidants, especially vitamin C (VC), therefore, plays a key role in the management of these patients. We call upon all those in the leadership, and those providing direct assistance patients, to bravely and rapidly apply large dose intravenous vitamin C (IVC) to help those patients and to stop this epidemic.
2019-nCov is a rapidly developing epidemic with a high morbidity and mortality.
Wang et al reports 26% ICU admission rate and a 4.3% mortality rate in their 138 confirmed cases [1]. Chen et all report that out of 99 confirmed 2019-nCov patients, 17 (17%) patients developed ARDS and, among them, 11 (11%) patients worsened in a short period of time and died of multiple organ failure.
Increased oxidative stress, an underlying "cytokine storm," leads to ARDS which is the key pathology of high mortality of these pandemic viral infections. Cytokine storm-induced ARDS is the key pathology leading to death of these patients [2]. Intravenous vitamin C effectively counters oxidative stress.
Cytokine storm
Coronaviruses and influenza are among the pandemic viruses that can cause lethal lung injuries and death from ARDS [3]. Viral infections cause a "cytokine storm" that can activate lung capillary endothelial cells leading to neutrophil infiltration and increased oxidative stress (reactive oxygen and nitrogen species) that further damages lung barrier function [3]. ARDS, which is characterized by severe hypoxemia, is usually accompanied by uncontrolled inflammation, oxidative injury, and the damage to the alveolar-capillary barrier [4]. The increased oxidative stress is a major insult in pulmonary injury such as acute lung injury (ALI) and acute respiratory distress syndrome (ARDS), two clinical manifestations of acute respiratory failure with substantially high morbidity and mortality [5,6].
In a report of 29 patients confirmed of 2019-nCov pneumonia patients, 27 (93%) showed increased hsCRP, a marker of inflammation (and oxidative stress) [7]. Transcription factor nuclear factor erythroid 2-related factor 2 (Nrf2) is a major regulator of antioxidant response element- (ARE-) driven cytoprotective protein expression. The activation of Nrf2 signaling plays an essential role in preventing cells and tissues from injury induced by oxidative stress. Vitamin C is an essential element of the antioxidant system in cellular response [8].
Part of vitamin C's biological effects in critical care management are well reviewed in a recent article by Nabzdyk and Bittner from Mass Gen Hospital of Harvard Medical School on World's Journal of Critical Care Medicine [9]:
Antioxidant, radical oxygen scavenger protecting cells from oxidative Steroid- and catecholamine synthesis, cofactor in catecholamine, vasopressin and steroid synthesis, improves hemodynamics, may accelerate resolution of shock
Immune cell function. Increases neutrophil phagocytosis and chemotaxis, affects macrophage migration, enhances T and NK cell proliferation, modulates their function, may increase antibody formation.
Endothelial cell function. Decreases endothelium ICAM expression and leukocyte adhesion, improves endothelial barrier function, improves microcirculation
Carnitine production, modulates fatty acid metabolism, may improve microcirculation and cardiac function
Wound healing, cofactor of collagen synthesis, mitogen for fibroblasts
Antioxidants, especially large dose IV vitamin C (IVC) in the management of ARDS.
It's clear that increased oxidative stress plays a major role in the pathogenesis of ARDS and death. Cytokine storm is observed in both viral and bacterial infections [3]. Cytokine storm leads to increased oxidative stress, ARDS and death seems to be a common and non-specific pathway. This is important in clinical management. Since the prevention and management targeting increased oxidative stress with large dose of antioxidants seems a logical step and can be applied to these deadly pandemics, without the lengthy waiting for pathogen-specific vaccines and drugs, as is the case of the current 2019-nCov epidemic. 
As a matter of fact, large dose intravenous vitamin C (IVC) has been used clinically successfully in viral ARDS and also in influenza [10]. Fowler et al described a 26-year-old woman developed viral ARDS (rhinovirus and enterovirus-D68) [3]. She was admitted to ICU. After failure to routine standard management, she was placed on ECMO on day 3. High dose IVC (200mg/kg body/24 hour, divided in 4 doses, one every 6 hours) was also started on ECMO day 1. Her lungs showed significant improvement on day 2 of high dose IVC infusion on X-ray imaging. She continued to improve on ECMO and IVC and ECMO was discontinued on ECMO day 7 and the patient recovered and was discharged from the hospital on hospital day 12, without the need of supplemental oxygen. One month later, X-ray of her lungs showed complete recovery. Gonzalez et al (including one of the authors, Thomas Levy) reported recently a severe case of influenza successfully treated with high dose IVC [10]. 25-year-old MG developed flu-like symptoms which was rapidly deteriorating to the degree that, about 2 weeks later, the patient barely had the energy to use the toilet. He was placed on high dose IVC (50,000 mg of vitamin C in 1000 ml Ringer's solution, infused over 90 minutes). The patient immediately reported significant improvement the next day. On day 4 of IVC infusion he reported to feel normal. He continued oral VC (2,000 mg twice daily) [10]. Another story has been widely circulating on the social media that large dose IVC reportedly was used in 2009 to save a New Zealand farmer, Alan Smith (Primal Panacea). One of us (Thomas Levy) was consulted upon in this case [11] [12]. Hemila et al reported that vitamin C shortens ICU stay in their 2019 meta-analysis of 18 clinical studies with a total of 2004 ICU patients on the journal Nutrients [13]. In this report, VC shortened the ICU stay by 97.8% in a subgroup of 1766 patients. Marik et al reported their use of IVC in 47 sepsis ICU cases. They found a significant reduction in mortality rate in the IVC group of patients [14].
Dietary antioxidants (vitamin C and sulforaphane) were shown to reduce oxidative-stress-induced acute inflammatory lung injury in patients receiving mechanical ventilation [15]. Other antioxidants (curcumin) have also been shown to have promising anti-inflammatory potential in pneumonia [16].
High dose IVC has been clinically used for several decades and a recent NIH expert panel document states clearly that high dose IVC (1.5 g/kd body weight) is safe and without major side effects [17].
Summary 
2019-nCov pneumonia is a rapidly developing disease with high morbidity and mortality rate. The key pathogenesis is the acute lung injury causing ARDS and death. Coronaviruses, influenza viruses and many other pandemic viral infections are usually associated with an increase oxidative stress leasing to oxidative cellular damage resulting in multi-organ failure. Antioxidants administration therefore has a central role in the management of these conditions, in addition to the standard conventional supportive therapies. Preliminary clinical studies and case reports show that early administration of high dose IVC can improve clinical conditions of patients in ICU, ARDS and flu. It needs to be pointed that pandemics like 2019-nCov will happen in the future. Specific vaccines and antiviral drugs R&D take long time to develop and are not available for the current nCov epidemic and won't be ready when the next pandemic strikes. IVC and other antioxidants are universal agents for ARDS that can be rapidly applied clinically. Given that high dose IVC is safe, can be effective, we call on the involved leadership and healthcare professionals to look into high dose IVC without further delay. More clinical studies of the IVC and oral VC (such as liposomal-encapsulated VC) are needed to develop standard protocols for the current use and future uses are urgently needed. We hope when the next pandemic strikes, we won't be so helpless and we'll be ready.
For further reading
Coronavirus Patients in China to be Treated with High-Dose Vitamin C  http://orthomolecular.org/resources/omns/v16n10.shtml As of the date of publication of thie Orthomolecular Medicine News service Release, Dr. Cheng is in Wuhan facilitating IVC treatment for hospitalized coronavirus patients. 
Vitamin C and its Application to the Treatment of nCoV Coronavirus  
http://orthomolecular.org/resources/omns/v16n09.shtml
Hospital-based Intravenous Vitamin C Treatment for Coronavirus and Related Illnesses 
http://orthomolecular.org/resources/omns/v16n07.shtml
Nutritional Treatment of Coronavirus 
http://orthomolecular.org/resources/omns/v16n06.shtml
Vitamin C Protects Against Coronavirus  
http://orthomolecular.org/resources/omns/v16n04.shtml
References
1. Wang D, Hu B, Hu C, Zhu F, Liu X, Zhang J, Wang B, Xiang H, Cheng Z, Xiong Y, Zhao Y, Li Y, Wang X, Peng Z. Clinical Characteristics of 138 Hospitalized Patients With 2019 Novel Coronavirus-Infected Pneumonia in Wuhan, China. JAMA. 2020 Feb 7;
2. Chen N, Zhou M, Dong X, Qu J, Gong F, Han Y, Qiu Y, Wang J, Liu Y, Wei Y, Xia J, Yu T, Zhang X, Zhang L. Epidemiological and clinical characteristics of 99 cases of 2019 novel coronavirus pneumonia in Wuhan, China: a descriptive study. Lancet Lond Engl. 2020 Jan 30;
3. Fowler III AA, Kim C, Lepler L, Malhotra R, Debesa O, Natarajan R, Fisher BJ, Syed A, DeWilde C, Priday A, Kasirajan V. Intravenous vitamin C as adjunctive therapy for enterovirus/rhinovirus induced acute respiratory distress syndrome. World J Crit Care Med. 2017 Feb 4;6(1):85-90.
4. Meng L, Zhao X, Zhang H. HIPK1 Interference Attenuates Inflammation and Oxidative Stress of Acute Lung Injury via Autophagy. Med Sci Monit Int Med J Exp Clin Res. 2019 Jan 29;25:827-35.
5. Yan X, Fu X, Jia Y, Ma X, Tao J, Yang T, Ma H, Liang X, Liu X, Yang J, Wei J. Nrf2/Keap1/ARE Signaling Mediated an Antioxidative Protection of Human Placental Mesenchymal Stem Cells of Fetal Origin in Alveolar Epithelial Cells. Oxid Med Cell Longev. 2019;2019:2654910.
6. Hecker L. Mechanisms and consequences of oxidative stress in lung disease: therapeutic implications for an aging populace. Am J Physiol Lung Cell Mol Physiol. 2018 01;314(4):L642-53.
7. Chen L, Liu HG, Liu W, Liu J, Liu K, Shang J, Deng Y, Wei S. [Analysis of clinical features of 29 patients with 2019 novel coronavirus pneumonia]. Zhonghua Jie He He Hu Xi Za Zhi Zhonghua Jiehe He Huxi Zazhi Chin J Tuberc Respir Dis. 2020 Feb 6;43(0):E005.
8. Liu Q, Gao Y, Ci X. Role of Nrf2 and Its Activators in Respiratory Diseases. Oxid Med Cell Longev. 2019;2019:7090534.
9. Nabzdyk CS, Bittner EA. Vitamin C in the critically ill - indications and controversies. World J Crit Care Med. 2018 Oct 16;7(5):52-61.
10. High Dose Vitamin C and Influenza: A Case Report - ISOM [Internet]. [cited 2020 Feb 9]. Available from: https://isom.ca/article/high-dose-vitamin-c-influenza-case-report/?from=groupmessage&isappinstalled=0
11. Levy T. Primal Panacea. MedFox Publishing; 350 p. (Kindle Edition).
12. Levy TE. Primal Panacea. Medfox Pub, 2012. Kindle, 2017.
13. Hemilä H, Chalker E. Vitamin C Can Shorten the Length of Stay in the ICU: A Meta-Analysis. Nutrients. 2019 Mar 27;11(4).
14. Marik PE, Khangoora V, Rivera R, Hooper MH, Catravas J. Hydrocortisone, Vitamin C, and Thiamine for the Treatment of Severe Sepsis and Septic Shock: A Retrospective Before-After Study. Chest. 2017;151(6):1229-38.
15. Patel V, Dial K, Wu J, Gauthier AG, Wu W, Lin M, Espey MG, Thomas DD, Jr CRA, Mantell LL. Dietary Antioxidants Significantly Attenuate Hyperoxia-Induced Acute Inflammatory Lung Injury by Enhancing Macrophage Function via Reducing the Accumulation of Airway HMGB1. Int J Mol Sci. 2020 Feb 1;21(3).
16. Zhang B, Swamy S, Balijepalli S, Panicker S, Mooliyil J, Sherman MA, Parkkinen J, Raghavendran K, Suresh MV. Direct pulmonary delivery of solubilized curcumin reduces severity of lethal pneumonia. FASEB J Off Publ Fed Am Soc Exp Biol. 2019 Dec;33(12):13294-309.
17. High-Dose Vitamin C (PDQ(r))-Health Professional Version - National Cancer Institute [Internet]. [cited 2020 Feb 9]. Available from: https://www.cancer.gov/about-cancer/treatment/cam/hp/vitamin-c-pdq
https://www.worldometers.info/coronavirus/#countries Feb 16,2020
Updated daily
Hubei Doctors Warn Of Even-Deadlier Coronavirus Reinfection Causing Sudden Heart Attacks Feb 15,2020

Doctors working on the front lines of the novel coronavirus (COVID-19) outbreak have told the Taiwan Times that it's possible to become reinfected by the virus, leading to death from sudden heart failure in some cases.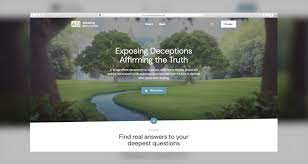 "It's highly possible to get infected a second time. A few people recovered from the first time by their own immune system, but the meds they use are damaging their heart tissue, and when they get it the second time, the antibody doesn't help but makes it worse, and they die a sudden death from heart failure," reads a message forwarded to Taiwan News from a relative of one of the doctors living in the United Kingdom.
The source also said the virus has "outsmarted all of us," as it can hide symptoms for up to 24 days. This assertion has been made independently elsewhere, with Chinese pulmonologist Zhong Nanshan (鍾南山) saying the average incubation period is three days, but it can take as little as one day and up to 24 days to develop symptoms.
Also, the source said that false negative tests for the virus are fairly common. "It can fool the test kit – there were cases that they found, the CT scan shows both lungs are fully infected but the test came back negative four times. The fifth test came back positive." -Taiwan Times
Notably, one of the ways coronaviruses cripple the immune system is via an HIV-like attachment to white blood cells, which triggers a 'cytokine storm' - a term popularized during the avian H5N1 influenza outbreak - in which an uncontrolled release of inflammatory 'cytokines' target various organs, often leading to failure and in many cases death.
The cytokine storm is best exemplified by severe lung infections, in which local inflammation spills over into the systemic circulation, producing systemic sepsis, as defined by persistent hypotension, hyper- or hypothermia, leukocytosis or leukopenia, and often thrombocytopenia.
...
In addition to lung infections, the cytokine storm is a consequence of severe infections in the gastrointestinal tract, urinary tract, central nervous system, skin, joint spaces, and other sites. (Tisoncik, et. al, Into the Eye of the Cytokine Storm)(2012)
According to the 2012 study, "Cytokine storms are associated with a wide variety of infectious and noninfectious diseases and have even been the unfortunate consequence of attempts at therapeutic intervention."
How do coronaviruses enter the body?
With SARS (sudden acute respiratory syndrome), another coronavirus, researchers discovered that one of the ways the disease attaches itself is through an enzyme known as ACE2, a 'functional receptor' produced in several organs (oral and nasal mucosa, nasopharynx, lung, stomach, small intestine, colon, skin, lymph nodes, thymus, bone marrow, spleen, liver, kidney, and brain).
ACE2 is also "abundantly present in humans in the epithelia of the lung and small intestine, which might provide possible routes of entry for the SARS-CoV," while it was also observed "in arterial and venous endothelial cells and arterial smooth muscle cells" - which would include the heart.
This has led some to speculate that Asians, who have higher concentrations of ACE2 (per the 1000 genome project) may be affected to a greater degree than those of European ancestry, who produce the least of it - and have largely been the asymptomatic 'super spreaders' such as Diamond Princess coronavirus victim Rebecca Frasure. 
See video -( https://www.youtube.com/watch?time_continue=197&v=TAafDOqfN3M&feature=emb_logo )
And so while more research on COVID-19 is urgently needed - we know that coronavirus can target ACE2 receptors, which are found in the cardiovascuar system. And we have seen evidence of both sudden collapses and neurological damage from footage pouring out of Wuhan, China.
If the virus can reinfect patients and cause cytokine storms and sudden death - possibly exacerbated by therapeutic intervention- treating the coronavirus which CDC director Dr. Robert Redfield says will become widespread throughout the United States 'this year or next,' it is vitally important to understand exactly how COVID-19 works, and how to treat it. That would require cooperation from China and a CDC team on the ground in the epicenter. For some unknown reason, however, China still refuses to grant US scientists access to ground zero.
Why It's Too Late To Contain COVID-19 (CoronaVirus)

While we may have reservations about Chinese data, there is no doubting they have done a sterling job in trying to contain the COVID-19 outbreak (as the new coronavirus symptoms are now known). However, it is not enough and we have now reached a point where it is impossible to contain. This piece looks at why.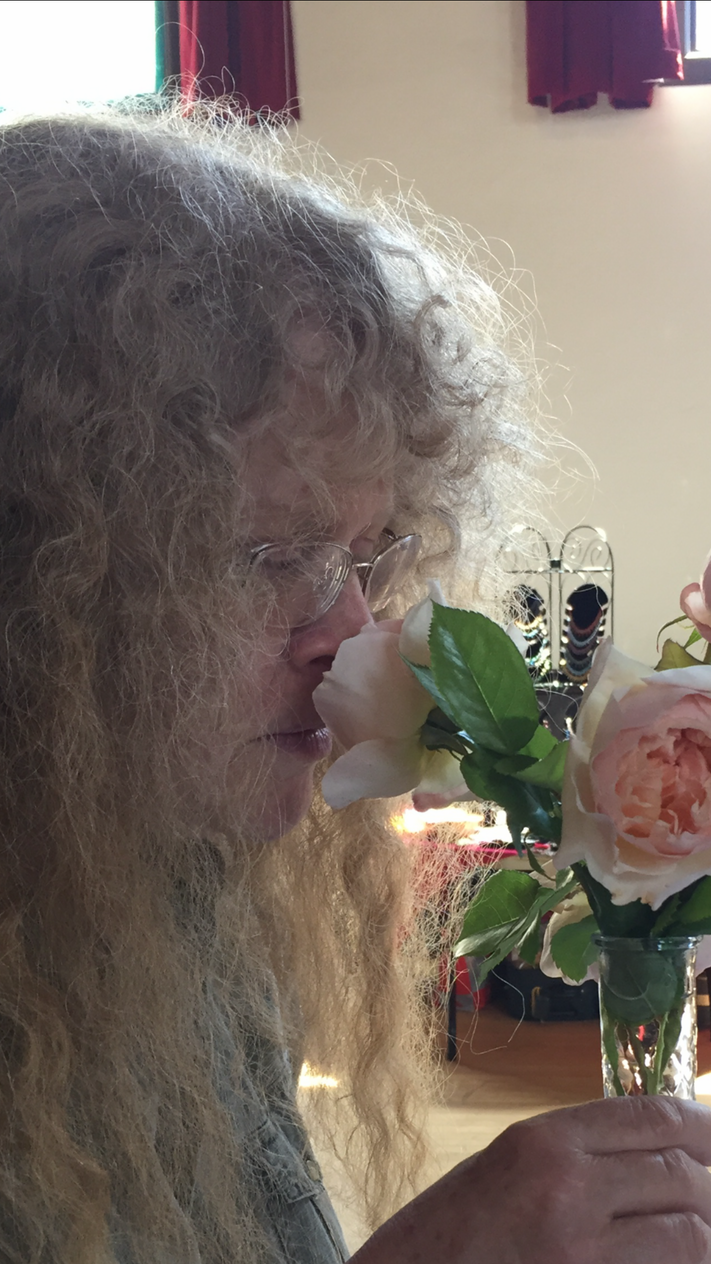 China effectively shutting down its cities and adopting aggressive containment processes at a level never seen before has helped slow down the spread of COVID-19, but unfortunately it may now be too late as additional clusters appear around the world.
The infectivity rate, R0, is how many people one infected individual infects on average, for a given population. Factors such as herd immunity, climate etc can affect this, but so far we see around 2.5 people per infected person which means it spreads aggressively. We are perhaps also seeing evidence of superspreaders like SARS. For reasons we do not fully understand, most SARS carriers did not get other people sick. Some infected 50 or more.
Aside from concerns over severe cases flooding ICUs, with a higher apparent severity case than most, the main factor that is concerning about COVID-19 has been the long incubation period and asymptomatic transmission through proximity alone, something we haven't really seen before.
This makes it so hard to detect, as opposed to SARS and Ebola, as well as other highly infectious diseases such as measles. Combined with relatively inaccurate tests which are not widely distributed, for example only to two African countries and just now to Indonesia, it is reasonable to expect that the disease has spread and is incubating in clusters all over the world, particularly as the symptoms are so similar to the normal flu. It being flu season when would you even come in for testing? Flu is still deadly, with more people dying of flu in China since the start of the crisis than from COVID-19.
Here is where it gets really interesting. As discussed in my previous article, the precautionary principle means we will keep our kids out of school and change our behaviour in developed society until this blows over and we get more data, just in case.
In low and middle income societies with poorer hygiene and high population density, like much of Africa and Asia, this won't be the case.
It's impossible to quarantine and even test everyone, so disease will continue to spread and most deaths, which will hopefully be low, will be outside of the hospital system, which is already stretched.
This means even if developed nations shut their borders and flights for a period, secondary waves originating in these low and middle income countries may continue to come for many months, leading to new cluster, particularly as the vast majority only get mild symptoms if any at all.
LMIC governments have no option but to get on with things and do the best they can from a top down basis as they couldn't shut down and quarantine even if they wanted to with so many lacking a buffer in their countries.
This means the economic impact is likely to be larger in developed markets initially, with the main impact on LMICs being secondary demand destruction as opposed to the local economy grinding to a halt.
We cannot even expect for herd immunity to be the answer given the high mutability of the coronavirus from initial data, with the potential for some people to be infected twice and some cases occurring 24 days after an all clear on unreliable tests. Even if a vaccine is created, the flu vaccine can have effectiveness as low as 30% for certain populations.
There have been some arguments heat may denature or reduce the spread, which may be the case. For middle and high income countries that rely on air conditioning, this may unfortunately make things worse, as we have seen with the sharp rise in Singaporean cases where the temperature is 90° F and 15% of the 50 confirmed cases are already in the ICU. Even with SARS we saw a secondary wave in the heat.
In conclusion, the likely secondary incubation points and limited policy response of LMICs means we should expect waves of coronavirus and focus not on shutting our borders and damaging global trade, but on bulking our treatment and care responses.
In particular interventions that stop cytokine storm collapses and increased respiration and oxygen response for standard complications should be accelerated even at this stage with new facilities created to produce these and new interventions tested.
We remain in hope this will resolve itself quickly, but we need to be prepared for the long haul.
CORONAVIRUS: Top CDC official warns "we are likely to see community spread in the U.S." as agency prepares to implement "change in our response strategy"
Thursday, February 13, 2020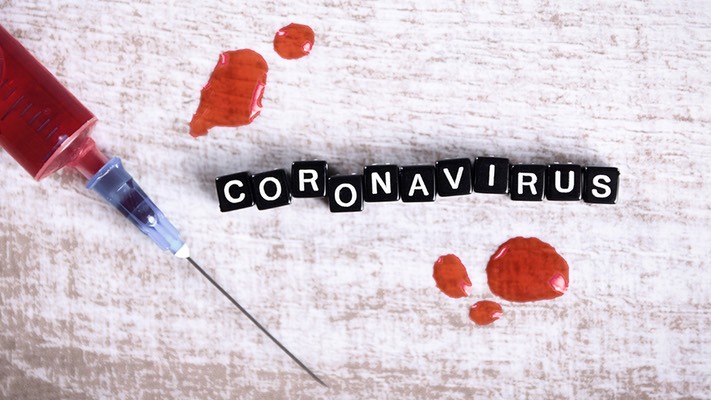 (Natural News) The CDC's head of the National Center for Immunization and Respiratory Diseases, Dr. Nancy Messonnier, is primed to win our "most honest CDC official in the history of the CDC" award. She's just dropped another bombshell of truth that almost everyone else has been trying to wish away with spin and propaganda. "At some point, we are likely to see community spread in the U.S. or in other countries," she told a group of reporters on a phone conference earlier today.
She then added that U.S. officials are preparing for a domestic outbreak which would, "trigger a change in our response strategy."
The Epoch Times added: "…[N]oting that while most of the cases of the virus are in mainland China, there will come a time when it begins to spread more in the United States."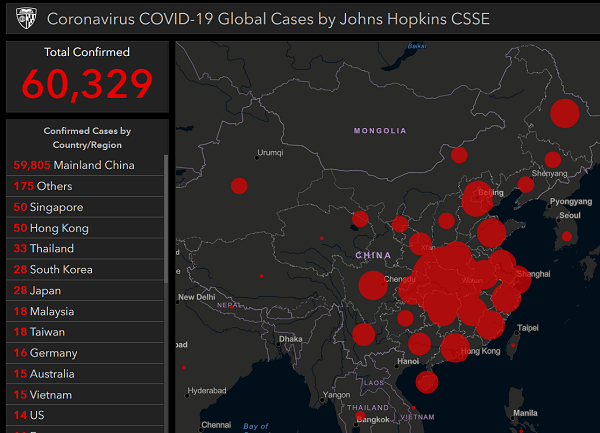 Same CDC doctor admitted the rapid lab test kits were all fouled up… and that's a level of honesty we need to see
Dr. Messonnier is a division head who we previously profiled as being remarkably frank and honest with the public. We sensed this early on, as she was one of the few officials within the CDC who was willing to explain the scenarios for which the CDC was preparing (i.e. a sustained outbreak in the USA). She's also the CDC official who just admitted the CDC's hundreds of thousands of test kits — sent to hospitals and clinics in all 50 states — are producing disturbing rates of false positives and false negatives due to a quality control problem with the chemical reagent.
The more complete quote from Dr. Messonnier is:
The goal of the measures we have taken to date are to slow the introduction and impact of this disease in the United States, but at some point we are likely to see community spread in the U.S. or other countries and this will trigger a change in our response strategy.
Dr. Messonnier also confirms what we've been telling people since day one: That wearing N95 face masks to try to avoid catching the coronavirus is pointless. Instead, she recommends that people who are sick should wear the masks when around other health care workers. The masks prevent sick people from spreading it to others, but they don't prevent non-infected people from getting infected (since they don't create a full face seal).
A completely unrelated division within the CDC recently admitted to a gross error in the mis-labeling of coronavirus test samples, causing them to release an infected person from quarantine who was later recalled back to the quarantine. This stunning incompetence places the health of millions at risk, and it all stemmed from a lack of sample labeling standards between a California hospital and the CDC itself.
The CDC expects "community outbreaks" in the USA, but here's what they aren't yet saying
CDC spokespeople are very careful in the language to avoid sounding "alarmist." It's understandable, given how, it seems, 90% of people fabricate in their own heads some bizarre version of what they think you said. Most people quite literally can't process language with any sense of accuracy these days, so the CDC downplays everything and speaks in the most sanguine terms possible.
But what they aren't telling you is rather obvious to anyone who's still able to think: If there are "community outbreaks" in the USA, how do those stay contained within each community?
The correct answer is they don't.
Any community outbreak in America will, of course, expand to become a nationwide pandemic. That's because U.S. communities are very mobile, and we don't have nationwide military-run highway checkpoints (not yet, anyway) that demand we show our papers to proceed.
People are very mobile all across America, and this is especially true among public transportation commuters in large, liberal cities like New York, Boston, San Francisco, Seattle and so on. Buses, trains and subways are perfect places for the coronavirus to spread, especially since we now know it can survive on surfaces for up to 9 days (not just 5 as we previously believed).
This means one infected person boarding a subway train in NYC, for example, could leave behind a coronavirus deposit that would continue to infect potentially hundreds or thousands of other people for the next nine days. Even if the CDC magically tracks down the initial person who infected the train, there's no practical way to sanitize every subway train every day and stop further spread of the virus.
Thus, cities where public transportation is very common will instantly experience exploding infections across anyone who uses those public transport systems. Think Grand Central Station, or the Denver International Airport.
Similarly, you could argue that commercial air travel will also be overrun by the coronavirus. And if you think the cleaning crew disinfects the entire airplane between flights, you're kidding yourself. Don't you know those tray tables routinely test positive for traces of human feces and E.coli?
And if that seems bad, have you visited San Francisco recently? The streets there are literally running with raw human feces, thanks to bizarre liberal policies that embrace public defecation but criminalize restaurants serving plastic straws. As you might expect, coronavirus spreads through human feces, which means San Francisco is basically a lost cause if it suffers even a small "community outbreak."
Much the same is true in Los Angeles, Portland, Seattle and San Diego. And that's just the West Coast.
So the CDC is marshaling resources to fight this thing, knowing it's coming to America and knowing it won't be contained in America. They will try their best, but in the end, no government can save you from a pandemic. Sooner or later, you'll discover that you have to fend for yourself.
Suddenly, all those families featured in the Doomsday Preppers show from a few years back — who were widely mocked by the establishment — look like geniuses.
Guess who's the stupid family now? The one that lives in a high density liberal city, owns no car and has no means of self-reliance. If you don't believe me, ask the 400 million Chinese now living under military quarantine, with no source of food, medicine or other emergency supplies.
Stay informed. Get prepared. Your life will soon depend on it.
As I explain in a recent podcast, we all need to be thinking "beyond containment," because no government has this contained.
US Military Initiates "Global Campaign Plan For Pandemic"

It appears that the U.S. military is taking this coronavirus outbreak extremely seriously.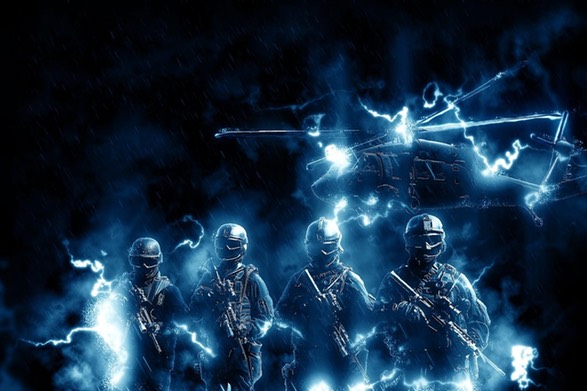 An executive order has been issued which has initiated the implementation of "the Department of Defense Global Campaign plan for Pandemic Influenza and Infectious Diseases 3551-13".  We don't know all of the details of the plan, but we do know that it instructs U.S. military officials "to prepare for widespread outbreaks".  Many in the mainstream media continue to try to convince us that this virus is not much more dangerous than the common flu, but if that is true then why is our military taking such a dramatic step?  The following comes from a Military Times article…

An executive order issued by the Joint Staff and approved by Defense Secretary Mark Esper this month directed Northern Command and geographic combatant commanders to initiate pandemic plans, which include ordering commanders to prepare for widespread outbreaks and confining service members with a history of travel to China.
The Navy and Marine Corps messages, issued Tuesday and Wednesday, respectively, reference an executive order directing U.S. Northern Command to implement the Department of Defense Global Campaign plan for Pandemic Influenza and Infectious Diseases 3551-13.
For now, we are not being told the specific details of this plan, and when Northern Command was asked about it they issued a very vague statement…
"We coordinate with other combatant commands to assess potential impacts in the event of a pandemic and we ensure the U.S. military is poised to respond as required," said Northern Command in a statement emailed to Military Times. "The military profession fosters a culture of planning, and the fact that we are coordinating planning efforts across the geographical combatant commands is consistent with how we prepare to respond, if directed."
Thankfully, the virus is not spreading widely inside the United States so far.
But that could change at any time, and on Wednesday a 14th U.S. case was confirmed…
A second person evacuated from Wuhan, China, to a U.S. Marine base near San Diego has been diagnosed with the new coronavirus, raising the tally of confirmed cases in the United States to 14, the Centers for Disease Control and Prevention (CDC) reported on Wednesday. [15 cases as reported on Thursday, 2/13/20]
The patient was among 232 individuals who had been placed under quarantine at the Marine Corps Air Station Miramar after being airlifted from the epicenter of the coronavirus outbreak in Wuhan earlier this month, CDC spokeswoman Ana Toro said.
But 14 [15] confirmed cases is just a tiny drop in the bucket compared to more than 59,000 confirmed cases in China.
We should be thankful for the low number of cases in this country, but Dr. Nancy Messonnier is warning that "we are likely to see community spread in the U.S." at some point…
Top health officials prepped Americans for the prospect of novel coronavirus spreading in communities in the United States during a Wednesday news conference.
"At some point, we we are likely to see community spread in the U.S.," said Dr. Nancy Messonnier, director of the National Center for Immunization and Respiratory Diseases.
And if we do start seeing tens of thousands of confirmed cases here, the level of fear is going to rise dramatically and a lot of people are going to go completely nuts.
In fact, we are already starting to see some really strange things.
For example, a couple of "pranksters" in New York thought it would be really funny to spill a bucket of "coronavirus" in the middle of a crowded subway car…
David Flores and Morris Cordewell donned hazmats suits for the stunt while holding a container filled with liquid that had biological hazard markings on it.
In the video Cordewell gets up and spills the liquid over the floor as train passengers quickly jump out of harm's way. However, it turns out their bucket contained Kool-Aid juice.
Who would do something like that?
Yes, they probably thought that it was quite funny, but the truth is that this sort of a stunt could have taken a very tragic turn.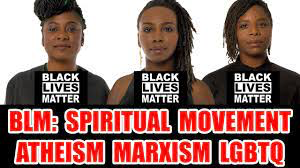 Sudden Militarization Of Wuhan's P4 Lab Raises New Questions About The Origin Of The Deadly Covid-19 Virus
January 12, 2020
The reported militarization of Wuhan's P4 Lab has raised new questions about the origin of the Covid-19 virus and the apparent cover-up that has occurred since it was first made public.
Following the removal of the most senior health officials in Wuhan yesterday, Chinese State Media has just reported that Chen Wei, China's chief biochemical weapon defense expert, is now to be stationed in Wuhan to lead the efforts to overcome the deadly, pneumonia-like pathogen.
According to the PLA Daily report, Chen Wei holds the rank of major general, and along with reports that Chinese troops have started to "assist", it strongly suggests that the PLA has taken control of the situation.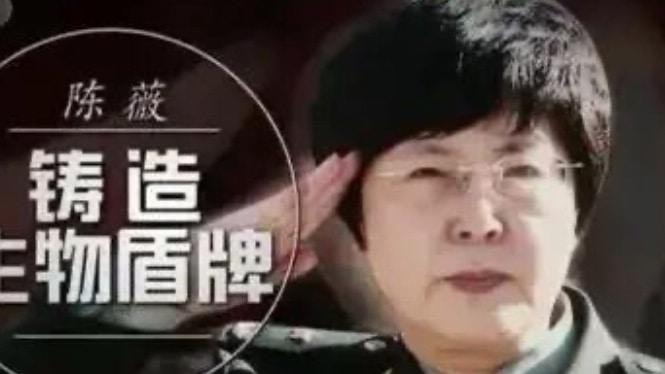 As Epoch Times reports, before this latest report, Chen's military rank and specialization was not widely known. She was first interviewed on Jan. 30 by the state-run China Science Daily. In a second interview the next day, she predicted that the outbreak in Wuhan would let up over the next few days, but could worsen again soon...
"We need to prepare for the worst-case scenario, find the best solutions, and be ready to fight the longest battle," she said.
Amid constant propaganda from CCP officials, and widespread censorship, many - including US Senator Tom Cotton - have wondered if the virus was bio-engineered, and was 'leaked' from the lab (which just happens to be located at the epicenter ofg the virus).
The militarization, and bringing in of China's foremost bio-weapons expert raises the question once again of whether the Wuhan Strain of coronavirus (Covid-19) is the result of naturally emergent mutations against the possibility that it may be a bio-engineered strain meant for defensive immunotherapy protocols that was released into the public, most likely by accidentsince China's rate of occupational accidents is about ten-times higher than America's, and some twenty-times more than Europe's – the only other regions with high-level virology labs.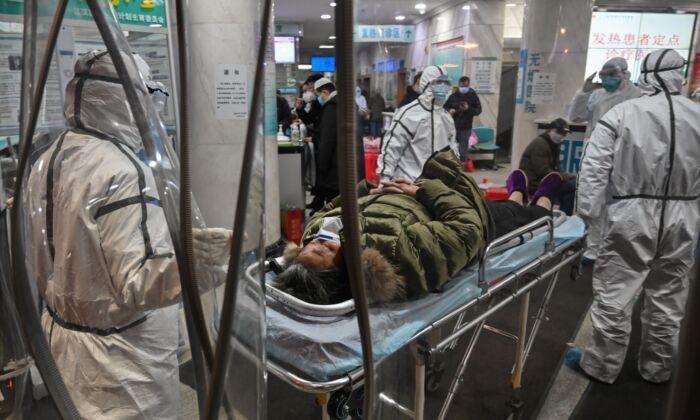 A new report - a product of a collaboration between a retired professional scientist with 30 years of experience in genomic sequencing and analysis who helped design several ubiquitous bioinformatic software tools, and a former NSA counterterrorism analyst - suggests that this possible mistake may have been precipitated by the need to quickly finish research that was being rushed for John Hopkin's Event 201 which was held this past October and meant to gameplan the containment of a global pandemic. Research may also have been hurried due to deadlines before the impending Chinese New Year – the timing of these events point to increased human error, not a globalist conspiracy.
Beijing has had four known accidental leaks of the SARS virus in recent years, so there is absolutely no reason to assume that this strain of coronavirus from Wuhan didn't accidentally leak out as well.
Given that this outbreak was said to begin in late December when most bat species in the region are hibernating and the Chinese horseshoe bat's habitat covers an enormous swath of the region containing scores of cities and hundreds of millions people to begin with, the fact that this Wuhan Strain of coronavirus, denoted as Covid-19, emerged in close proximity to the only BSL-4 virology lab in China, now notoriously located in Wuhan, which in turn was staffed with at least two Chinese scientists – Zhengli Shi and Xing-Yi Ge (both virologists who had previously worked at an American lab which already bio-engineered an incredibly virulent strain of bat coronavirus) – the accidental release of a bio-engineered virus meant for defensive immunotherapy research from Wuhan's virology lab cannot be automatically discounted, especially when the Wuhan Strain's unnatural genomic signals are considered.
Zhengli Shi notably  co-authored a controversial paper in 2015  which describes the creation of a new virus by combining a coronavirus found in Chinese horseshoe bats with another that causes human-like severe acute respiratory syndrome (SARS) in mice.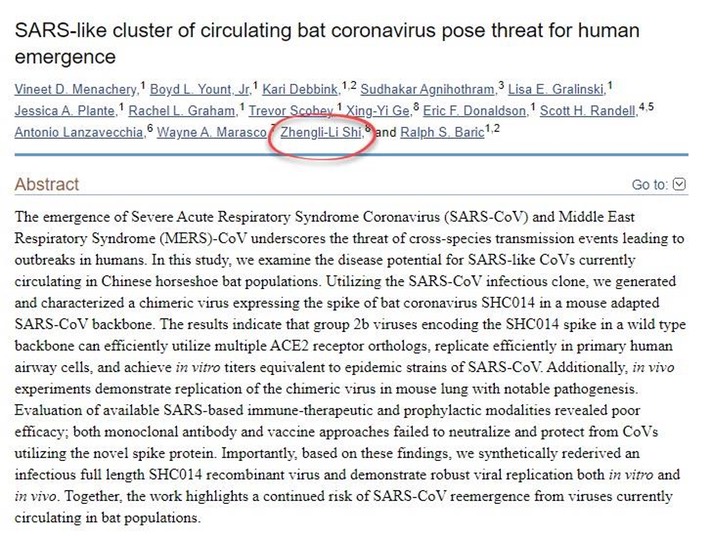 This research sparked a huge debate at the time over whether engineering lab variants of viruses with possible pandemic potential is worth the risks.
As Nature.com reported in 2015, the findings reinforce suspicions that bat coronaviruses capable of directly infecting humans (rather than first needing to evolve in an intermediate animal host) may be more common than previously thought, the researchers say.
But other virologists question whether the information gleaned from the experiment justifies the potential risk. Although the extent of any risk is difficult to assess, Simon Wain-Hobson, a virologist at the Pasteur Institute in Paris, points out that the researchers have created a novel virus that "grows remarkably well" in human cells.
"If the virus escaped, nobody could predict the trajectory," he says.
In October 2014, the US government imposed a moratorium on federal funding of such research on the viruses that cause SARS, influenza and MERS (Middle East respiratory syndrome, a deadly disease caused by a virus that sporadically jumps from camels to people).
"The only impact of this work is the creation, in a lab, of a new, non-natural risk,"agrees Richard Ebright, a molecular biologist and biodefence expert at Rutgers University in Piscataway, New Jersey. 
Ebright and his co-author also conceded that funders may think twice about allowing such experiments in the future.
"Scientific review panels may deem similar studies building chimeric viruses based on circulating strains too risky to pursue," they write, adding that discussion is needed as to "whether these types of chimeric virus studies warrant further investigation versus the inherent risks involved".
Previously, scientists had believed, on the basis of molecular modelling and other studies, that it should not be able to infect human cells. The latest work shows that the virus has already overcome critical barriers, such as being able to latch onto human receptors and efficiently infect human airway cells, he says.
"I don't think you can ignore that."  
Which brings us to perhaps the most notable finding. 
A genetic analysis of the spike-protein genes – the exact region that was bio-engineered by the UNC lab in 2015, where Zhengli Shi and Xing-Yi Ge previously isolated a batty coronavirus that targets the ACE2 receptor just like this 2019-nCoV strain of the coronavirus does – indicates an artificial and unnatural origins of the Wuhan Strain's spike-protein genes when they are compared to the genomes of wild relatives.
Instead of appearing similar and homologous to its wild relatives, an important section of the Wuhan Strain's spike-protein region shares the most genetic similarity with a bio-engineered commercially available gene sequence that's designed to help with immunotherapy research. It is mathematically possible for this to happen in nature – but only in a ten-thousand bats chained to ten-thousand Petri dishes and given until infinity sense.
And so, as the report goes on, a scientist who's been prolifically involved with studying the molecular interaction of coronaviruses and humanity, spending decades and millions of dollars, and having even helped build a hyper-virulent coronavirus from scratch at UNC – just so happens to be working at the only BSL-4 virology lab in China that also just so happens to be at the epicenter of an outbreak involved a coronavirus that's escaping zoological classification and whose novel spike-protein region shares more in common with a commercial genetic vector than any of its wild relatives
However, most recently, as an increasing number of global experts questioned China's initial official story that this came from the food market in Wuhan, Zhengli Shi hurriedly wrote a new report, claiming instead of the initial findings that the novel virus came from a bat in Yunnan, the Chinese chrysanthemum. She said that this was a new discovery that she had worked hard for several years, and coincidentally wrote a paper after the outbreak and published it in the famous international academic journal Nature.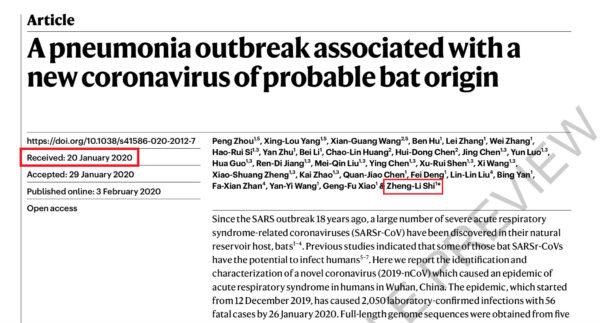 Which all seems like a very sudden about face for someone who had been working on bio-engineering the exact virus for decades...
The reason why #CCP held on releasing info about #CoronavirusOutbreak
is that they were waiting for Dr. Shi Zhengli's paper to be published at Nature so that they could claim bat is the origin. #COVID2019
中共推遲公佈 #武汉肺炎 疫情 是為等石正麗提交論文https://t.co/Su5odFacas
— 曾錚 Jennifer Zeng (@jenniferatntd) February 12, 2020
Giving further credence to the idea that the Wuhan Strain was bio-engineered is the existence of a patent application that looks to modulate a coronavirus' spike-protein genes – the precise region altered by Zhengli Shi at UNC to make a hyper-virulent strain of coronavirus, and whose alteration and adaptation would explain the Wuhan Strain's unusual behavior as discussed above.
Given the above facts, either:
A coronavirus spontaneously mutated and jumped to humans at a wet market or deep in some random bat cave which just so happened to be 20 miles from China's only BSL-4 virology lab, a virus with an unusually slippery never-before-seen genome that's evading zoological classification, and whose spike-protein region which allows it to enter host cells appears most like a bio-engineered commercial product, that somehow managed to infect its first three and roughly one-third of its initial victims despite them not being connected to this market, and then be so fined-tuned to humans that it's gone on to create the single greatest public health crisis in Chinese history with approaching 100 million citizens locked-down or quarantined – also causing Mongolia to close its border with its largest trading partner for the first time in modern history.
Or, Chinese scientists failed to follow correct sanitation protocols possibly while in a rush during their boisterous holiday season, something that had been anticipated since the opening of the BSL-4 lab and has happened at least four times previously, and accidentally released this bio-engineered Wuhan Strain – likely created by scientists researching immunotherapy regimes against bat coronaviruses, who've already demonstrated the ability to perform every step necessary to bio-engineer the Wuhan Strain 2019-nCov – into their population, and now the world. As would be expected, this virus appears to have been bio-engineered at the spike-protein genes which was already done at UNC to make an extraordinarily virulent coronavirus. Chinese efforts to stop the full story about what's going on are because they want the scales to be even since they're now facing a severe pandemic and depopulation event. No facts point against this conclusion.
And, following tonight's huge jump in reported cases and deaths...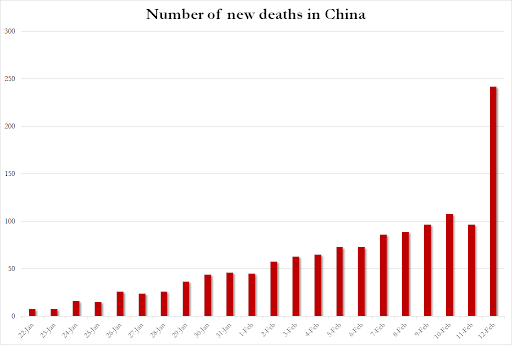 ...we thought the admittedly doomsday-ish conclusion from harvardtothebighouse.com seemed worthwhile noting:
"Simply and horribly, this is likely to become another Chernobyl or Fukushima – a catastrophic illustration of mankind's hubris and intransigence clashing with Nature, as fate again reaps a once unimaginably tragic toll."
As Professor Neil Ferguson warned, "we're at the eary stages of a global pandemic" 
CORONAVIRUS: Professor Neil Ferguson states on the COVID-19 Outbreak "We're at the eary stages of a global pandemic" (BBC News)#covid19 #coronavirus #coronavirusoutbreak pic.twitter.com/FzVVhO1U3T
— 24/7 Crisis News LIVE ☢ (@livecrisisnews) February 12, 2020
Let's hope he is wrong.
This Is What Happened After One Chinese Company Rushed To Reopen After The Corona-Chaos Feb 12, 2020
Earlier today, Rabobank's Michael Every laid out succinctly the dilemma facing Beijing, when he said that "China appears to have perhaps decided that the economic damage being wrought by a demand collapse and supply-chain shutdown is just too much to bear." As reported overnight, Xi Jinping stated that China will meet its economic goals AND win the battle vs. the virus, and Beijing is urging firms to increase output even as the capital itself is largely locked down – and other cities are physically locking people into their homes. That's as even the US admits that the Phase One trade deal will be slow off the market due to the virus impact.
Of course, China is no stranger to Double Think: as Every put it, "a freely-floating, controlled currency; market-determined, state-directed interest rates; and free-trade mercantilism. Yet increase economic activity from here and the virus will spread, both internally and globally. Concentrate on just the virus, and the local and global economic impact will be enormous."
That, in a nutshell, was how Rabobank saw China's "dialectic that has no comfortable Fichtean synthesis to the thesis and antithesis" and concluded that "things are going to get nasty for economies and markets – especially with official WHO word that a vaccine is 18-months away." 
Today, two days after China officially returned to work, we got the first confirmation of just how catastrophic Beijing's order to local enterprises and businesses to rush back reboot the economy could be, when Jennifer Zeng reported that a company in Suzhou reopened, and immediately at least one CoVid2019 case found. As a result, the company's 200+ employees couldn't go home and were immediately placed under quarantine. At least the workers managed to "organize" quilts for themselves.
This is just the first such case. Expect many more - especially across Hubei and its neighboring provinces - as latent cases of Coronavirus which were never caught and cured spark new infections and mini epidemics, all of which dutifully captured on a smartphone clip for everyone in China to watch and freak out even more.
Which reminds us of another comment from Rabobank, which last week explained why the dilemma facing China is "truly awful":
The quandary for China between releasing the quarantine straitjacket in days to stop its economy from getting truly sick, and allowing a virus like this to spread further as people start to mingle again is truly awful. There are no good options. For a world with a serious lack of final end-demand, and which has been relying on China, along with increasingly "Chinese" central banks, this is going to be a nasty shock either way that Mr Market is treating like he is Mr Magoo.
And since Beijing has no way out, especially since the epidemic is still raging despite Beijing's "doctored", no pun intended, infection and death numbers, expect China to unleash the most draconian censorship crackdown on any reports Covid-2019 has not only not been purged but is making unwelcome appearances across China's enterprises, which will be quietly put under blanket quarantine even as Beijing pretends that all is well and its economy is once again humming on all cylinders until eventually the epidemic reaches a critical mass and China has no choice but to once again admit the full extent of the social and economic fallout. And just like in the case of SARS, don't expect such "honesty" to emerge for at least several weeks if not months.
Why Is The Government Turning 11 Military Bases Inside The US Into Quarantine Camps?
Authored by Michael Snyder February 11,2020
If this coronavirus outbreak is not a serious threat, then why is the U.S. government preparing to quarantine victims all over America? As you will see below, 11 U.S. military bases located close to major airports are being converted into "quarantine centers" for potential patients. When I first learned about this, I was greatly alarmed, because we have all seen what is going on in China right now. People are literally being physically dragged out of their homes and are being forcibly relocated to "mass quarantine camps" with hordes of other very sick people. Sadly, many of them will never come out of those camps alive. If this virus starts spreading like wildfire here in the United States, is it possible that something similar could start happening here?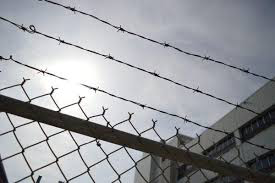 The vast majority of the confirmed cases are still in China, but over the last couple of weeks the number of cases in the rest of the world has escalated dramatically.
Back on January 20th there were only 4 confirmed cases outside of China and now there are 464. At this point there are victims in at least 28 different countries, and that number is almost certain to keep growing.
The reason why the virus has already spread to so many nations is because it is highly contagious. Scientists have discovered that it can be transmitted from person to person very easily, it has an incubation period of up to 24 days, and it can survive on smooth surfaces for up to 9 days.
If this coronavirus starts spreading very rapidly in the western world it is going to create a tremendous amount of panic. Many are still trying to compare this virus to the common flu, but that is a huge mistake. China would never lock down major cities for weeks on end for the flu.
Obviously something really big is happening, and the U.S. government is preparing for a worst case scenario. According to the Miami Herald, 11 military bases inside the United States are currently in the process of being transformed into "quarantine centers"…
Eleven military bases near major airports in the United States are setting up quarantine centers for possible coronavirus patients, the Department of Defense said.
The Department of Health and Human Services asked the Pentagon for quarantine space in case beds fill up at other coronavirus centers around the country, according to a DOD statement.
Is this an indication that the threat that this virus poses to our country is far greater than we are being told?
The Department of Defense has released a statement about this new program, and in that statement the 11 military bases were specifically identified…
JB Pearl Harbor-Hickam, HI (HNL)

Great Lakes Training Center Navy Base, IL (ORD)

Naval Air Station Joint Reserve Base, TX (DFW)

March ARB, CA (LAX)

Travis AFB, CA (SFO)

Dobbins ARB, GA (ATL)

Fort Hamilton, NY (JFK)

Naval Base Kitsap, WA (SEA)

Joint Base Anacostia, DC (IAD)

Joint Base McGuire-Dix-Lakehurst, NJ (EWR)

Fort Custer Training Center (DTW)
Hopefully not all of those facilities will be needed, but things are certainly looking more grim with each passing day.
For example, the number of confirmed cases on a cruise ship anchored off the coast of Japan nearly doubled on Monday. Of the total number of people that have been infected, at least 24 of them are Americans…
There are at least 24 Americans among the 135 people infected with the Wuhan coronavirus aboard the Diamond Princess cruise ship, according to information from Princess Cruises and a CNN tally.
Japanese authorities are still testing hundreds of passengers on board the ship, which has been stuck at a harbor south of Japanese capital Tokyo for almost a week now.
Once the quarantine of that cruise ship is over, those Americans will certainly want to return home.
Will they be allowed to do so, or will they be required to go to one of these quarantine centers first?
Elsewhere in the country, people are being put in "self quarantine" until officials believe that it is safe for them to resume their normal lives. According to local officials, this is being done to "an unspecified number of people in Bexar County" right now…
A number of Texans have been put in 'self quarantine' in their homes in case they have the coronavirus after recently returning from China.
Officials in the city of San Antonio confirmed that an unspecified number of people in Bexar County were being confined to their homes for 14 days.
Their quarantine period began at 10am Sunday, News 4 San Antonio reported.
Hopefully they know what they are doing, because if this virus gets out of control it could potentially sweep across America like wildfire.
We have already seen what has happened in China, and we definitely do not want that to happen here.
The Chinese have implemented extreme measures in a desperate attempt to slow the spread of the virus, but so far the most effective thing that they have done to reduce the numbers is to literally change the definition of a "confirmed case". The following comes from Zero Hedge…
As reported by local media this morning, the Chinese National Health Commission quietly changed its definition of Coronavirus "confirmed case" in the latest guideline dated 7/2. As a result, going forward patients who tested positive for the virus but have no symptoms will no longer be regarded as confirmed. As Alex Lam observes, "this inevitably will lower the numbers."
Of course there has been a tremendous amount of skepticism about the numbers that China has been giving us from the very beginning, and so this latest move isn't that surprising.
But no matter how much China tries to spin things, there is no hiding the fact that this is a very serious outbreak, and it will almost certainly continue to intensify in the weeks ahead.
At this point, even the director-general of the World Health Organization is admitting that "we may only be seeing the tip of the iceberg"…
Tedros Adhanom Ghebreyesus, director-general of the World Health Organization, warned that the numbers may not tell the entire story.
"There've been some concerning instances of … spread from people with no travel history to China," Tedros said. "The detection of a small number of cases may indicate more widespread transmission in other countries. In short, we may only be seeing the tip of the iceberg."
As I discussed yesterday, humanity is now facing a "perfect storm", and what we have witnessed so far is just the beginning.
Personally, I am still hoping that this outbreak will fade. I don't know if this is the sort of extremely deadly global pandemic that so many experts have been warning could happen one day, but without a doubt it is definitely clear that a lot of people are dying over in China.
Will the final death toll from this outbreak eventually number in the thousands or the millions?
I don't know, but all of us should definitely continue to monitor the latest developments on a daily basis.
China's Fatal Dilemma

January 11, 2020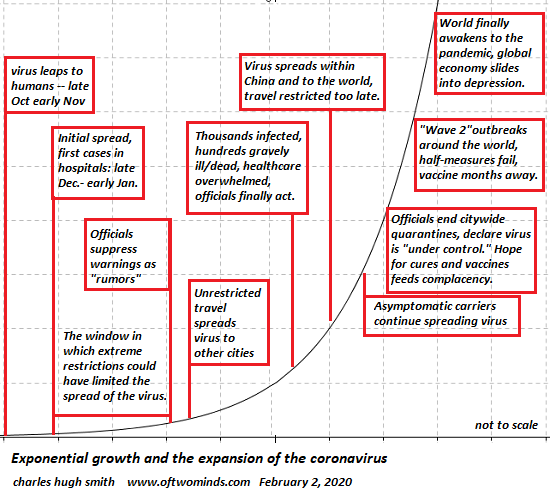 RIGGED: China changes the definition of "infected" to ignore coronavirus patients who test positive but show no symptoms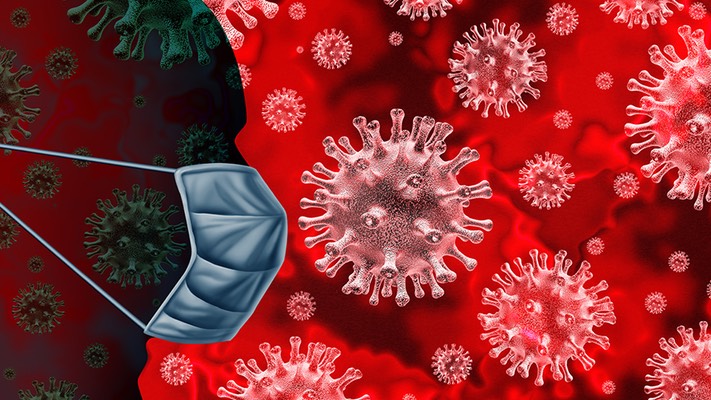 (Natural News) We've all known from day one that China's "official" numbers are a total joke. The numbers have been carefully crafted with mathematical precision to produce a 2.1% death rate, day after day, in complete contradiction to reality. Similarly, "infection" numbers seem to be more a product of the limited bandwidth of testing kits than anything representing reality.
And now, we learn that China has changed the very definition of "infected" to eliminate people who test positive but who show no symptoms. These are so-called "symptomless carriers," and according to China, they no longer count as "infected," even though they are well known to be able to spread the virus by infecting other people.
As Charles Hugh Smith correctly points out in a brilliant article, "controlling the narrative is not the same as controlling the virus." Yes, you can pretend that infected people are not infected, but that doesn't cure the infection. He writes:
It's clear that the narrative about the coronavirus is being carefully managed globally to minimize the impact on global sentiment and markets. Authorities are well aware of the global economy's extreme fragility, and so Job One for authorities everywhere is to scrub the news flow of anything that doesn't support the implicit official narrative.
But controlling the narrative is not the same as controlling the virus. The narrative is intangible but the virus is real-world. Authorities are betting that controlling the narrative about the virus is equivalent to controlling the actual virus. If everyone believes only 800 people have died and the number of infected people is plummeting, they will obediently keep borrowing and buying and authorities will retain their legitimacy, power and wealth.
We realize this point seems rather obvious, but recognize that we now live in a world where the entire scientific community and media complex now pretends that men can get pregnant and women can be sperm donors. The rise of "transgenderism" is a dangerous bit of shared delusion that pretends biological reality doesn't exist. And if people can "wish" they are a different gender, then why can't China just wish away the coronavirus?
Those who test positive but show no symptoms are now removed from "infected" counts
As Zero Hedge reported earlier today, "the Chinese National Health Commission quietly changed its definition of Coronavirus "confirmed case" in the latest guideline dated 7/2. As a result, going forward patients who tested positive for the virus but have no symptoms will no longer be regarded as confirmed."

ZH continues:
As Apple Daily reports, in the latest, fourth edition of the NHC protocol, "mild" is classified as "confirmed cases" but "asymptomatic infected persons" is defined as "persons with no clinical symptoms, respiratory tract specimens, etc. who are positive for new coronavirus pathogenic tests." As a result, "asymptomatic infection" no longer counts as confirmed cases.
Conveniently, the new rule has triggered provinces "to find cases that can be deducted from the total number of confirmed cases." For example, Heilongjiang has axed 13 cases from their tally stating the new definition. Hubei has deducted 87 cases today, but authorities did not explain why."
It reminds us of the day China accidentally leaked the real numbers of the coronavirus pandemic, showing 154,023 infections and 24,589 deaths, which computes to roughly a 16% fatality rate. Remember that?
By all credible accounts, China is taking the real numbers and dividing by ten, then fudging a bit more to work out exactly a 2.1% fatality rate. It's all absurd, and anyone who believes those numbers is a fool.
Similarly, never forget that the very same media outlets now claiming the coronavirus is no big deal once went berserk with hype over the Disneyland measles scare which killed exactly zero children:
Immediately after Beijing quarantined, now Shanghai locked down in response to shocking spread of the Wuhan coronavirus pandemic         Newstarget.com Feb 10, 2020
Mere hours after we reported that China's capital city, Shanghai, has fallen to the coronavirus pandemic, we are now learning from our Taiwan news sources that China's mega-city of Shanghai has also just been placed under strict lock down.
This is now confirmed via Yahoo News Taiwan.
The rough English translation reports:
…[T]he Shanghai municipal government also said at a press conference on the prevention and control of the epidemic that most of the city's 13,000 neighborhoods have been closed management, strict control of the number of entrances and exits of the community and access personnel to review the registration of temperature measures, and no residential premises in the local, no work of personnel to strengthen the evacuation, For people from the affected areas, the mandatory isolation observation for 14 days, all are not allowed to go out.
The story goes on to note that, "Beijing, Tianjin, Shanghai and Chongqing" have all been placed under strict quarantine control as the coronavirus has spread beyond every measure of attempted containment in China.
WHO now admits this may be just the beginning of a global pandemic
This came on the same day that WHO director general Tedros Adhanom Ghebreyesus suddenly admitted that the coronavirus outbreak cases we're seeing in China may be just "the tip of the iceberg" in terms of what is yet to come, reported the South China Morning Post:
"There have been some concerning instances of onward #2019nCoV spread from people with no travel history to [China]," he tweeted on Sunday, using the virus' scientific name.
"The detection of a small number of cases may indicate more widespread transmission in other countries; in short, we may only be seeing the tip of the iceberg."
Perhaps now the WHO is beginning to realize WHO has been lying.
Western media propagandists are still living in the past and pretending none of this is happening
Slowly but surely, the world is awakening to the facts we reported many days ago: That the coronavirus has broken containment in China and is on track to become a global pandemic.

The lying mainstream media in the United States remains at least two weeks behind reality, still pretending the coronavirus is a conspiracy theory or that people who are concerned about the virus are "racist" bigots who don't like Chinese people. (Yes, seriously, they have to turn everything into a pathetic display of virtue signaling.)
Meanwhile, credible claims of the number of infections in China currently put that number anywhere from 100,000 to 200,000 people, and one professor from Imperial College London believes that China is headed for a blowout peak of 50,000 new infections per day.
Those infections aren't expected to peak in China until mid-March, according to several estimates. The spread outside of China will have a lag time of 1-2 months, perhaps longer.
In other words, what's happening to China right now may happen in Singapore, Thailand, Japan or Hong Kong in the March / April time frame. From there, it's only a matter of time before it's also happening in India, Africa, Mexico, Western Europe, etc.
If China couldn't contain it with the most heinous, draconian quarantine measures imaginable, consider the near-zero chance of a city like Los Angeles containing such a pandemic. America can't even control its borders (thanks to the Democrats), so how is America going to stop a pandemic that's carried by the movement of people?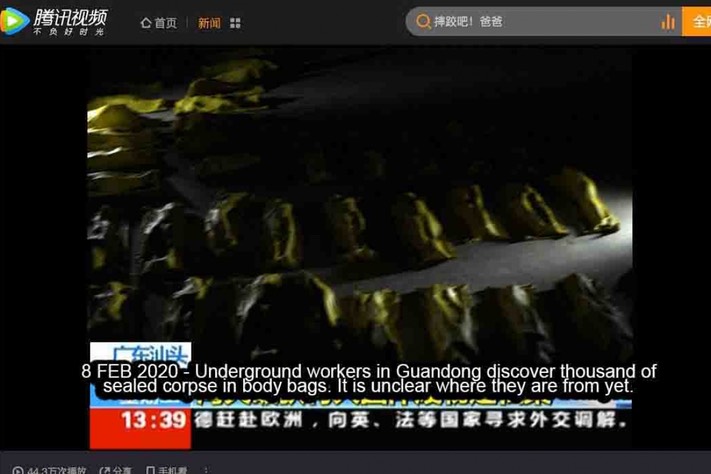 Exiled Chinese Billionaire Claims 1.5 Million Infected With Coronavirus, 50,000 Dead Feb 9, 2020
Summary:
Virus death toll surpasses SARS (total: 813)

Exiled Chinese billionaire says true death toll closer to 50k, 1.5 million infected

New cases confirmed in UK, Spain, Singapore

Passengers aboard 'Diamond Princess' warn authorities aren't doing enough to protect them - and others

Officials in Shenzen say they won't block Foxxconn factory reopening

Cruise ship quarantined in Hong Kong allowed to leave after 4 days
* * *
Update (1300ET): A lot of epidemiologists and 'citizen journalists' have been throwing out numbers that they believe to be the true accurate counts of the number of people infected with the Wuhan coronavirus in China, as well as the true death toll.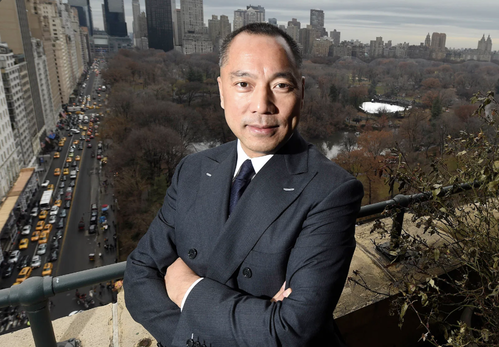 But exiled Chinese billionaire Guo Wengui said Sunday, citing leaked information out of Wuhan, that the death toll could be as high as 50,000, as Chinese officials burn bodies to cover up the true extent of the crisis.

This isn't the first time we've heard about the regime burning bodies, rather, it's one of those 'conspiracy theories' that grows more credible every day.
One reporter from the Epoch Times shared this map earlier showing the sulfur dioxide content in the air spiking over Wuhan.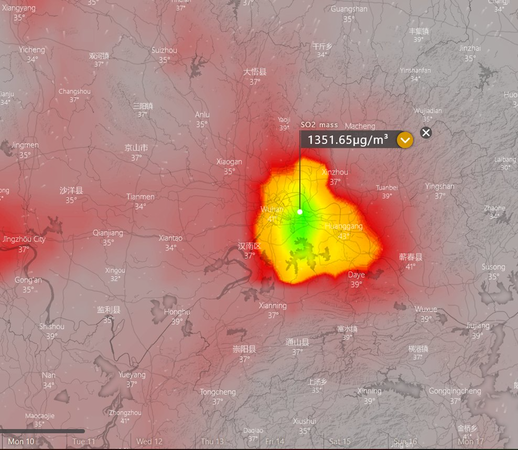 Wengui  also said he has information showing 1.5 million confirmed coronavirus cases in China. To be sure, this would contradict the theory that the ~3,000 or so new cases confirmed every day in China reflects restrictions on the supply of tests.
50,000 deaths would be an incredible thing to cover up...but then again, this outbreak is the without a doubt the greatest crisis of cinfidence faced by the regime since the June 4th incident back in 1989.
* * *
Last night, we reported that Chengdu had been placed under strict lockdown, adding another 14.4 million Chinese to the 400 million+ already living under virtual house arrest across the country as Beijing struggles to contain the coronavirus outbreak that has already claimed more lives than SARS did during its nearly year-long run.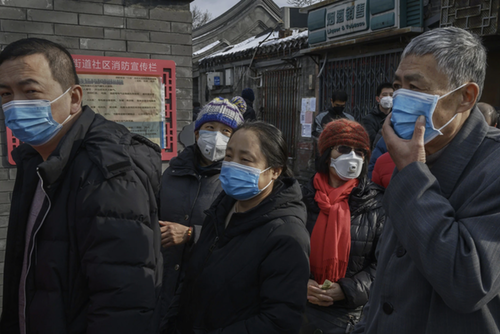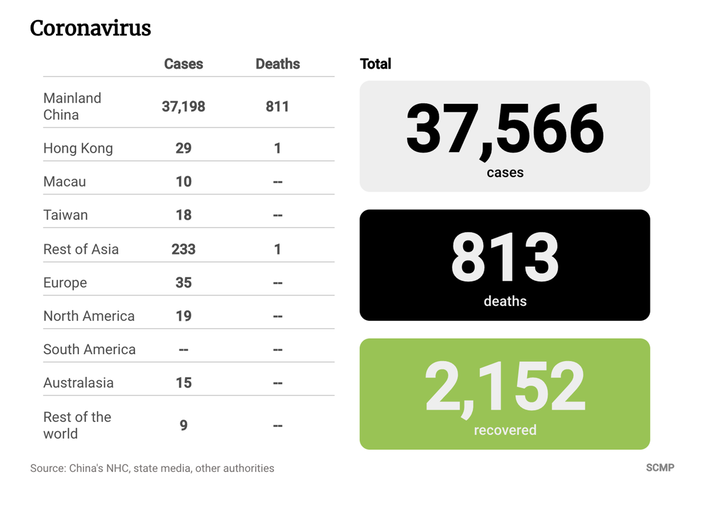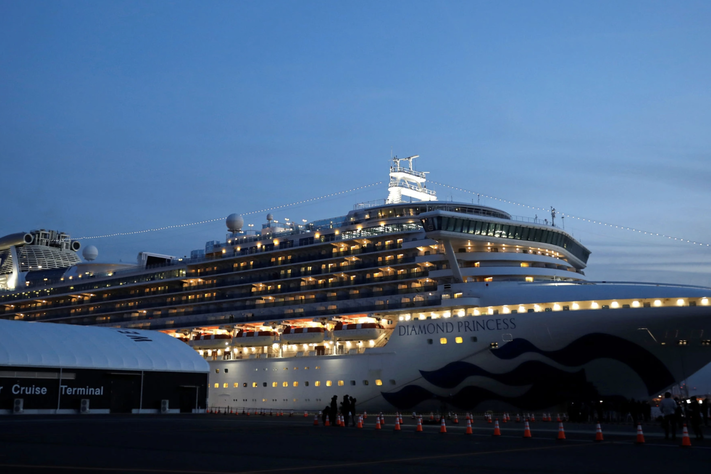 One passenger described keeping track of the number of cases by counting the ambulances that arrive to cart away the infected.
"Now we will start counting ambulances and know that's the number being removed," said Sarah Arana, 52, a medical social worker from Paso Robles, Calif.
Coronavirus Deaths Hit 806, Surpassing Total From 2003 SARS Outbreak Feb 8, 2020
Summary:
Officials reported an additional 81 deaths in Hubei on Saturday, bringing the death toll to 806: more than the total from the entire 2002-2003 SARS outbreak

WHO reported 31,481 confirmed global cases on Friday, up by 3,000+ cases from Thursday; SCMP says total cases closer to 35k

First American citizen has died

First Japanese citizen suspected of succumbing to virus

France elevates travel advisory to orange after 5 Britons fall ill in ski resort

Roundup of suspected infected in Wuhan continues

Beijing appoints Xi protege to help lead virus response

Vigil for Dr. Li held in Hong Kong

China blocks Foxconn plan to reopen factories
* * *
Update (1745ET): The coronavirus outbreak has just reached another grim milestone: The death toll has eclipsed that of the 2002-2003 SARS outbreak.
China's Hubei province has also reported 2,147 additional cases as of Feb. 8 (early Sunday in Beijing), lifting the total of cases in Hubei alone to 27,100, though the number of new cases being reported out of Hubei continued to slow. Reported cases in China alone exceed 36,693 less than two months after surfacing in late December in Wuhan. SARS sickened just 8,100.
We noticed over the past few days that the 'anti-alarmists' who claimed that the outbreak wasn't even as deadly as the seasonal flu have gradually gone quiet. Everybody who played down the seriousness of this outbreak is been unequivocally proven wrong.
To put this all in perspective:
If you're looking for a visual, here's a useful one (though this chart is slightly out-of-date):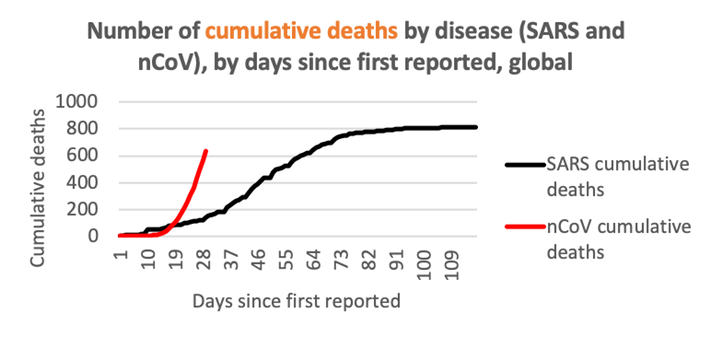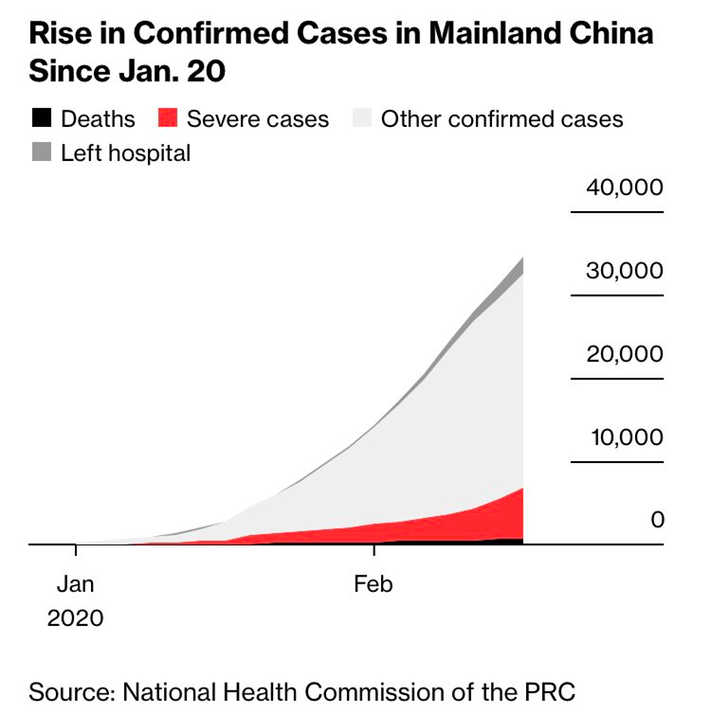 The confirmed cases have climbed by more than 2,000 daily since Feb. 2, peaking at 3,156 two days later. Confirmed cases also fell in the city of Wuhan, Bloomberg reports. The final evacuation flight taking more than 200 British citizens (and others) out of China has reportedly left Wuhan. Those passengers will be quarantined for two weeks upon arriving back in the UK.
* * *
Update (1500ET): The NYT just published its latest critical piece about the Chinese government's handling of the coronavirus outbreak. This one centers on President Xi's decision to stay out of the limelight over the past two weeks, instead leaving the crisis to his No. 2, Premier Li Keqiang, who has been charged with leading the committee of senior officials tasked with overseeing the government response to the outbreak.
One academic quoted in the article explains that the government's botched handling of the outbreak could be the biggest threat to Xi's rule during his tenure so far, and that the changes he's imposed on the Chinese constitution could make it difficult for Xi to avoid blame.
"It's a big shock to the legitimacy of the ruling party. I think it could be only second to the June 4 incident of 1989. It's that big," said Rong Jian, a writer about politics in Beijing, referring to the armed crackdown on Tiananmen Square protesters that year.
"There's no doubt about his control over power," he added, "but the manner of control and its consequences have hurt his legitimacy and reputation."
Meanwhile, three more cases of nCoV have been confirmed aboard the 'Diamond Princess', the Carnival-owned cruise ship currently under quarantine in Yokohama. Three more individuals have tested positive, bringing the number aboard to 64, the government said Saturday. All passengers are facing a two-week quarantine.
In China, much of the population has ordered to stay home, with only limited runs for essential supplies allowed. Factories will remain closed for at least another week or so, and airlines have cut service. JPM recently warned that the economic impact could drive China's economy to a standstill. Here's the latest update on how China's tourism industry is dealing with the fallout.

Coronavirus infections explode across Diamond Princess cruise ship, now reaching 61 confirmed cases out of 273 tested (22% infection rate)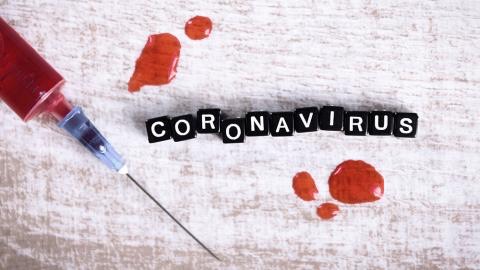 While the pandemic denialists are living in a delusional world of make believe, in the real world the virus is exploding across at least two cruise ships which are currently under quarantine, one docked at Japan and the other, with 30 confirmed infections, near Hong Kong. The Diamond Princess cruise ship docked with Japan, which had just 10 confirmed cases of the coronavirus two days ago, is now confirmed to have 61 confirmed infections, according to multiple media sources such as the South China Morning Post.
Even more shockingly, these 61 cases have emerged even though only 273 passengers have been tested. That's an effective infection rate of 22.3%.
There are more than 3,700 passengers and crew on the ship. If the 22% infection rate holds steady across the entire ship, we would expect over 800 people to be infected across the ship.
The final number may be significantly lower, fortunately, given that those initially selected for testing were people who showed symptoms or who self-reported close contact with another passenger who was known to be infected. However, the 14-day incubation window for the virus, combined with the symptomless status of many who carry the virus, points to the possibility that even more than 800 passengers might ultimately be confirmed as infected.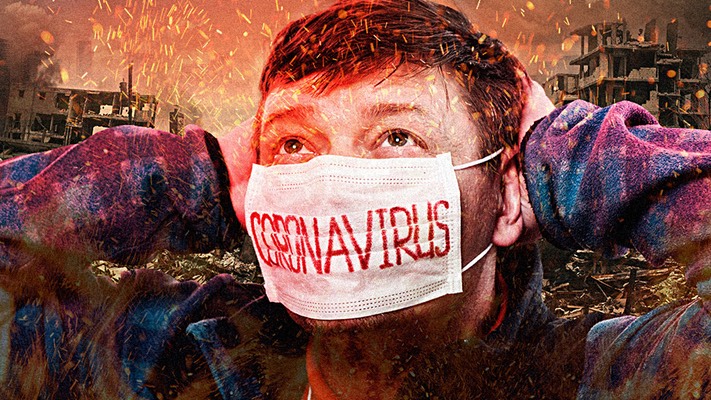 (Natural News) It's now clear the coronavirus pandemic has broken containment and is self-replicating beyond control. As the corporate-controlled media still pretends the coronavirus pandemic doesn't exist, it has already spread beyond any reasonable hope of containment, health experts are now warning. China cannot contain it. Instead, they lie about it, and the left-wing media follows suit, pretending that lying about a pandemic is somehow a treatment to stop it.
Denial is not a treatment for a pandemic. Denial doesn't stop the spread. In fact, it encourages it. That's why the left-wing media, the tech giants, the WHO and the governments of the world are all now complicit in the worsening of this pandemic. They refuse to even tell the world what's happening, and they pretend they can somehow cover this up long enough that no one will notice when their own friends, family members or co-workers start dropping dead in cities all around the world.
Even the WHO is now pretending the pandemic no longer exists, even when just a few days ago, that same WHO declared an "emergency global pandemic" was under way. As explained in my podcast, below, denial is not a solution for any pandemic:
World health experts warn the coronavirus can no longer be contained
"It is not a matter of if — it is a matter of when," said Amesh Adalja, a senior scholar at the Johns Hopkins University Center for Health Security and a spokesman for the Infectious Diseases Society of America, as reported by Bloomberg News. "There is not a doubt this is going to end up in most countries eventually."
Notice that Adalja is not parroting the usual lie. He's not saying we have this all under control, there's nothing to worry about, go back to drinking your Starbucks LGBT latte. Instead, he's warning that this is already set to go global.
And he's not alone.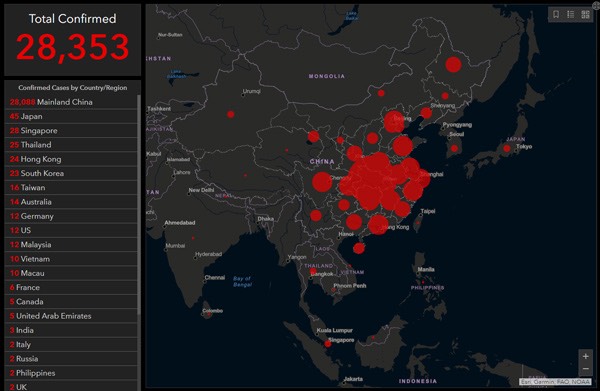 "This is about mitigation at this point, and keeping the global spread as minimal as possible," said Rebecca Katz, a professor and director of the Center for Global Health Science and Security at Georgetown University, also via Bloomberg News as linked above. Bloomberg also states:
Just a couple of weeks ago, scientists held out hope the new coronavirus could be largely contained within China. Now they know its spread can be minimized at best, and governments are planning for the worst.
Got that? Behind the scenes, away from public view, "government are planning for the worst." Those same governments, however, are lying to the world, telling their own citizens everything's fine and under control. This tactic, of course, helps governments gather all the supplies they need without having the public competing for those supplies. In exactly the same way China has already stated its willing to sacrifice the lives of millions of people to save 11 key cities, the governments of the world have no qualms about keeping the public in the dark as long as possible so that continuity-of-government programs can be fully stocked and ready to survive the global pandemic apocalypse.
And yes, it's a biological warfare weapon, as confirmed in a multitude of ways. Watch this stunning interview with Francis Boyle to learn the full details:
CDC now admits the coronavirus pandemic cannot be stopped; former CDC "Epidemic Intelligence Offer" tells us the outbreak is beyond control
Even the CDC is now admitting the obvious: The coronavirus pandemic cannot be stopped. Via Bloomberg:
Total containment isn't in the cards, said Nancy Messonnier, director of the Centers for Disease Control and Prevention's National Center for Immunization and Respiratory Diseases. "Given the nature of this virus and how it's spreading, that would be impossible. Our goal is to slow this thing down… We are preparing as if this were the next pandemic."

What's especially noteworthy about this quite from Messonnier is that she's a product of the military wing of the CDC. Her previous title was "Epidemic Intelligence Service Officer" with the Deputy Director for Infectious Diseases (DDID). If that sounds like a military branch, that's because it is. The entire CDC is a military operation, and CDC officials wear full blown military uniforms and follow a military code of conduct. We'll cover this in more detail in an upcoming article.
The rise in the number of confirmed infections of coronavirus is already mapping out an exponential increase.
And the explosive spread of coronavirus infections has already dwarfed any growth rate seen in SARS: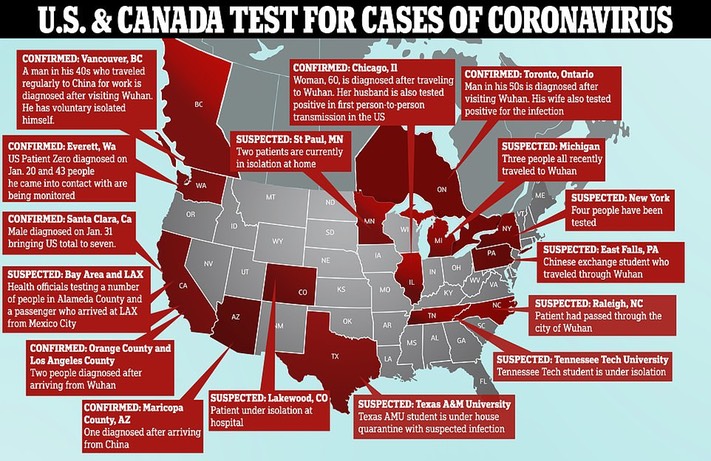 China launches biological warfare agenda; covertly infiltrates Wuhan evacuation plane with "Trojan horse" carrier of the coronavirus to infect all passengers headed to Taiwan Feb 6, 2020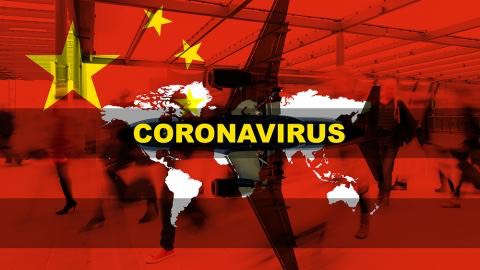 (Natural News) Editorial note: To all national security personnel reading this from Taiwan, Japan, Korea, Canada, the USA, Russia and other nations, you will want to urgently forward this to your commanding officers, as this story is verified and true, confirmed through our Taiwan investigators. It indicates a dangerous, global escalation of warfare tactics by a lawless, authoritarian regime that you already know has been dispatching spies to your countries, stealing intellectual property and infiltrating your universities, governments and military weapons research institutions. China's end game goal is world domination, and there is no weapon they won't deploy to achieve it.

On the heels of the bombshell revelation that China has been engineering an "offensive biological warfare weapon" that accidentally escaped their BSL-4 facilities and launched a global pandemic, we are now getting confirmation from our investigators in Taiwan that China has deployed a biological warfare attack against Taiwan by seeding an evacuation flight of Taiwan citizens with an infected "Trojan horse" human weapon who contaminated the entire evacuation flight.

This is a damning escalation of tensions between communist China and Taiwan as the coronavirus pandemic explodes, nearly doubling the number of confirmed infections every 3.5 days (i.e. exponential, self-sustained pandemic outbreak).
As part of an evacuation operation carried out by the government of Taiwan, the communist Chinese government refused to allow Taiwan to charter its own plane to rescue its citizens from the Wuhan region. China demanded that its own airplane be used, refusing to follow the Taiwan government's request that "old women, women with children and children" should be the priority of evacuees allowed to take the flight.
Instead, China placed three passengers on the flight who were not on Taiwan's list of citizens, and one of those individuals, completely unknown to Taiwan, turned out to be infected with coronavirus.
China now trying to spread the coronavirus across Taiwan
The covert operation appears to be a biological warfare attack on Taiwan by the communist Chinese regime, which deliberately intended to infect the entire flight with coronavirus so that infected passengers would further spread the pandemic in Taiwan. Such actions, of course, violate international laws, the Geneva Convention and various international treaties that outlaw the deployment of biological weapons.
Translated from Chinese, via Liberty Times Net: 
When senior media person Cai Yuzhen accepted an interview with "Faith" today, he criticized the Chinese side for a series of actions that were "black box operations"…
…there was no protective measures for the entire charter plane, and no one knew who was infected. It was not until the passengers returned to Taiwan for examination that one person was confirmed [infected]. "This charter flight took two hours. The virus is inserted into the charter flight, the rest of the passengers become a high-risk group. What can you say to them? It's a helpless situation. How can we use the original method to evacuate the rest of the people? "The worst part is how can a confirmed case get on the flight? Once it's on the flight, it's treated the same as the rest of the people, there's no quarantine. Can you still trust this kind of China?"
The Minister of Health Fu Chen Shizhong who did his best to prevent epidemics was sentimental and wept, because a confirmed case was like a black hole in epidemic prevention on an unprotected charter plane. It caused him to shed tears [for the safety of the people of Taiwan]…
Did China's Tencent Accidentally Leak The True Terrifying Coronavirus Statistics? 02/05/2020 - 08:40
Ten days ago, shortly after China first started reporting the cases and deaths associated with the coronavirus epidemic, a UK researcher predicted that over 250,000 Chinese would be infected with the virus by February 4. And while according to official Chinese data, the number of infections has indeed soared in the past two weeks, at just under 25,000 (and roughly 500 deaths), it is a far cry from this dismal prediction, about ten times below that predicted by the epidemiologists.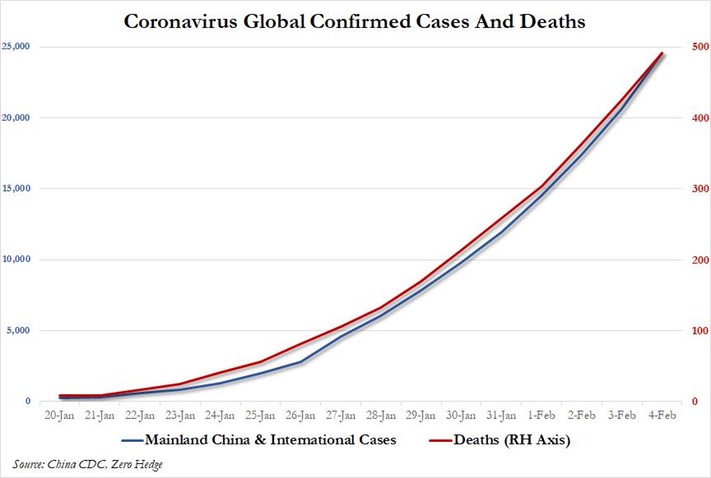 Is this discrepancy possible? Is the epidemic truly far less serious than conventional epidemiological models predicted? Or is China merely hiding the full extent of the problem?
After all, it the WSJ itself reported in late January , China was explicitly manipulating the casualty number by listing pneumonia as the cause of death instead of coronavirus. Subsequent reports that Wuhan officials were rushing to cremate coronavirus casualties before they could be counted did not add to the credibility of the official data.
But the biggest hit to the narrative and China's officially reported epidemic numbers came overnight, when a slip up in China's TenCent may have revealed the true extent of the coronavirus epidemic on the mainland. And it is nothing short than terrifying.
As the Taiwan Times reports, over the weekend, "Tencent seems to have inadvertently released what is potentially the actual number of infections and deaths, which were astronomically higher than official figures", and were far closer to the catastrophic epidemic projections made by Jonathan Read.
According to the report, late on Saturday evening, Tencent, on its webpage titled "Epidemic Situation Tracker", showed confirmed cases of novel coronavirus (2019nCoV) in China as standing at 154,023, 10 times the official figure at the time. It listed the number of suspected cases as 79,808, four times the official figure.
And while the number of cured cases was only 269, well below the official number that day of 300, most ominously, the death toll listed was 24,589, vastly higher than the 300 officially listed that day.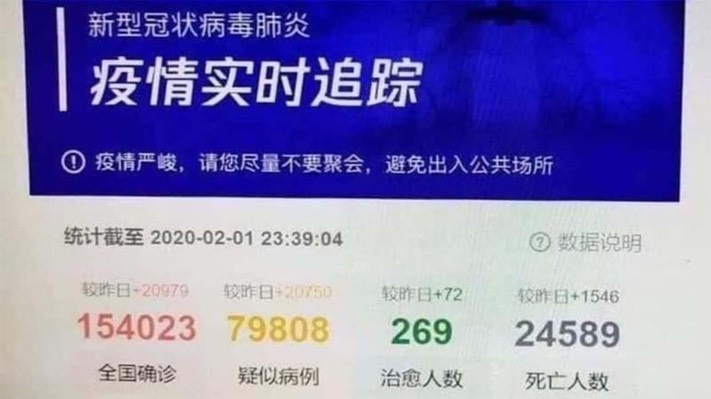 Tencent screengrab as of late Feb 1, showing far higher infections.
Moments later, Tencent updated the numbers to reflect the government's "official" numbers that day.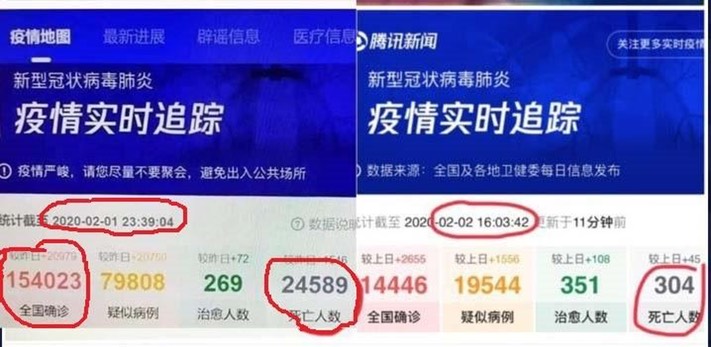 This was not the first time Tencent has done this: as Taiwan Times notes, Chinese netizens have noticed that Tencent has on at least three occasions posted extremely high numbers, only to quickly lower them to government-approved statistics.
This is where it gets even more bizarre: contrary to claiming that this was just a "fat finger" mistyping of data, observant Chinese netizens also noticed that each time the screen with the large numbers appears, it shows a comparison with the previous day's data which demonstrates a "reasonable" incremental increase, much like comparisons of official numbers.
This led many in the mainland to speculate that Tencent has two sets of data, the real data and "processed" data.
In short, two camps have emerged: one, the more optimistic, speculates that a coding problem could be causing the real "internal" data to accidentally appear. The other, far more pessimistically inclined, believes that someone behind the scenes is trying to leak the real numbers, as "the "internal" data held by Beijing may not reflect the true extent of the epidemic."
Indeed, as repeatedly pointed out here and according to multiple sources in Wuhan, many coronavirus patients are unable to receive treatment and die outside of hospitals. Furthermore, a severe shortage of test kits also leads to a lower number of diagnosed cases of infection and death. In addition, there have been many reports of doctors being ordered to list other forms of death instead of coronavirus to keep the death toll artificially low.
What is the truth?
We leave it up to readers, but keep this in mind: on Jan 29, Zeng Guang, the chief scientist of epidemiology at China's CDC, made a rare candid admission about why Chinese officials cannot tell people the truth in an interview with the state-run tabloid Global Times: "The officials need to think about the political angle and social stability in order to keep their positions."
And then, on Monday, none other than China Xi's called on all officials to quickly work together to contain the Coronavirus at a rare meeting of top leaders, saying the outcome would "directly impact social stability in the country."
Well, if China is mostly concerned about social stability - as it should be for a nation of 1.4 billion - it is easy to comprehend why the entire political apparatus in China would be geared to presenting numbers which seem somewhat credible - in light of the barrage of videos of people dying on the street - but not so terrifying as to cause a countrywide panic.
Then again, if China indeed had over 154,000 cases and almost 25,000 deaths as of 5 days ago, then no attempts to mask the full extent and true severity of the pandemic have any hope of "containing" the truth.

Coronavirus live updates: Hundreds of evacuees to be held on bases in California; Hong Kong and Taiwan restrict travel from mainland China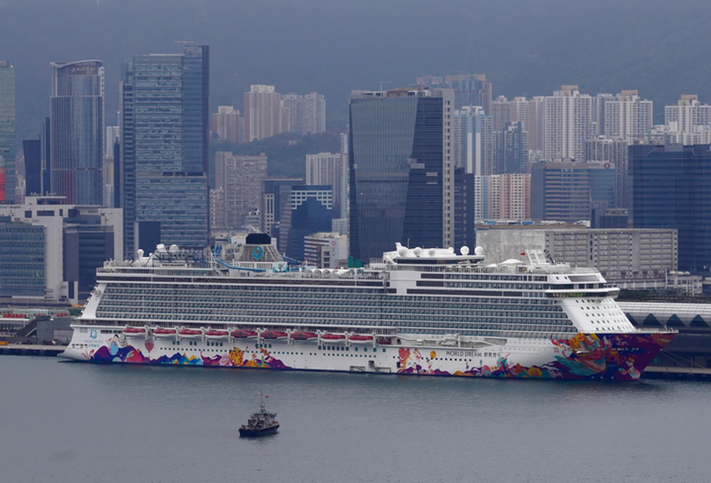 The World Dream cruise ship docked at Kai Tak cruise terminal in Hong Kong, Wednesday, Feb. 5, 2020. (Vincent Yu/AP)
Feb. 5, 2020 at 8:45 a.m. EST
Coronavirus infections in mainland China again rose sharply, with 3,887 additional cases and 65 new deaths reported on Tuesday alone, authorities said Wednesday morning. China's total confirmed cases now top 24,000, more than 3,000 of them critical.
The increase continues a trend of growing daily spikes in confirmed cases. China has reported 490 coronavirus deaths, and two other people have died in Hong Kong and the Philippines.
Here are the latest developments:
●Hundreds of people evacuated from Wuhan on U.S.-chartered flights will be held in quarantine on two military bases in California.
●Hong Kong will enforce a mandatory 14-day quarantine for everyone arriving from mainland China, including foreigners and Hong Kong residents. Hong Kong leader Carrie Lam is facing a medical workers' strike and worries that the virus will spread in the community. So far, 21 cases have been confirmed.
●Taiwan has expanded travel restrictions to include all Chinese citizens who live in mainland China and has raised an "amber outbound travel alert" warning its citizens against travel to Hong Kong and Macao.
● A Chinese disease expert says containing the virus and reducing the number of infections could take up to six weeks.
●More Americans were evacuated from Wuhan on charter flights, what many of them describe as a frustrating experience rife with delays and difficulties.
Coronavirus live updates: Death toll in China hits 490, as confirmed cases cross 24,000 Feb 4, 2020 6:34 PM EST
KEY POINTS
China National Health Commission said that as of Tuesday night, a total of 24,324 cases have been confirmed and 490 people have died in the country.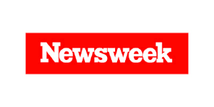 Coronavirus update: At least 427 deaths, 176 confirmed cases outside of China, S&P predicts outbreak will stabilize in April
Published: Feb 4, 2020 2:59 p.m. ET

About 97% of the deaths have occurred in China's Hubei Province.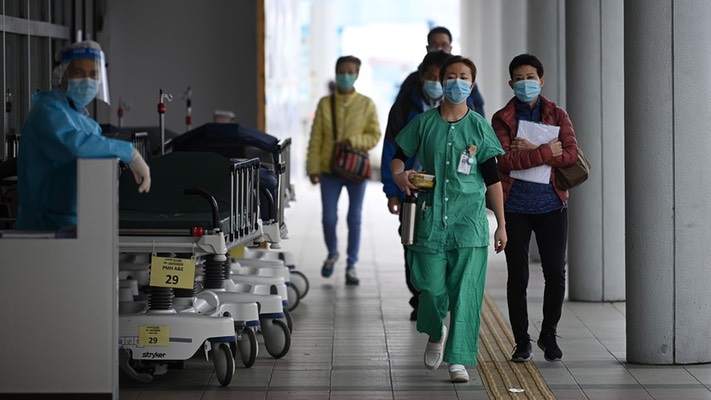 There are now 176 confirmed coronavirus cases in 24 countries, excluding China, according to remarks made Tuesday by Tedros Adhanom Ghebreyesus, director-general of the World Health Organization.
But only 38% of those countries have shared full information about their cases with WHO, Tedros said, before urging them to do so. He also said that travel restrictions created in the wake of the outbreak can lead to "increasing fear and stigma, with little public health benefits." The U.S. last week said that it would no longer allow entry of most foreign nationals who have been to China in the last 14 days. It is also quarantining all U.S. citizens returning from Wuhan, China, the city considered the epicenter of the outbreak of the novel coronavirus. 
About 97% of the deaths occurred in China's Hubei Province, and 47% of the people who died were in Wuhan, according to comments made by Chinese health officials during the WHO meeting. The majority of those who have died were at least 60 years old (80%) and 75% had an underlying disease.
China Confirms 2,350 New Coronavirus Cases; Death Toll Climbs To 425  The death toll climbed 18% overnight… Feb 3,2020
Summary: 
Hong Kong closes more land borders with mainland

Virus death toll rises to 425 in China (426 if we count one death abroad)

2 more cases reported in Germany

President Xi threatens to punish local authorities if they fail to contain virus
* * *
Update (1720ET): It's early Tuesday morning and China, which means we're getting another batch of statistics about the coronavirus outbreak - statistics that likely underplay the severity of the outbreak.
CDC Confirms 11th US Case In California; 195 Quarantined On Military Base: Virus Updates February 3, 2020
Update (1545ET): Germany reports 2 new cases of coronavirus, raising country's total to 12. Nearly all of these cases have been linked to the same company.
Here's the latest roundup of cases: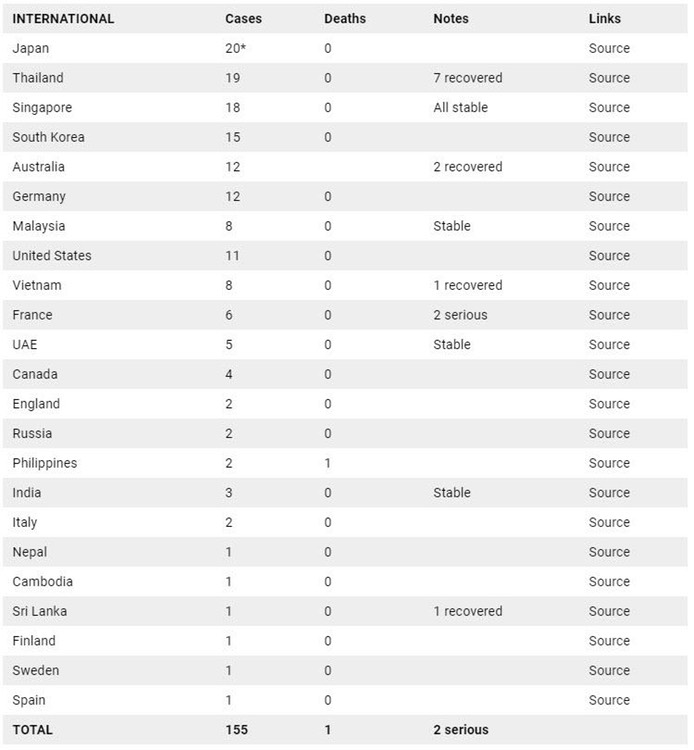 Update (1400ET): Stocks are still in the green, but the administration is taking zero chances. To wit, the USTR's office reportedly told Fox that China hasn't requested any changes to the 'Phase 1' trade deal struck last year just before the virus emerged as a global threat to the public.
USTR SAYS HAS NO CHINA REQUEST ON DEAL CHANGE DUE TO VIRUS: FOX
This follows reports from earlier claiming that China was seeking 'flexibility' regarding its trade deal commitments. Meanwhile, HHS is telling Congress that it might need another $136 million to fight the virus (this after the Pentagon requested quarantine space for 1,000 people).
A few hours ago, Hong Kong's leader announced the closure of four more border crossings with mainland China on Monday, leaving just three checkpoints open, but stopped short of demands for the entire border to be closed to curb the spread of the coronavirus.
* * *
Update (1250ET): The Pentagon confirmed that 198 people have been quarantined at March Air Base in California's Riverside County. It's believed that those under quarantine traveled on the evacuation flight out of Wuhan.
Meanwhile, Fox reports that China has accepted the US's offer to incorporate a group of American experts into a contingent of WHO researchers focusing on studying and understanding the virus.
Chinese Foreign Ministry Spokeswoman blames US for not helping with #Coronavirus.. saying, "it was the first to withdraw its consulate staff from Wuhan, the first to suggest the partial withdrawal of embassy staff, the first to announce a ban on entry by Chinese citizens..." 1/2
— Edward Lawrence (@EdwardLawrence) February 3, 2020
Foreign Ministry Spokesperson Hua Chunying Adding "...after the WHO made it clear that it doesn't recommend and even opposes travel and trade restrictions against China. What the US has done could create and spread panic." #coronavirus
— Edward Lawrence (@EdwardLawrence) February 3, 2020
The White House has responded to the Chinese Foreign Ministry Spokesperson. Judd Deere says, "China has accepted the United States' offer to incorporate a group of experts into a World Health Organization mission to China to learn more about and combat the virus." #Coronavirus
— Edward Lawrence (@EdwardLawrence) February 3, 2020
This comes after Beijing blasted the US for inciting a panic over the virus.
* * *
Update (1140AM ET): The number of confirmed coronavirus cases in the US is starting to increase at a concerning pace, and moments ago, the CDC confirmed in a telebriefing that there are 11 cases in the US.
U.S. CDC CONFIRMS 11 CONFIRMED CORONAVIRUS CASES IN UNITED STATES - TELEBRIEFING
More ominously, the CDC said that the new Coronavirus case is close contact of other California case, and was spread person-to-person.
And while traders were not happy with this latest confirmation that the disease is anything but contained, it is what the CDC aid said next that sent stocks and yields both sliding:
CDC: PREPARING AS IF CORONAVIRUS WERE THE NEXT PANDEMIC
Judging by the market reaction, it appears that algos are not fans of that word.
Finally, the CDC also said at its briefing that it has added four more airports for screening of Coronavirus.
* * *
Late last night, we reported that the death toll from the coronavirus outbreak had surpassed 360 as more suspected cases popped up in New York. Though no deaths have been reported overnight, Chinese officials warned yesterday that many more cases and deaths would be confirmed on Sunday/Monday.
In the meantime, Chinese markets finally faced their inevitable reckoning. Despite the best efforts of the PBOC and the government, the Chinese market bloodbath was about as bad as expected.
But over in the US, investors ignored the latest news out of China and have seemingly bought into the WHO's optimistic message and China's accusations about an 'alarmist' Washington. 
This is surprising, since anybody who has been paying close attention to the situation in China should know that this is far from the truth.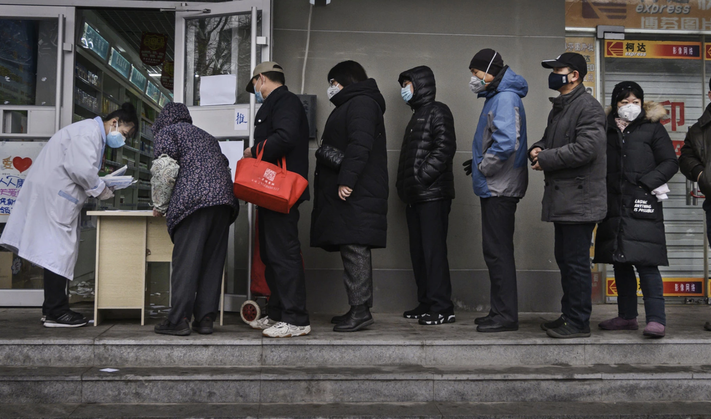 Late last night, while most of America was watching the Superbowl, the New York Times published a scathing story recounting what it's like on the ground in Wuhan right now. The truth is that all of the warnings of alleged 'conspiracy theorist' have more or less turned out to be correct. Supply shortages are still making it impossible for China to diagnose every case of the virus.
Ms. An, 67, needed an official diagnosis from a hospital to qualify for treatment, but the one she and her son raced to last week had no space, even to test her. The next hospital they were referred to here in Wuhan, the  city of 11 million people at the center of the outbreak, was full, too, they said. They finally got an intravenous drip for Ms. An's fever, but that was all.
Since then, Ms. An has quarantined herself at home. She and her son eat separately, wear masks at home and are constantly disinfecting their apartment. Ms. An's health is declining rapidly, and even keeping water down is a struggle.
"I can't let my mom die at home," said her son, He Jun. "Every day I want to cry, but when I cry there are no tears. There is no hope."
Chilling stuff. And once again, doctors and health-care workers are leveraging their newfound immunity to shed a light on the government's brutality.
Last month, the government put Wuhan in a virtual lockdown, sealing off the city and banning most public transportation and private cars from its streets in a desperate effort to contain the outbreak. Now, many residents say it is nearly impossible to get the health care they need to treat - or even diagnose - the coronavirus.
Expressing exasperation, doctors say there is a shortage of testing kits and other medical supplies, and it is not clear why more are not available. The ban on transportation means some residents have to walk for hours to get to hospitals - if they are well enough to make the journey. Layers of bureaucracy stand between residents and help. And the long lines outside hospitals for testing and treatment suggest that the outbreak is spreading far beyond the official count of cases.
For many sickened residents, their best hope is the new coronavirus hospital that has just been finished (a second hospital is also being built).
Those who do make it to the hospital say they are squeezed together for hours in waiting rooms, where infections are easily spread. But the shortages have meant that many are ultimately turned away and sent home to self-quarantine, potentially compounding the outbreak by exposing their families.
Many doctors and residents are putting their hopes on the two new coronavirus hospitals that China has been racing to build in Wuhan in just a matter of days. One of them spans about eight acres, has 1,000 beds and is scheduled to open on Monday. The government says 1,400 military medical workers will be deployed to work there, potentially helping with the shortage of health professionals on hand to combat the outbreak.
Ironically, the hospital, which was supposed to open on Monday, is still undergoing 'finishing touches', and when masses of sick patients showed up at the gates on Monday morning, construction workers were forced to turn them away.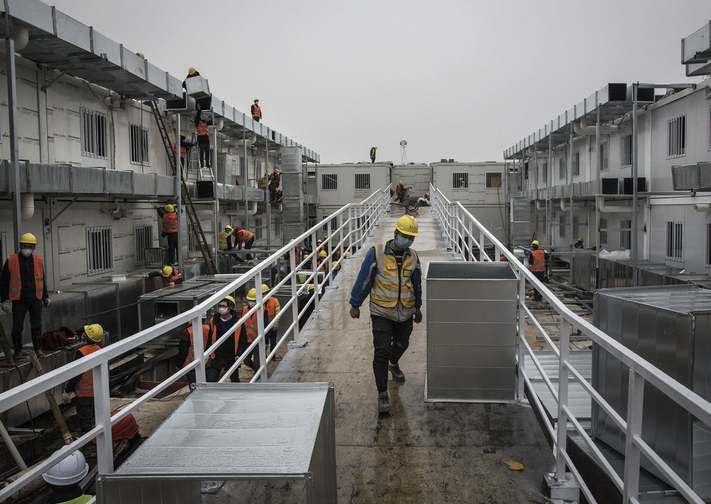 More than a week into the quarantine/lockdown, millions of residents fear the virus has spread much further than the government realizes.
On Sunday, city officials announced plans to set up quarantine stations around Wuhan for people with symptoms of pneumonia and close contacts among coronavirus patients. But just over a week into the lockdown, many residents believe the virus has already spread much further than the official numbers suggest.
"The situation that we've seen is much worse than what has been officially reported," Long Jian, 32, said outside a hospital where his elderly father was being treated. Mr. Long said his father had to go to six hospitals and wait seven days before he could even be tested for the coronavirus.
But after Monday's market shellacking, we suspect Beijing will be diverting more resources away from meeting critical shortages of medical supplies to focus instead on arresting shortsellers and locking up 'fearmongers', like the doctors who were arrested by local authorities in December for trying to warn the public about the outbreak.
In just eight days, China has completed construction on one of two new hospitals in Wuhan, dedicated to treat #coronavirus patients.

Read more here: https://t.co/KcpARUhXdm pic.twitter.com/R4gVsYZtwE
— Sky News (@SkyNews) February 3, 2020
Notice the bars on the hospital-room windows...this hospital is a prison with beds, as we've pointed out.
See the inside of huoshenshan hospital] yesterday, Wuhan huoshenshan hospital was officially delivered. pic.twitter.com/nKXtX5PXkm
— 中国区推特总监 (@hcLktciyfkz9KZi) February 3, 2020
Following reports OPEC is weighing another supply cut to 'rebalance' the global oil market and warnings from economists that the outbreak could wipe more than a percentage point off Chinese GDP growth, officials in Beijing have reportedly changed their economic growth forecasts for 2020 to below 5%, what would be the lowest rate of growth since the beginning of China's modern era of state-directed capitalism.
To help the economy cope, Beijing is reportedly considering more stimulus measures to try and bolster growth.
Of course, the fallout won't be limited to China, and in a report published Monday, WSJ explores how the outbreak is already disrupting global supply chains and placing "additional strain" on an increasingly fragile economic expansion.
As we've pointed out, the outbreak has stoked racism against Chinese around the world.
Corona Virus doesn't have a nationality; it's a pathogen threatening us all. Anti-Chinese sentiment is unconscionable. Let's come together as a shared humanity to fight disease, inequity, discrim, & stigma.#coronavirus
— Mohamad Safa (@mhdksafa) February 3, 2020
If you're looking for a quick refresher on the outbreak, here's a short video from SCMP.
Everything you need to know about the coronavirus is right here. pic.twitter.com/zslxSZZ0rM
— SCMP News (@SCMPNews) February 3, 2020
On a slightly more positive tip, Chinese state media posted this video about an infected woman who gave birth to a healthy baby in the middle of the crisis.
A pregnant woman with novel #coronavirus pneumonia has delivered a healthy baby on Jan. 30. The baby is tested negative for the novel coronavirus on Jan. 31 and Feb. 2. The mother's body temperature had returned to normal by Feb. 2. pic.twitter.com/vB1GfpDEDR
— China Economy (@CE_ChinaEconomy) February 3, 2020
And here's a video of a drone being used to take the temperature of a terrified civilian trapped by decree inside their apartment.
The Chinese are using drones to check people's temperature so that there is no human to human contact.#coronavirus

Source via | Global Timespic.twitter.com/6dHJXSBjyB
— CoronaVirus Breaking News (@NCOVNEWS) February 3, 2020
Finally, RT points out that the death toll from the coronavirus outbreak has already eclipsed the death toll from SARS, as the virus has spread to nearly two dozen countries and territories. The pandemic will eventually "circle the globe," according to scientists from the NYT,.
Given the fear of the virus ravaging densely populated areas, the people of Hong Kong have succeeded in pressing the city's government to tighten travel restrictions, joining the US, Vietnam, Japan, Russia, Australia, New Zealand, Indonesia and many others.
A pilot leaving #China in a full protective suit and face mask! #CoronaVirus 🎭 pic.twitter.com/9Rp2TlEcZa
— Aviationdaily✈️الطيران يوميآ (@Aviationdailyy) February 3, 2020
Hong Kong has shut crossings to the mainland. But even this is likely too little, too late, as the first cases have already been diagnosed in the city.
Members of the G-7 will hold an emergency call on Monday to discuss strategies for containing the outbreak.
Get ready for another week of virus-induced craziness as this doesn't look ready to disappear from the headlines any time soon.

WHO Warns "Countries Should Prepare For Local Outbreaks" As Pentagon Increases Quarantine Housing February 2, 2020
Summary:
14,550 confirmed cases worldwide, 19,544 suspected cases, 304 deaths, 2,110 in serious/critical condition, 328 in China treated and released; 138,000 under observation

First death outside China recorded in the Philippines

24 countries reporting cases

Philippines, New Zealand join list of countries several restricting travelers from China
* * *
Local officials in Hubei weren't kidding when they warned that Saturday would be the worst day so far for confirmed cases/deaths related to the coronavirus outbreak. China's body count climbed above 300, and the first death outside the mainland was recorded in the Philippines. Scientists predict that exponentially more cases are active in China, but the true number either haven't yet been diagnosed, or the Chinese government is simply suppressing it for obvious PR purposes. Anecdotal reports also claim the death toll is higher than the 304+.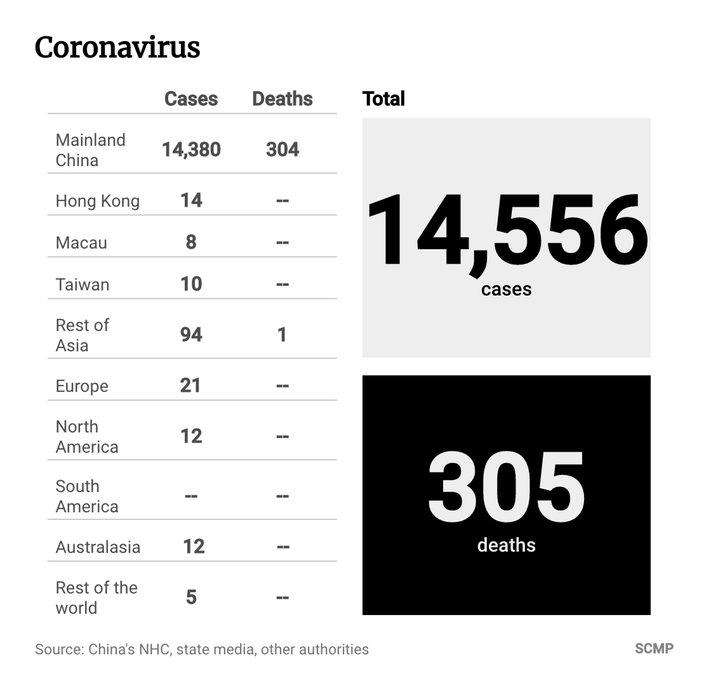 Even though the man who died in Manila was from Wuhan, now that the virus has proved lethal outside the confines of China's deeply overburdened health-care system, even more countries have decided to defy the WHO and restrict entry for travelers from China. New Zealand, Iraq, Indonesia and the Philippines have joined the growing list of countries - including the US, Japan, Australia, Canada, Taiwan, etc. - who are imposing travel restrictions on people who have either recently been to China, or recently traveled to Hubei Province (or if they have a passport from Hubei).
"This is the first reported death outside China," Rabindra Abeyasinghe, the World Health Organisation representative to the Philippines, said.
But that wasn't all we heard from the WHO on Sunday. The organization, which just declared the outbreak a dangerous global pandemic, warned governments around the world to prepare for controlling domestic outbreaks.
"Countries need to get ready for possible importation in order to identify cases as early as possible and in order to be ready for a domestic outbreak control, if that happens," WHO official Gauden Galea told The Associated Press in Bejing on Saturday.
Though the virus is the enemy, the people who carry it are also often treated with suspicion during outbreaks, and it appears this trend has finally peaked both inside and outside China. Two days ago, the New York Times published a story documenting what it described as 'growing xenophobia' in Japan, directed at Chinese whom locals feared might carry the virus. Inside China, videos have shown mobs surrounding families from Hubei. Government propaganda has directed a large swath of the country to stay inside until the outbreak subsides. It could be weeks before that happened. Businesses inside China have posted signs warning people from Hubei to stay away; in Japan and Hong Kong, signs are directed at all mainlanders.

Across China, the total number of cases under observation is now a whopping 137,594, an increase of over 19,000 from 118,478.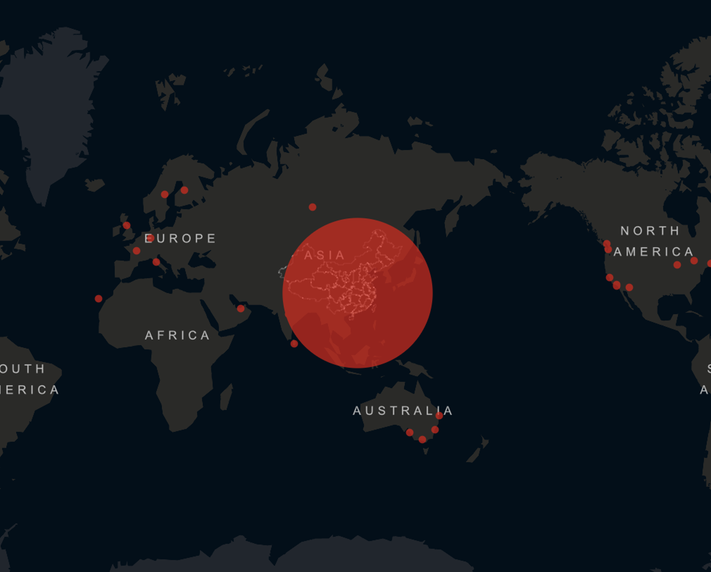 Outside China, the WHO reports roughly 130 confirmed cases of the virus in more than 20 countries outside of China and Taiwan. The Philippines reported the first death attributable to the virus outside of China. Other tallies put the number of confirmed cases outside China higher. Late Saturday in the US, new cases were confirmed in South Korea and India.
Chinese doctors are now claiming that the virus can be spread via fecal matter, as well as droplets passed through the air.
Expecting a bloodbath when markets open tomorrow (late Sunday evening in the US), Chinese financial regulators have already announced a massive $173 billion (Rmb1.2 trillion) support package. According to the FT, China's central bank said on Sunday that it would provide the lending facilities to money markets as stock markets reopen following the LNY extended holiday, during which western markets logged heavy selling. Hong Kong markets also took a beating when they reopened for the second half of the week. BBG noted that the sum will come to $21 billion on a net basis, practically nothing, after covering the roll of previous liquidity injections.
The Huoshenshan Hospital, one of two hospitals being rapidly constructed in Wuhan, has finished construction, according to Chinese state media. It will begin admitting coronavirus patients on Monday, hopefully relieving some of the overwhelming burden on the city's existing medical infrastructure. The Global Times reported that the hospital will be run by Huawei's "remote consultation platform" which will improve efficiency. Nearly 2,000 PLA personnel are reportedly being dispatched to run a hospital that reportedly has been outfitted with what appear to be jail cells.

When it's all said and done, economists inside and outside China have warned that the outbreak could shave a percentage point or more off of GDP, potentially pushing the rate of growth below 5% - not that many economists trust the Chinese data anyway.
Back in the US, the country is waiting with baited breath to see whether a suspected 9th case of the virus - this time, in NYC - will be confirmed. The Pentagon recently approved a request for quarantine housing for 1,000 people, according to Epoch Times. 
Across the world, dozens of airlines have suspended flights to and from China, some as far out as April.
Does that sound like everything is under control to you?

NYC tests first suspected coronavirus case as man in Boston becomes EIGHTH person diagnosed in US while the Pentagon prepares 1,000 quarantine beds and new study says 75,000 could be infected globally February 1,2020
A man in his 40s is being treated at Bellvue Hospital while health officials wait for test results within 48 hours
There are eight confirmed cases of coronavirus confirmed in the US, with a Boston man, diagnosed Friday
Officials say the college student in his 20s recently traveled to Wuhan, China, before traveling home 
The University of Massachusetts student has been placed in isolation and his symptoms are being monitored  
Viral outbreak that began in China has infected nearly 12,000 people globally, with 11791 on mainland China
A new study by medical researchers estimates that 75,800 in Wuhan are infected as the death toll rises to 259
The Pentagon on Saturday revealed plans to house 1,000 people who may need to be quarantined
New York is testing its first suspected case of coronavirus as a man in Boston is confirmed to be the eighth person to be diagnosed with the disease. 
Health officials in New York confirmed that a person in their 40s who recently returned from China has been suffering from symptoms that include cough, fever and shortness of breath. 
The patient, who is being treated at Bellevue Hospital, has tested negative for other possible causes for his illness. 
The city's health commissioner, Dr Oxiris Barbot said: 'This is exactly what we prepared for and we thank everyone for taking all the right steps.'   
It will take 48 hours to determine whether the patient tests positive to coronavirus. 
It's not clear where in New York the person being tested lives, or when the person arrived in the city from China. However, when they started feeling ill they saw their health provider who contacted city officials. 
The virus has killed 259 people in China, and studies have projected that up to 75,000 people in Wuhan - where the virus originated - could be infected. 
In the US, eight people have been diagnosed with coronavirus, with a Boston college student being the latest person to be diagnosed on Friday, January 31. 
According to officials in the commonwealth, the man, a resident of The Hub, recently traveled to Wuhan.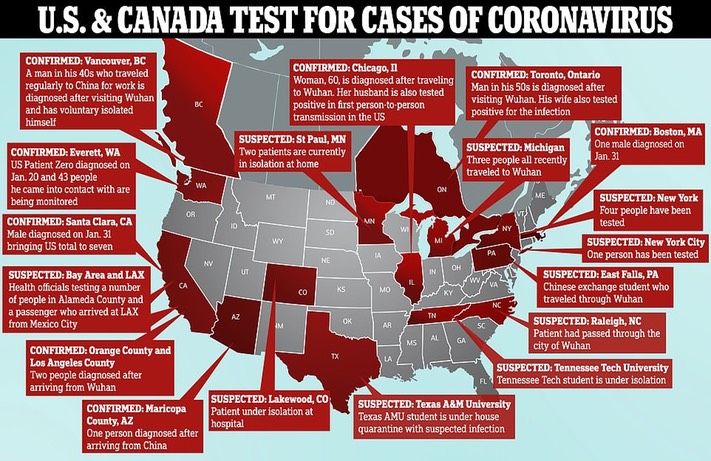 In the US, eight people have been diagnosed with coronavirus, with a Boston college student being the latest person to be diagnosed on Friday, January 31 
The student is enrolled at the University of Massachusetts in Boston, according to WCVB-TV. 
The Massachusetts Department of Public Health and the Boston Public Health Commission were notified by the US Centers for Disease Control and Prevention of the positive test results late Friday evening. 
After returning to Massachusetts, the man sought treatment, according to health officials.
He returned from Wuhan and landed at Logan International Airport in Boston on Tuesday. The student sought medical attention the next day.
Since his return, he has been placed in isolation and his symptoms are being closely monitored.
'Our priority is not only to protect and inform the residents of Boston but also to help this man continue to recover. We are pleased that he is doing well,' Boston Public Health Commission Executive Director Rita Nieves said. 
Massachusetts health officials said on Saturday that the first case of coronavirus in the state has been confirmed. The infected person is a student at the University of Massachusetts in Boston (above). He is a male in his twenties who recently traveled to Wuhan, China, the epicenter of the global coronavirus outbreak
'Right now, we are not asking Boston residents to do anything differently. The risk to the general public remains low. 
'And we continue to be confident we are in a good position to respond to this developing situation.' 
Elsewhere in the US, three confirmed cases have been reported in California and one each in Washington State and Arizona.
There have been two cases reported in Illinois - the second case being the first time that the disease has been transmitted from person to person in the US.
The viral outbreak that began in China has infected more than 11,900 people globally.
On the mainland, 11,791 cases have been confirmed.
In addition, Hong Kong has 12 cases and Macao has five. 
Most of the 259 deaths have been in central Hubei province, where illnesses from the new type of coronavirus were first detected in December. 
Experts believe that the worst is yet to come.
According to a study which appeared in The Lancet on Saturday, the number of infected people in Wuhan is likely to reach as many as 75,815 people.
The number is the result of a study conducted by scientists from the University of Hong Kong.
It is based on the assumption that each infected person could have passed the virus on to 2.68 other people.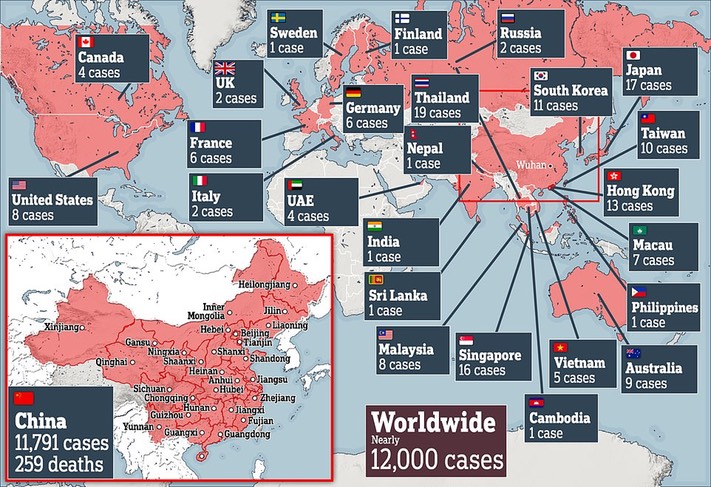 The viral outbreak that began in China has infected more than 11,900 people globally. On the mainland, 11,791 cases have been confirmed. In addition, Hong Kong has 12 cases and Macao has five. Most of the 259 deaths have been in central Hubei province

Meanwhile, the Pentagon said on Saturday that it had approved a request from the Department of Health and Human Services for assistance for housing support for 1,000 people who may need to be quarantined after arriving from abroad due to the coronavirus.
In a statement, the Pentagon said that HHS had asked the Pentagon to provide several facilities capable of 'housing at least 250 people in individual rooms' through February 29.
It said that Defense Department personnel would only provide housing support, while HHS would be responsible for all care and transportation.
The statement added that four military installations had been selected in case they were required, including two in California, one in Colorado, and one in Texas. 
China faced mounting isolation from international travel curbs and flight suspensions on Saturday, with Russia to start pulling out its citizens next week.
With Britain, Russia and Sweden among the countries confirming their first infections, the virus has now spread to more than two dozen nations, sending governments scurrying to limit their exposure.
China toughened its own quarantine measures at the center of the outbreak in Hubei province, a day after the United States temporarily barred entry to foreigners who had been in China within the past two weeks.
'Foreign nationals, other than immediate family of US citizens and permanent residents... will be denied entry into the United States,' Health Secretary Alex Azar said.
The epidemic has led to mass evacuations of foreign citizens as world airlines halt flights, and risks exacerbating a slowdown in growth in the world's second-largest economy.
The Russian military was to start evacuating Russian citizens from China on Monday and Tuesday, Interfax and TASS news agencies reported. 
Kremlin spokesman Dmitry Peskov was quoted as saying the evacuations would be from regions that had been most affected by the outbreak.
Peskov first said that evacuation will start on Saturday but later corrected himself.
Russia has already reported its first two cases of coronavirus and restricted direct flights to China.
China's National Health Commission said there were 2,102 new confirmed infections in China as of Friday, bringing the total to 11,791. 
Around two dozen other countries have reported more than 130 cases. The death toll rose by 46 to 259, all in China.
The Chinese data would suggest it is less deadly than the 2002-03 outbreak of Severe Acute Respiratory Syndrome (SARS), which killed nearly 800 people of the some 8,000 it infected, although such numbers can evolve rapidly.
Inside China, Hubei province, the epicenter of the outbreak, was under a virtual quarantine, with roads sealed off and public transport shut down. 
Elsewhere, authorities placed growing restrictions on travel and business.
In Beijing, counters were set up at the entrances of housing estates, where volunteers wearing red arm bands and masks noted down details of residents coming back from their hometowns after the Lunar New Year holiday.
'As long as I am properly protected and don't go to crowded places, I don't feel scared at all about my hometown or Beijing,' said a 58-year-old migrant worker surnamed Sun.
Others were more worried.
'There will be a huge number of people returning to the city. I think it will put Beijing at risk of more infections,' said Zhang Chunlei, 45, another returning migrant worker.
There is much more on this article. For more info - go to 

Lancet Study Warns: "Self-Sustaining Outbreaks in Major Cities" Around the World "Inevitable" Because of Symptomless Coronavirus Carriers February 1, 2020
 A new, urgent study just published in The Lancet warns that "independent self-sustaining outbreaks in major cities globally" may be "inevitable" due to the "substantial exportation" of symptomless carriers of coronavirus. That same study also calculates that 75,815 individuals are infected right now in mainland China, where the official government numbers are currently under 10,000.

Titled, "Nowcasting and forecasting the potential domestic and international spread of the 2019-nCoV outbreak originating in Wuhan, China: a modelling study," the study is authored by Professor Gabriel M. Leung, MD and Kathy Leung, PhD.
The study also warns that "preparedness plans" should be "readied for quick deployment globally."
Stated bluntly, this study published in The Lancet on Jan 31st sounds almost exactly like Natural News articles from a week earlier. Natural News has also covered the implications of symptomless coronavirus carriers and why such people can bypass all existing airport screening measures.
"[Coronavirus] cases have been exported to other Chinese cities, as well as internationally, threatening to trigger a global outbreak," the study further warns.
The study used flight data to estimate the spread of coronavirus to over 300 cities across mainland China. It used 2.68 as the reproductive rate for the virus, which means every one person infects 2.68 more people. Based on these numbers, the study warns that "epidemics are already growing exponentially in multiple major cities of China" with a lag time that runs about 1-2 weeks behind the Wuhan outbreak.
Large cities with close transport links to China could also become outbreak epicenters"
The study also warns that cities which are receiving flights from China could become "outbreak epicenters." Direct air flights from China continue to deliver passengers to dozens of large cities around the world each day, including Los Angeles, Boston, New York, London, Tokyo, Moscow, Vancouver, Toronto and many more.
So far, the United States has not banned incoming air flights from China, even after the WHO has declared a global pandemic emergency.
The communist Chinese government made a decision on Jan. 25th to sacrifice millions of lives in order to save 11 key cities that represent China's military and industrial hubs. China's political leaders have already accepted the reality that the nation will experience millions of fatalities from coronavirus infections and secondary effects such as starvation, infections and disease, many stemming from draconian quarantine measures that have now imprisoned 56 million Chinese citizens.
If the virus begins to show an outbreak pattern in other countries with less military control over their populations — such as Thailand, the Philippines or various African nations — it is almost certain to break containment there and become a global pandemic.
The total number of confirmed coronavirus infections outside China now exceeds 100, and numbers are growing quickly in Thailand, Japan, Singapore, Hong Kong and South Korea. See the current numbers below:
Listen to my recent podcast to fully understand the economic implications of what happens if this virus breaks containment in any country and becomes a global pandemic:

Brighteon.com/3c380b6e-5dc2-4ce5-88ff-5c78ac477dae

Suspected Case Of Coronavirus Discovered In New York, Patient As Death Toll Nears 300  February 1, 2020
Update (1645ET): The New York Times reports that NYC has yet another suspected case of the coronavirus. This is at least the third report of a suspected coronavirus patient in NYC or New Jersey.
The scares have made the sight of people wearing masks more common throughout the Five Boroughs.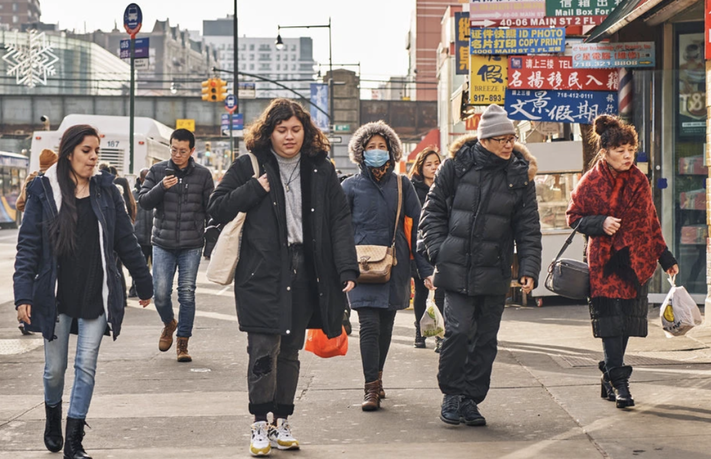 The suspected patient is in their 40s and recently returned from China suffering from telltale symptoms including fever, cough and shortness of breath.
Fear Of The Coronavirus Is Spreading Like 
Wildfire All Over The Globe February 1,2020
We haven't seen an outbreak like this in any of our lifetimes, and it is really starting to frighten a whole lot of people.  This virus has an incubation period of up to 14 days, it spreads very easily from person to person, and it also appears to be mutating very rapidly.  For now, the vast majority of the confirmed cases are still in China, but the virus continues to pop up in more locations around the globe.  In fact, on Friday we learned that the U.K. and Russia have both confirmed their very first cases.  This is obviously a very dangerous disease, and nobody is quite sure what is going to happen next.  But videos that are circulating on social media are fueling speculation that this could become a horrifying global pandemic of epic proportions.  In particular, a brand new video that shows a man that suddenly dropped dead on a street in Wuhan is causing quite a bit of fear and speculation…
Police in hazmat suits yesterday surrounded the body of a man who was found dead on the pavement at ground zero of China's virus epidemic.
The grey-haired man collapsed and died while wearing a face mask on a street in Wuhan, a city of 11million people which is under quarantine amid the coronavirus crisis.
It is feared that the virus caused the man's death, and the reaction of police and medical staff in forensic suits highlighted the fear pervading the city.
It is very important to stress the fact that we don't know why this man died.  He could have just had a heart attack.  But when authorities showed up to collect the body, they were wearing "protective suits" and the entire street "was thoroughly disinfected"…
Although it's not known if the grey-haired man died of the killer bug, it is clear from these pictures the authorities were taking no chances.
After being inspected the body was eventually zipped into a medical bag and carried into a van before the street was thoroughly disinfected.
Those who examined him were also sprayed down by colleagues after removing their protective suits.     February 1, 2020 by Michael Snyder
Coronavirus Contains "HIV Insertions", Stoking Fears Over Artificially Created Bioweapon January 31.2020
Over the past few days, the mainstream press has vigorously pushed back against a theory about the origins of the coronavirus that has now infected as many as 70,000+ people in Wuhan alone (depending on whom you believe). The theory is that China obtained the coronavirus via a Canadian research program, and started molding it into a bioweapon at the Institute of Virology in Wuhan. Politifact pointed the finger at Zero Hedge, in particular, though the story was widely shared across independent-leaning media.
The theory is that the virus, which was developed by infectious disease experts to function as a bio-weapon, originated in the Wuhan-based lab of Dr. Peng Zhou, China's preeminent researcher of bat immune systems, specifically in how their immune systems adapt to the presence of viruses like coronavirus and other destructive viruses. Somehow, the virus escaped from the lab, and the Hunan fish market where the virus supposedly originated is merely a ruse.
Now, a respected epidemiologist who recently caught flack for claiming in a twitter threat that the virus appeared to be much more contagious than initially believed is pointing out irregularities in the virus's genome that suggests it might have been genetically engineered for the purposes of a weapon, and not just any weapon but the deadliest one of all. 
In "Uncanny similarity of unique inserts in the 2019-nCoV spike protein to HIV-1 gp120 and Gag", Indian researchers are baffled by segments of the virus's RNA that have no relation to other coronaviruses like SARS, and instead appear to be closer to HIV. The virus even responds to treatment by HIV medications.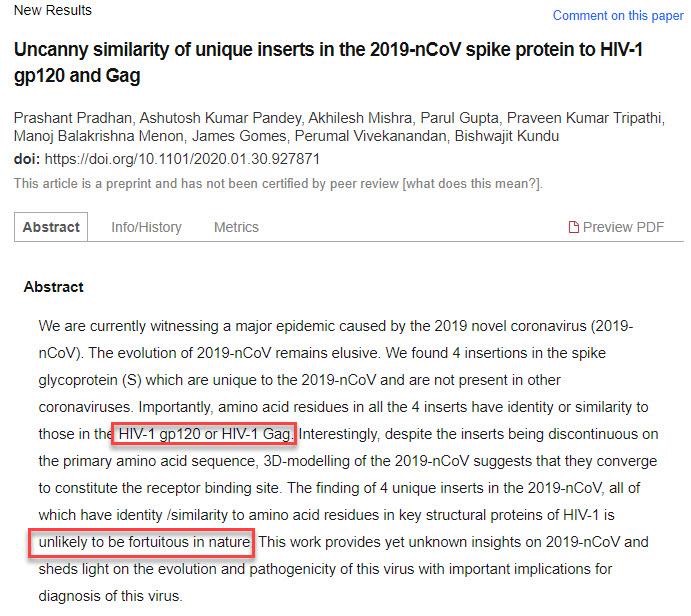 This article is very involved and specific -and can be continued HERE
California Confirms 7th Coronavirus Case In The US As US Declares Public Emergency January 31, 2020
They said "expect more cases…"
Summary:
New York Post

 reports first Coronavirus case in Queen, but NYC health spokesman denies.

Confirmed cases worldwide rise to 9,928 from 7,700 a day earlier, with 213 fatalities.

UK Researchers suggests 75,800 infected in Wuhan

Impact of virus "not fully reflected" in rigged China PMI number
Goldman disagrees with Ross, says virus blowback will wipe 0.4% off US GDP growth

'The U.K. health department confirmed two cases of coronavirus in England on Friday, while the U.S. and Japan advised citizens to avoid traveling to China.

UK confirms first two coronavirus cases after multiple scares

Hong Kong schools shuttered until March 2

Singapore closes borders to Chinese travelers, first southeast Asian nation to do so.

More than 43 airlines cancel flights to China

France successfully evacuates citizens

1,000 suspected virus cases 'under observation' in India

Confirmed cases near 10,000 as Russia confirms 2

JPM cuts global growth forecast

United and Delta allow pilots to decline trips

Delta expands China cancellations through April; American also suspends flights

CDC quarantines Americans

Canada announces fourth case

CDC confirms 6th case in US was human to human transmission
Update (1545ET): The CDC held another press conference on Friday to reiterate, over and over again, that the risk to the public from the coronavirus is low.
They also confirmed that the sixth case in the US that was confirmed yesterday was, in fact, an instance of human to human transmission.

"Millions Could Die" - Bill Gates Warned In 2018 That The World Needs To Prepare For Pandemics Like War  January 31,2020
Could this be the same Bill Gates that funded this exact same scenario October 2019 at John Hopkins?
- and has openly promoted a mass reduction of the human population?
President Trump Bars Foreigners Who Traveled To Virus-Plagued Hubei, Says Citizens May Be Quarantined

January 31,2020
Summary:
New York Post

 reports first Coronavirus case in Queen, but NYC health spokesman denies.

Confirmed cases worldwide rise to 9,928 from 7,700 a day earlier, with 213 fatalities.

UK Researchers suggests 75,800 infected in Wuhan

Impact of virus "not fully reflected" in rigged China PMI number
Goldman disagrees with Ross, says virus blowback will wipe 0.4% off US GDP growth

'The U.K. health department confirmed two cases of coronavirus in England on Friday, while the U.S. and Japan advised citizens to avoid traveling to China.

UK confirms first two coronavirus cases after multiple scares

Hong Kong schools shuttered until March 2

Singapore closes borders to Chinese travelers, first southeast Asian nation to do so.

More than 43 airlines cancel flights to China

France successfully evacuates citizens

1,000 suspected virus cases 'under observation' in India

Confirmed cases near 10,000 as Russia confirms 2

JPM cuts global growth forecast

United and Delta allow pilots to decline trips

Delta expands China cancellations through April; American also suspends flights

CDC quarantines Americans

Canada announces fourth case

CDC confirms 6th case in US was human to human transmission
Update (1545ET): The CDC held another press conference on Friday to reiterate, over and over again, that the risk to the public from the coronavirus is low.
They also confirmed that the sixth case in the US that was confirmed yesterday was, in fact, an instance of human to human transmission.
Did we mention that 'the risk to the public is low?' (even though the virus 'does present a public health emergency' and 'expects more cases', according to Dr. Fauci.)
* * *
Update (1315ET): In a historic move, the CDC has issued an official federal quarantine order for the Americans who returned to Alaska then California, on a chartered Boeing jet. The 195 passengers were mostly diplomats and other professionals living in Wuhan. The quarantine order will keep them isolated for 2 weeks - the same length of time that evacuees in the UK will face.
CDC SAYS REPATRIATED AMERICANS ARE UNDER FEDERAL QUARANTINE

QUARANTINE ORDER IS THE FIRST IN THE U.S. IN 50 YEARS

CDC OFFICIAL: VIRUS CONTINUES TO SPREAD RAPIDLY IN CHINA
Its the first time such an order has been issued in 50 years. The CDC also warned that the virus continues to spread rapidly in China, appearing to contradict their international partners at the WHO. The order comes after one of the quarantined Americans reportedly tried to leave the base where they were housed in California Thursday night. Because of this, Politico reports that the White House is weighing an order for all American citizens to leave China.
The Trump administration is planning to evacuate additional Americans next week from the region of China at the center of the Wuhan coronavirus outbreak, and officials are considering a mandatory order for all U.S. citizens there to leave, two officials told POLITICO.
The process is being led by the State Department and supported by HHS, which is handling the medical and other needs of evacuees.
Curious how the CDC has the authority to do this? Here's a rundown on how federal quarantine powers work, from the CDC's website:
The federal government derives its authority for isolation and quarantine from the Commerce Clause of the U.S. Constitution.
Under section 361 of the Public Health Service Act (42 U.S. Code § 264), the U.S. Secretary of Health and Human Services is authorized to take measures to prevent the entry and spread of communicable diseases from foreign countries into the United States and between states.
Federal isolation and quarantine are authorized for these communicable diseases
* Cholera

* Diphtheria

* Infectious tuberculosis

* Plague

* Smallpox

* Yellow fever

* Viral hemorrhagic fevers

* Severe acute respiratory syndromes

* Flu that can cause a pandemic
Federal isolation and quarantine are authorized by Executive Order of the President. The President can revise this list by Executive Order.
The authority for carrying out these functions on a daily basis has been delegated to the Centers for Disease Control and Prevention (CDC).
Under 42 Code of Federal Regulations parts 70 and 71, CDC is authorized to detain, medically examine, and release persons arriving into the United States and traveling between states who are suspected of carrying these communicable diseases.
As part of its federal authority, CDC routinely monitors persons arriving at U.S. land border crossings and passengers and crew arriving at U.S. ports of entry for signs or symptoms of  communicable diseases.
When alerted about an ill passenger or crew  member by the pilot of a plane or captain of a ship, CDC may detain passengers and crew as  necessary to investigate whether the cause of the illness on board is a communicable disease.
Elsewhere in North America, Canada's Global News reports that Canada is about to announce its fourth confirmed case of the virus. Meanwhile, the Washington Post reports that the White House could further restrict travel to China, possibly in the form of an outright ban on travel in China for Americans. Last night, the State Department lifted its travel advisory warning to 4. Meanwhile, the Guardian and others are reporting that Washington has apparently angered Beijing with its 'Level 4' travel advisory (especially after President Xi strong-armed the WHO to propagate Beijng's lies). If that's accurate, imagine what would happen if the US imposed a travel ban?
* * *
Update (1255ET): Almost immediately after the Daily News report, a NYC spokesman was quoted by Bloomberg saying there were "no confirmed, suspected" Coronavirus cases.
*NYC HEALTH SPOKESMAN: NO CONFIRMED, SUSPECTED CORONAVIRUS CASES
So... chaos, although even if NYC is not "bending" the truth to avoid a panic, it is likely just a matter of time before Coronavirus does make landfall in the Big Apple.
* * *
Update (1245ET): New York City has reported its first case of Coronavirus according an unconfirmed report in the NY Daily News.
An Asian man in his 50s was admitted to Elmhurst Hospital with the illness, the source said.
The FDNY and the NYPD could not immediately confirm a coronavirus patient in New York.
An NYPD message sent to eight Queens precincts early Friday advised officers to protect themselves if they planned to go to Elmhurst Hospital.
"Make sure the officer has proper gear (mask) to protect themselves," the message said. -NY Daily News
* * *
Update (1045ET): After its pilots' union sued the airline to try and force cancellations, American has acquiesced and joined Delta in cancelling all flights to and from China, though the exact timeframe of the cancellations hasn't yet been reported. Analysts expect the airline will wait a week to start cancelling flights to give customers a way out of China.

Scientists Estimate Over 76,000 Already Infected As Delta, American Suspend All China Flights January 31, 2020
Summary:
UK confirms first two coronavirus cases after multiple scares

Confirmed cases in China rise to 9,692 from 7,700 a day earlier

Risk-off mood hits stocks

Impact of virus "not fully reflected" in rigged China PMI number

At least two-thirds of China's economy to stay shut.

Goldman disagrees with Ross, says virus blowback will wipe 0.4% off US GDP growth

'The U.K. health department confirmed two cases of coronavirus in England on Friday, while the U.S. and Japan advised citizens to avoid traveling to China.

Hong Kong schools shuttered until March 2

Singapore closes borders to Chinese travelers, first southeast Asian nation to do so.

More than 43 airlines cancel flights to China

France successfully evacuates citizens

1,000 suspected virus cases 'under observation' in India

Confirmed cases near 10,000 as Russia confirms 2

JPM cuts global growth forecast

United and Delta allow pilots to decline trips

Delta expands China cancellations through April

Research suggests 75,800 infected in Wuhan

Iran cancels flights to and from China
* * *
Update (1045ET): After its pilots' union sued the airline to try and force cancellations, American has acquiesced and joined Delta in cancelling all flights to and from China, though the exact timeframe of the cancellations hasn't yet been reported. Analysts expect the airline will wait a week to start cancelling flights to give customers a way out of China.
China virus death toll rises to at least 212 as WHO declares global emergency January 31, 2020
SHANGHAI, Jan 31 (Reuters) - Health authorities in Hubei, the Chinese province at the centre of the coronavirus epidemic, said on Friday that deaths from the disease had risen to 204, a sharp increase that underscores concerns about the virus from global health officials.
The World Health Organization (WHO) said late Thursday that it was declaring the outbreak a global emergency, as cases spread to at least 18 countries.
The latest Hubei figures take the total death toll for China to at least 212. China's National Health Commission is expected to release new national figures later on Friday.
There have been a further 1,220 cases detected in Hubei by end of Jan. 30, taking the total for the province alone to close to 6,000, Hubei's health commission said.
Nearly 100 cases have emerged in other countries, spurring cuts to travel, outbreaks of anti-China sentiment in some places, and a surge in demand for protective face masks.
In Hubei some 60 million people are living under virtual lockdown as China seeks to contain the epidemic. 
W.H.O. Declares Global Emergency as Wuhan Coronavirus Spreads
January 30/2020
The announcement came as deaths from the disease climbed over 200 and nearly 10,000 cases have been confirmed worldwide.
Global pandemic, whether a natural event or deliberately engineered, actually serves the purposes of the globalist establishment in a number of ways. First and foremost, it is a superb distraction. The general public, overcome with fears of an invisible force of nature that can possibly kill them at any moment, will probably forget all about the much bigger threat to their life, liberty and future – the subsequent collapse of the massive 'Everything Bubble' and the globalist "solution" that a pandemic can trigger.
The coronavirus is only a moderate threat in comparison to economic crisis. That said, I want to confront a few issues concerning the virus itself before we get to the economic question.
Virus Disinformation
I have seen a lot of delusional assumptions and outright disinformation being spread by people in regards to this potential pandemic. First, the notion that it was caused by Chinese citizens "eating bats" or being exposed to a live animal market is rather ridiculous. We've seen NO hard evidence whatsoever that this is true, and I believe the narrative is a cover for the fact that the city of Wuhan where the virus outbreak began is the home of not one but TWO level 4 biohazard labs.
I have a hard time ignoring the strange "coincidence" of the high level biohazard labs in Wuhan in favor of the idea that the virus was launched by chance due to the odd diets of central Chinese people. Given the evidence it appears that the coronavirus was gestated in a lab, not in someone's bat and snake soup.  In 2017, scientists outside of China warned that these labs were not secure and that a virus might escape one of the facilities.
I would use the term "escape" loosely, as there is a possibility that this event was created intentionally. The virus itself has certain hallmarks of being engineered (including its long dormant period without visible symptoms) and the current strain is probably derived from the one the Chinese stole a year ago from a lab in Winnipeg, Canada. 
But it gets even weirder.
Only three months ago, John Hopkins, the Bill and Melinda Gates Foundation and the World Economic Forum (a hive of self-professed globalists) ran a "pandemic simulation" called "Event 201" specifically focused on Coronavirus.  Not Ebola, or Swine Flu or even Avian Flu - but CORONAVIRUS.  The simulation features the spread of coronavirus in South America, blamed on animal to human transmission (pigs).  The conclusion of the exercise was that national governments were nowhere near ready, scoring 40 out of 100 on their preparedness scale.  The simulation projected over 65 million deaths worldwide.
Event 201 played out almost exactly as it has been in China today.  Some very disingenuous or perhaps rather stupid people have been arguing that this kind of thing is "normal", claiming that we are "lucky" that the elites have been running simulations in advance in order to "save us" from a coronavirus outbreak.  I assert that Event 201 was not a simulation but a war-game to study the possible outcomes of an event the globalists already knew was coming.  Set aside the fact that before almost every major crisis event and terrorist attack for the past few decades authorities were running simulations for that exact event right before it happened; does anyone really believe that Event 201 is pure coincidence?
Another false assumption that needs to be addressed is the idea that a viral threat will not strike the West, or at least, not the US. This odd bias is one that I don't think most cultures except Americans suffer from; the belief that they are untouchable and that the system will always avert crisis. From the responses I have been seeing lately many Americans are living in a fantasy world.  Even now, the investment world is placing full stock and hope in the prediction that the Federal Reserve will step in to disrupt any economic downturn related to the pandemic.
Even if the Fed [owned and controlled - as are all central banks -by the BIS (Bank of International Settlements) which is run by the Knights of Malta, which is part of….] intended to intervene, why would anyone be naive enough to believe the central bank can do anything about how a viral outbreak damages the economy?  Central banks can do nothing but create debt, and debt will not beat back the coronavirus.
In terms of delusional optimism on the pandemic itself, the arguments range from "screening of travelers is too comprehensive to allow the virus to spread here" and "as long as the virus destroys China, who cares...?" This is a narrow view of the situation.
The screening process is terrible, and usually involves basic questions which can be evaded with lies.  But beyond that, the virus is already here. It was circulating through China for at least a few weeks before it was ever addressed by government authorities or the CDC. It also is reported to be asymptomatic, which means it remains dormant, yet also contagious, for up to two weeks before symptoms become visible. This is a far worse scenario than the ebola scare in 2014, in that the coronavirus is able to hide effectively. The only thing that can be done to slow the spread is to shut down ALL international travel, which the CDC and the WHO have no intention of doing right now, not that it matters anymore with over 110 suspected cases in the US already.
So, let's be realistic. If the virus is as communicable as the CDC and independent scientists claim, then we will see the effects here in America.
Never Let A Good Crisis Go To Waste...
But what do globalists have to gain directly from a coronavirus pandemic beyond simple chaos that can be exploited?
Interestingly, a representative from Johnson and Johnson, one of the companies that may end up designing a "vaccine" for the Cronavirus, suggested during Event 201 that a "centralized" global economic authority in charge of funding and procuring vaccines for various nations in crisis was an option for solving the pandemic.
Gee, that sounds strangely similar to what globalists have been demanding for many years now, and the pandemic just happens to offer a perfect excuse for the creation of such a one-world financial authority.  They might claim that such a system would be temporary according to the life of the pandemic, but this will be a lie.
In terms of the economic effects, even if the virus were to stay primarily in China, the Chinese economy is, in basic terms, the largest in the world; it is the biggest exporter/importer and it is central to the now interdependent global economy. If China's economy goes down, even for a short time, this will send shockwaves through all other national economies and supply lines.
In May of last year I published an article titled 'Globalists Only Need One More Major Event To Finish Sabotaging The Economy'. To summarize the situation:
The globalist establishment has created the largest financial bubble in modern history through central bank stimulus, inflating a highly unstable artificial rally in markets while also creating new highs in national debt, corporate debt and consumer debt. The economic fundamentals have been sending alarms for the past two years, and the 'Everything Bubble' is showing signs of implosion. It is only a matter of time before the farce collapses by itself. The globalists need scapegoats, but they also need an event or wave of events so distracting that people will not be able to discern what really happened.
The reason why globalists want a collapse is simple - They need crisis in order to manipulate the masses into accepting total centralization, a global monetary system and global governance. They are also rabid believers in eugenics and population reduction. At the very least, a global pandemic is a useful happenstance for them; but the timing of the coronavirus event and their highly accurate "simulation" only three months ago also suggests their potential involvement, as it comes right as the implosion of the Everything Bubble was accelerating.
Consider this: Even if a pandemic does not kill a large number of people, it still disrupts international travel, it disrupts exports and imports, it disrupts consumer behavior and retail sales, and it disrupts domestic trade. If it does kill a large number of people, and if the Chinese government's response is any indication, it could result in global martial law. With many economies including the US economy already in a precarious balancing act of historic debt vs. crashing demand and useless central bank repo market intervention, there is little chance that the system can withstand such a tsunami.
Make no mistake, the crash has already begun, whether the virus hits the US hard or not. The only question is, will this be the trigger event that accelerates the collapse process that is already in motion?
I took my time in publishing this article because I believed it was important to first watch the Chinese, CDC and WHO response to the virus. If they dealt with the situation quickly then there was a chance that it would have only minor influence on the financial system. They did not deal with the situation quickly or decisively. In fact, over 5 million people left the Hubei region of China before active quarantine and treatment procedures began. The situation has spiraled out of control in China and it is clear that the government is now lying through its teeth about the number of sick and dead.
I would not be surprised if we discover in the next two weeks that the death tally is in the thousands, and the sickness rate is actually in the hundreds of thousands. The fact that China has now quarantined over 50 million people in 16 cities suggests the danger is much higher than they have admitted.  If this is the case, then at the very least, the Chinese economy is about to take a massive hit. If the virus doesn't spread, the economic damage will.
Pandemic Smokescreen, Economic Collapse And "Climate Change"
Look at it this way – The US and China are still currently in the middle of a trade war. The Phase 1 deal was always a joke, because it demands that China quadruple its purchases from the US within the next 1-2 years. This was never going to happen, but the false hope (along with corporate stock buybacks) lifted global stocks out of reversal. Now, there is no chance that China will meet the requirements of the Phase 1 deal and that will soon become evident, as China's economy will grind down under the weight of the pandemic.
If Trump continues tariffs against a nation in the state of a viral emergency he will look like a monster (which I believe is his job as a globalist puppet pretending to be a conservative nationalist). In the meantime, global trade becomes muddled and the last structural supports of the system snap in half.
With global supply lines frozen and travel eventually restricted, trade will stall.  There is no way around this.  This is not just about China, it is about all nations.  And, ultimately, this is not even about the coronavirus, it is about the financial time bomb that the globalist establishment created.  It is about our economic interdependency and the house of cards we have become.  In the wake of calamity, the globalists will call for even MORE interdependency.  They will claim tragedy struck because we were not "centralized enough".
Another advantage of the viral crisis is that the establishment will undoubtedly blame the "climate change" and "global warming" hoax for its impetus.  Even though there is absolutely no concrete evidence linking human carbon emissions to climate change or viral outbreaks, given enough public fear globalists will attempt to link the three things together as if it is a proven fact.  Not only will they have a rationale for an economic collapse THEY created, but they can also present a virus engineered by humans in a lab as an "act of nature", and use it as a rationale for implementing carbon controls
In the next issue of my Wild Bunch Dispatch Newsletter I will be outlining solutions and preparedness options for surviving a pandemic scenario; all is not lost if this event does accelerate as the globalists predicted in their Event 201 model.  It is still hard to say with certainty, but this appears to be the "black swan" that the globalists were waiting for (or planning) all along.  Remaining vigilant in terms of the pandemic is recommended, but do not forget about the economic disaster that will inevitably follow as the coronavirus continues to spread.
Reporters Claim To Have Proof China Lying About Virus Death Toll As Total Cases Near 8,000; Another 12,000 Suspected January 29, 2020
Summary:
Death toll climbs to 170 from 132, with 7,711 cases confirmed in China and 7,814 worldwide, while the number of suspected cases has soared by 2,928 to 12,167 from 9,239 yesterday

Reporter claims local media has evidence Beijing lying about death toll

British Airways cancels flights to China

Trump says he spoke with Xi over the phone

Angry mobs spotted in Sichuan

CDC sending representatives to China

3 Japanese aboard evac flight test positive for coronavirus
Update (1720ET): The government in Hubei has announced another slate of cases and deaths.
CHINA'S HUBEI REPORTS 37 ADDITIONAL DEATHS FROM CORONAVIRUS

CHINA CORONAVIRUS DEATH TOLL RISES TO AT LEAST 169

CHINA'S HUBEI REPORTS 1,032 MORE CORONAVIRUS CASES FOR JAN. 29
Meanwhile, 26,632 people are still undergoing medical observation, and another 4,334 cases are still being treated in the hospital. The CDC has just confirmed that it's sending representatives to China to help suppress the outbreak.
One exception is the article below in red. It is a mathematical statement about the growth of this disease. 
Please note: The contributor of this article, and webmaster of this site do NOT endorse these views - but are 'testing' his computer model to 'see' if it has any validity.
Mathematical Model of Coronavirus Outbreak - All Travel MUST STOP or Death Toll Will Be "Cataclysmic"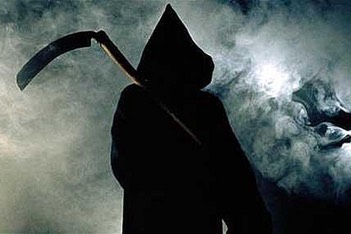 This model is only for the infection rate. Not death rate, and not confirmed cases by the authorities and governments.
It is a mathematical model, based on 4 separate patterns :

-Chinese official number
-The commonly accepted R0 of 2.6 among many epidemiologists
-The Spanish Flu R0 of 1.8
-The weaponized virus R0 > 5

Starting from January 16th, all the patterns, except the one based on an R0(Reinfection Rate of others) of 2.6 failed to apply.

The R0 = 2.6 pattern still stands, for China. However, considering that China is still allowing free travel among all provinces except Tibet (least populated and most isolated one) and Hubei (the epicenter of the pandemic), the R0 will jump over 3 by Sunday, February 2nd.

For the developed countries, with better hygiene, long history of flu (herd immunization) and high quality medical system, the R0 was skewed (for the time being) to 2.2.

If the developed countries will not stop ALL travel by Sunday, Feb. 2nd, the R0 will jump to 2.6.


Everyone can do their own math, applying an R0 = 2.2, for the develop countries, 2.4 for Asian countries and 2.6 for China, while adjusting the index for infection spread chance to 0.7-0.8.
As an example 10 x 2.2 x 0.7, for developed countries and 10 x 2.2 x 0.8 for SE Asia, South and Central America and Africa.
This model is only for the infection rate. Not death rate, and not confirmed cases by the authorities and governments.
It is a mathematical model, based on 4 separate patterns :

-Chinese official number
-The commonly accepted R0 of 2.6 among many epidemiologists
-The Spanish Flu R0 of 1.8
-The weaponized virus R0 > 5

Starting from January 16th, all the patterns, except the one based on an R0(Reinfection Rate of others) of 2.6 failed to apply.

The R0 = 2.6 pattern still stands, for China. However, considering that China is still allowing free travel among all provinces except Tibet (least populated and most isolated one) and Hubei (the epicenter of the pandemic), the R0 will jump over 3 by Sunday, February 2nd.

For the developed countries, with better hygiene, long history of flu (herd immunization) and high quality medical system, the R0 was skewed (for the time being) to 2.2.

If the developed countries will not stop ALL travel by Sunday, Feb. 2nd, the R0 will jump to 2.6.

(The following was removed from the above article by the webmaster around Feb 4, but on March 15 we are publishing  the full article for comparison of what was  predicted -and what is current information, now, in mid-March.)

Everyone can do their own math, applying an R0 = 2.2, for the develop countries, 2.4 for Asian countries and 2.6 for China, while adjusting the index for infection spread chance to 0.7-0.8.
As an example 10 x 2.2 x 0.7, for developed countries and 10 x 2.2 x 0.8 for SE Asia, South and Central America and Africa.

For those that don't want to do that, here is the infection spread, worldwide (except China mainland), starting with today, January 28th, with all the numbers adjusted :


January 28th 00:00 GMT :
Between 3,000 and 4,000 infected people, in different stages of incubation (1 to 14 days).
Presenting symptoms : 37-38 cases.

January 29th, 00:00 GMT :
Between 5,200 and 7,000 infected people, in different stages of incubation (1 to 14 days).
Presenting symptoms : 67-69 cases.

January 30th, 00:00 GMT : Between 8,000 and 12,000 infected people, in different stages of incubation (1 to 14 days).
Presenting symptoms : 103-106 cases.

January 31st, 00:00 GMT : 12,300 - 20,100 infected people, in different stages of incubation (1 to 14 days).
Presenting symptoms : 158 - 168 cases.

February 1st, 00:00 GMT : 18,900 - 30,900 infected people, in different stages of incubation (1 to 14 days).
Presenting symptoms : 243 - 258

February 2nd, 00:00 GMT : 29,100 - 47,500 infected people, in different stages of incubation (1 to 14 days).
Presenting symptoms : 374 - 397.

If by this date, the traveling between all countries is not stopped, and borders are not closed, the epidemic will accelerate. These are the numbers :

February 3rd, 00:00 GMT : 48,000 - 78,000 infected people, in different stages of incubation (1 to 14 days).
Presenting symptoms : 617 - 655

February 4th, 00:00 GMT : 79,200 - 128,700 infected people, in different stages of incubation (1 to 14 days).
Presenting symptoms : 1,018 - 1,080.

February 5th, 00:00 GMT : 139,000 - 226,500 infected people, in different stages of incubation (1 to 14 days).
Presenting symptoms : 1,790 - 1,900.

From this date on - Feb 5, 2020, the pandemic no longer can be contained, without full quarantine, at least for all major cities across the world. This will come with total economic collapse and the panic that will be widespread.