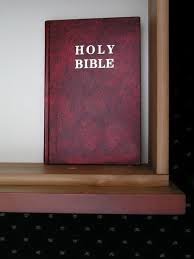 The U.S. Navy has instructed housekeepers to remove Gideon-placed Bibles from every hotel room on its military bases after it received a letter from the atheist group Freedom From Religion Foundation.
"We were told today, June 23, 2014, that due to a new policy by the CEO of NEXCOM, Rear Adm. Robert J. Bianchi, we were to remove the Bibles from the rooms," a housekeeper told American Family Association in an email. "They told us to put them in boxes, where they would be taken to a donation center somewhere."
Earlier this summer, NEXCOM (the Navy Exchange Service Command) issued the directive to bases offering hotel accommodations, ordering them to impound Bibles from 34 Navy Lodge locations and 24,000 Navy Gateway Inns & Suites guest rooms on Navy bases worldwide.
The directive orders lodge managers to contact base commanders and chaplains and facilitate removing the Bibles and other "religious material currently in the guest rooms." The Air Force tried unsuccessfully to remove Bibles from its lodgings in 2012, but after public outcry, the Air Force reversed its decision.
"The Navy is pushing for the mass removal of Bibles in hotel rooms across the country, yet U.S. soldiers are being encouraged to respect Muslims," said AFA President Tim Wildmon. "Where is the priority here—in a country founded on religious freedom? Take Bibles out of hotel rooms but support an Islamic observance. This is a truest definition of a double standard."
Earlier this summer, soldiers were told to respect the rights of Muslims during Ramadan, which ended July 28, through a directive at the Uniformed Services University of the Health Sciences, a Department of Defense medical and graduate school in Bethesda, Md., that urged members of the military to show respect to Muslim colleagues.
"This is a period of great personal restraint and commitment in addition to renewed focus on worship," Brigade Commander Col. Kevin Glasz wrote. "I'd like to encourage you to learn just a little more about this religion, but more importantly, I'm asking you to be considerate and do not consume food or drink in front of our Muslim colleagues; it is a simple, yet respectful action."
Navy officials also ordered personnel serving in Bahrain to dress more conservatively off base during Ramadan, according to a report in Stars and Stripes. Men were ordered to wear long-sleeved shirts and women were told to wear blouses that cover their elbows and skirts or pants that cover the knees.
"Our U.S. soldiers are being asked to respect the Muslim religion while Christians are being categorically discriminated against," Wildmon said. "Such an attack on religious liberty has no place in the United States military."
AFA sent an online Action Alert to its friends and supporters Tuesday, encouraging them to take action and contact Bianchi (phone: 757-631-3600 / email: robert_bianchi@nexweb.org) to ask him why the U.S. military continues to be antagonistic to Christians and to contact Michael Bockelman, VP of NEXCOM, who approved the directive (phone: 757-502-7496 / email: michael.bockelman@nexweb.org).
Supporters are encouraged to express their concern over the removal of the Bibles and to request that the Navy follow the Air Force's 2012 example and reverse this decision.