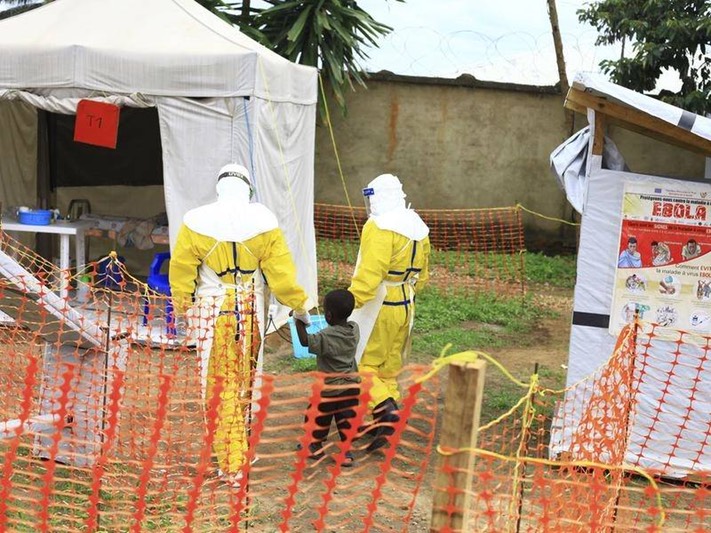 Deadly Ebola Outbreak in Congo Reaches City of 1.4 Million
The Advocate. One hundred people have now died from an Ebola outbreak in eastern Congo with health authorities struggling to contain the deadly disease in the area near the borders with Uganda and Rwanda.
A total of 149 cases of the deadly haemorrhagic fever have been reported in the region, with 118 confirmed and 31 probable, Congo's health ministry said in a statement on Sunday.
Of those 40 cases were cured and health authorities have vaccinated 11,417 people since August 8.
Authorities have struggled to contain the disease in North Kivu province, which borders Uganda and Rwanda. Ongoing conflict, the movement of thousands of internally displaced people and cross-border travel has made it difficult to manage the outbreak.
On Sunday, health activities were suspended after residents in the city of Beni took to the streets to protest against insecurity in the region, the ministry said.
At least 14 people were killed when the Allied Democratic Forces rebel group attacked the outskirts of the city on Saturday evening.
In another case, a patient with a confirmed Ebola infection escaped from hospital before being transferred to a treatment centre, according to ministry. When the patient was found in an unsecured village, authorities had to negotiate with the chief to secure their safe transfer.
The outbreak of the deadly virus began shortly after the country's government in June declared an end to another outbreak – in the west of the country – and lauded those involved for managing to swiftly contain the spread of the disease.
Prophetic Link
"And great earthquakes shall be in divers places, and famines, and pestilences; and fearful sights and great signs shall there be from heaven." Luke 21:11. 
Source References
Another Ebola Alert - September 2018
World Health Organization Deputy Director-General for Emergency Preparedness and Response Dr. Peter Salama warned in a briefing on Tuesday that the spread of Ebola in the Democratic Republic of Congo may soon worsen and become a "perfect storm" which could kill thousands.
"We are now extremely concerned that several factors may be coming together over the next weeks and months to create a perfect storm," the doctor said.
The doctor's remarks come after 55 people have already died from the outbreak which remains one of the most vigilant ever recorded with a reported kill rate up to 79%.
Ebola can be spread to humans through meats for sale at bush markets, bats, and contact with bodily fluids.
More than 11,000 people were reportedly killed from Ebola during the 2013 to 2016 outbreak in West Africa.
Is it possible the latest Ebola outbreak will spread to the U.S.?
Another Ebola Alert - October 2018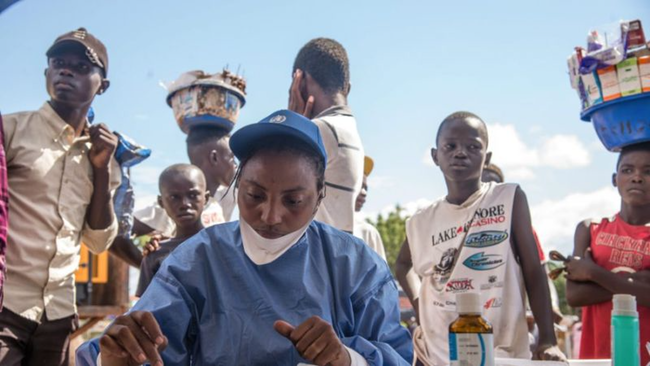 Nurses working with the WHO prepare to administer Ebola vaccines in Mbandaka, in the Democratic Republic of Congo.
Public health officials are expressing deepening concern that the latest Ebola outbreak in the Democratic Republic of the Congo may be spinning beyond their control and could soon spill over into neighboring countries including Uganda and Rwanda.
With Ebola response teams facing restrictions on their movements in a conflict zone, officials fear containment efforts are falling further behind the virus. And if response teams lose sight of where the virus goes, it could spread undetected and unchecked in places where they cannot safely travel.
"At this point in an epidemic, we'd probably be peaking in terms of knowing where the virus is. And now with the insecurity, that's compromised," said Dr. Mike Ryan, assistant director-general of the World Health Organization's emergency preparedness and response program.
To date in this outbreak — DRC's 10th — there have been 161 cases and 105 deaths.
The threat of a widening epidemic was compounded with a discovery last week that two people infected with Ebola had fled from the Congolese city of Beni to Tchomia, near the border with Uganda, prompting the WHO to warn that the risk that the virus will spread to DRC's eastern neighbors is "very high." Previously the risk of regional spread had been assessed as high. (The risk of spread outside the region remains low.)
Uganda and Rwanda, with the help of the WHO, the Centers for Disease Control and Prevention and other international partners, have been preparing for weeks to deal with the possibility of imported cases.
Read more: With short outbreaks and complex permissions, testing critical Ebola treatments is a challenge
Uganda's drug regulatory agency has been going through the process of approving a protocol to use an Ebola vaccine being developed by Merck; that vaccine is currently being deployed in DRC in a "ring vaccination" strategy. Under the approach, people who have been in contact with an Ebola case — and the contacts of each contact — are vaccinated to block the virus's ability to spread.
Uganda is planning to adopt the ring vaccination strategy as well.
But it also intends to pre-vaccinate health workers in high-risk health zones near the DRC border. Initial supplies of vaccine are already in the country and that work could start within days.
"We hope this will start very soon," said Dr. Sose Fall, regional emergencies director for the WHO's regional office for Africa. Fall said he expects health workers in Uganda will agree to be vaccinated with the still-experimental vaccine. Uganda has a long history of Ebola outbreaks — it has had more than any other country except DRC.
"Ugandan health care workers — they know Ebola already. They know the risks," Fall said.
The CDC currently has staff in Uganda working on the vaccination program, said Ray Arthur, a co-leader of the Ebola coordination team for the agency. "The protocols are with the institutional review board, with the government, and the vaccine is in Entebbe," he said.
Uganda — which has been conducting fever checks at border crossings to identify any possible Ebola cases — is monitoring the health of two people who recently entered the country.
The pair, who were discovered in a refugee camp, may have been exposed to the virus because they attended the burial of an Ebola patient in DRC, Fall said. Traditional burial ceremonies, in which attendees may touch or kiss the corpse of the deceased, can be major Ebola transmission events. That's because around the time of death and even after, the skin of a person who died from Ebola teems with viruses.
"So they are being monitored on the Uganda side to make sure that if something happened they will be isolated very quickly," Fall said of the two, who haven't been tested because as yet they haven't shown symptoms of illness.
There is a sense that Uganda, in particular, is well prepared to cope with imported cases. "Uganda has done a fine job," Ryan said.
Arthur concurred. CDC has a country office in Uganda, he explained, and other staff from the agency have traveled to the country to help its health ministry identify where Ebola patients could be treated if cases occur. The CDC has also advised the staff on border health issues and infection control — which is critical to ensuring people with Ebola do not infect other patients or the health workers caring for them.
"Should cases come into the country, we would expect transmission would be quite limited," Arthur said.
Preparedness efforts are also underway in Rwanda, which is further from the outbreak epicenter, and in South Sudan.
While experts have some confidence DRC's neighbors are ready to spot and isolate Ebola cases if there are importations, they appear to feel less assured about how containment efforts are progressing in DRC.
A rebel attack on Beni about 10 days ago killed a number of civilians and led to the declaration of several days of city-wide mourning — days in which shops and schools closed and during which the response teams had to cut back their efforts.
Most importantly the tracking of case contacts suffered, at a time when this critical effort was already failing to register all the people who had been in contact with confirmed cases.
"Our whole strategy is based on knowing where the virus is, identifying cases, identifying contacts, contacts of contacts, isolation, vaccination, community education," Ryan explained. "And that whole strategy is predicated on a deeper and deeper and more and more precise day-by-day knowledge of where the virus is."
The health of contacts who are being followed is monitored regularly; if they get sick, authorities ask to take them to Ebola treatment units — in Ebola parlance an ETU — where they can be treated in isolation and where the risk is low that they will infect anyone else.
But contacts who don't make it onto the follow-up lists don't get offered vaccine. Because they are not recognized as potential Ebola cases, if they get sick their illness may evade detection. They may end up being cared for at home and being buried without proper precautions if they die. That can result in new infections among caregivers or funeral attendees.
In the last couple of weeks, a number of newly diagnosed Ebola patients were people who were not on a contact list. Five such cases were reported late last week by the WHO.
"You should not have cases occurring which weren't on a contact list," Arthur said. "There's been too many of those in the past two weeks."
Fall said further investigation showed all five had been in contact with a known case — which is moderately reassuring.
In the midst of an Ebola outbreak, realizing your contact list was incomplete is bad. But finding a case with no discernible link to other cases is worse. That signals that there are chains of transmission that response teams aren't aware of and aren't tracking. "Then you lose the virus," Ryan said. "The virus leaves the trail."
Drawing up a full list of the contacts of a case is slow and painstaking work, Ryan said — work that isn't well suited to a conflict zone.
"Each one of those is an individual detective story. You need to spend time and sit with the family … 'What happened here? And when did you move there? And what wedding did you go to?'" Ryan explained.
"If you're looking over your shoulder worrying about a bullet coming through the window or the door, these encounters become very, very strained," Ryan continued. "Surveillance officers are nervous. And then if you add into that community mistrust and the misinformation, that participation and the acceptance of the community is affected."
The effort isn't helped by the fact that there are now cases in multiple different communities in North Kivu and Ituri provinces. That expansion of the area the response teams need to cover has created huge logistical challenges.
"We're now in nine health zones," Arthur said. "And the longer the transmission occurs, obviously the greater risk for it to get into an area where's not good contact tracing or there aren't vaccination programs in place."
"Each time there's extension into a new area, all that infrastructure — laboratories, ETUs, contact tracing, vaccination teams — has to be re-established. And that takes time," he said. "So I think we're in a position now where we're playing catch up and that's not the kind of position we want to be in."
UPDATE: OCTOBER 12, 2018 By William Clowes
Ebola Deaths Increase to 125 as Congo Infections Accelerate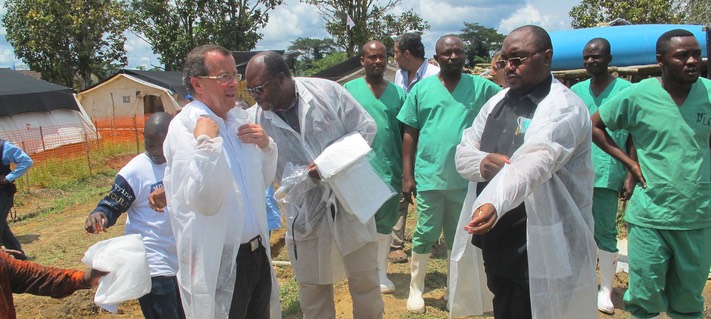 > Outbreak is worst since West African epidemic ended in 2016
   >  Authorities efforts to curb spread hampered by insecurity
The death toll from an Ebola outbreak in eastern Congo climbed to 125 as the number of new infections accelerates, the Health Ministry said.
Authorities in the central African nation are struggling to contain the worst epidemic of the viral illness since it killed more than 11,000 people in West Africa between 2014 and 2016. Their efforts are being hampered by violence in the region, where dozens of militia groups carry out frequent attacks, and local mistrust of health workers.
"Since October, a large increase in the number of new cases has been observed, mainly in Beni," the ministry said in a statement emailed Thursday from the capital, Kinshasa. Beni is a large town near where the latest outbreak in Congo was identified in August.
The World Health Organization has called for urgent funding to help curb the disease's spread.
The response to the outbreak is "becoming increasingly undermined by security challenges in at-risk areas, particularly Beni," the WHO said in a statement published Friday. It cited "incidents of conflict between rebel and government forces, and pockets of community push-back."
Volunteers Attacked

Authorities in the area this week introduced new measures to tackle local resistance. People who harbor Ebola patients and prevent them from receiving treatment in specialist facilities can be sent to prison, while health workers performing safe burials are able to request police protection.
Three Red Cross volunteers were attacked and seriously injured last week while carrying out the burial of an Ebola victim in Butembo, 50 kilometers (31 miles) southwest of Beni.
The rising number of cases is "likely underestimated given expected delays in case reporting, the ongoing detection of sporadic cases, and security concerns which limit contact tracing and investigation of alerts," according to the WHO.
Ebola crisis: WHO holds Emergency Meeting as outbreak spreads
By  Hal Mayer on Oct 17, 2018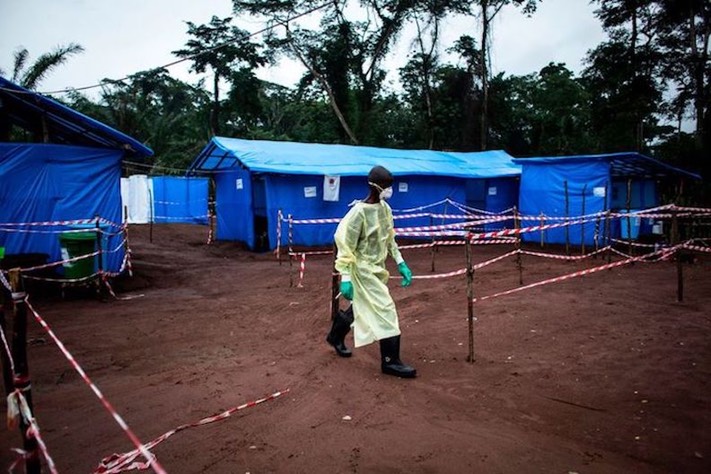 The Express: THE World Health Organisation (WHO) will convene an emergency meeting on Wednesday to decide whether eastern Congo's Ebola outbreak is a public health emergency of international concern, following a spike in confirmed cases and attacks on health workers.
The African country's second major Ebola virus outbreak since January is already nearly twice as deadly as the first and shows no sign of abating.  
The committee of experts is expected to make recommendations to manage the outbreak, which was declared on August 1 and has worsened, threatening to spread into neighbouring Uganda and Rwanda.
On Monday, Congo's health ministry said that in the past week alone 33 people had been confirmed with Ebola virus and 24 of them had died. The latest cases were recorded between October 8 and October 14, health officials said.
More than 200 suspected cases of the virus, which causes a deadly haemorrhagic fever, have been reported in this outbreak, the country's second this year. All but a dozen of them have been confirmed, while some 130 people have died since July. 
Ebola spreads through contact with the bodily fluids of its victims. The health ministry said that 73 patients had received new experimental treatments. Of them, just over half recovered, 20 were still in hospital and the rest have died. 
The number of new cases per day has more than doubled since September, as fear and suspicion of medical authorities and worsening security conditions are hindering efforts at containment, according to local aid agencies.  
"The current spike in Ebola cases and deaths is extremely worrying," a spokesperson for the International Rescue Committee (IRC) said last week. 
The outbreak is centred in the city of Beni, where rebels killed at least 18 people in an attack last month, forcing health workers to suspend operations for several days. 
Four civilians were killed in another attack near Beni last Tuesday, according to the United Nations. The IRC suspended programmes the next day, resuming later in the week but only within the city's limits.  
The region has been a hot spot of armed rebellion and ethnic killing since two civil wars in the late 1990s.
"It's likely that the forced suspension in programming due to insecurity and community resistance in and around Beni are major factors in this [worsening epidemic]," Michelle Gayer, IRC's senior director of emergency health, said.  
The Red Cross also expressed concern that violence was contributing to the rise in Ebola cases in the conflict-hit region, adding that this could be a "tipping point for an accelerated spread of the disease."
"Conspiracy theories, fear and mistrust around the disease have caused people to resist help and hide symptoms," Red Cross spokesman Euloge Ishimwe told the Thomson Reuters Foundation. 
The deadly outbreak is expected to last "at least" another three or four months, but if insecurity continues there could be "a much larger wave building," the WHO has warned. 
Prophetic Link:
"And there shall be… pestilences… in diverse places." Matthew 24:7.