Seabirds, sea mammals, salmon… all forms of ocean life dying in stunning numbers across Pacific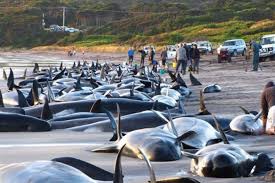 South Yuba River Citizens League (SYRCL), Mar 16, 2017 (emphasis added): The low salmon run size for the Yuba River appears to be part of another regional salmon collapse. The California Department of Fish and Wildlife point to preliminary data from the Sacramento River that indicates salmon runs have also dropped to record low levels. According to Dan Bacher's reporting, last year's salmon run on the Klamath River was a 38-year low… Gary Reedy, SYRCL's consulting salmon expert reports that "A new crash for the Central Valley Chinook salmon is not unexpected."…
The Oregonian, Mar 15, 2017: Worst Klamath chinook run on record forecast — The worst run forecast on record for the Klamath River's chinook salmon could close all salmon fishing along most of the Oregon Coast this summer…
Mendocino Beacon, Mar 16, 2017: Returns of spawning Klamath River fall Chinook are projected to be the lowest on record in 2017… "The salmon runs this year will present a challenge for ocean fishermen and managers throughout the West Coast," said Executive Director Chuck Tracy… "the low forecast for Klamath River fall Chinook is unprecedented"… "This year will be an exceptionally difficult year for ocean salmon fisheries, especially in Oregon and California"… said Council Chair Herb Pollard.
Juneau Empire, Mar 6, 2017: Spring king fishing canceled by emergency order… the Juneau area will be closed for king salmon fishing… biologists expect a second-straight year of record-low king salmon returns on the Taku River. "We've been in a period of low productivity, not just on the Taku, but on several rivers up and down the coast," Juneau Area Management Biologist Daniel Teske said… Nobody knows exactly why Southeast king salmon are struggling, but biologists do know where the fish are being affected: in the ocean… The increased die-off must be happening in a marine environment, Teske said, otherwise numbers on the four rivers wouldn't fall at the same time…
Undercurrent News, Feb 1 , 2017: Japanese salmon fisheries in historic collapse — Landings in Hokkaido, Japan are the lowest in nearly three decades, reports the blog RussGeorge.net. The volume of salmon caught at main fishing ports, including Hokkaido, plunged 30-40% in 2016 from the previous year. The figure represented the lowest level in 28 years. The collapse has been confidently attributed to the starvation of four-year-old Chum salmon…
Russ George, Jan 31, 2017: Japanese Salmon Fisheries in Historic Collapse… News from Japan is terrible for NW Pacific fish… Local fishermen have been increasingly concerned over the fact that the trend of meager catch that continued in recent years has not been held in check and indeed is worsening every year… Given the shortfall of fish and the scrawny condition of the fish that were caught all evidence points to a cataclysmic collapse of ocean pasture primary productivity and fish starving at sea… Across the Pacific ocean salmon pastures have failed…
Minato-Tsukiji, Nov 17, 2016: Japan chum salmon landings the worst in 24 years — This year's chum catch in Japan is very poor, with declines in landings not only in the Hokkaido region but also in Honshu… Also, chum sizes are also getting smaller…
Russ George, Feb 3, 2017: Hundreds of Millions of Pacific Salmon Missing and Presumed Dead — Across 10,000 miles of North Pacific ocean pasture declarations from Japan and the USA are reporting a cataclysmic collapse of Pacific Salmon. The fish are tragically starving at sea as the plankton pastures have turned into clear blue lifeless deserts… Collapse of North Pacific ocean fish pastures has resulted in near total collapse of Pacific Salmon… It's not just Pacific salmon that are dying in the North Pacific all forms of ocean life are being reported dead and dying [in] stunning numbers…
Hokkaido Shimbun, Jan 31, 2017: Salmon landings in Hokkaido in 2016 are the lowest in three decades — The number of salmon caught in Hokkaido in 2016 plunged 29.4% from the previous year… The figure represented the lowest level in 28 years… Local fishermen have been increasingly concerned over the fact that the trend of meager catch that continued in recent years has not been held in check…
Minato-Tsukiji, Mar 3, 2017: The harvest in Hokkaido was the worst in 24 years… Beginning with the Sanriku area, landings all over Honshu were below those of the previous year… The number of returning four-year-olds, which are regarded as the main shoal, was a record low…
KTUU, Feb 14, 2017 (emphasis added): Following last year's massive die-off of Alaskan seabirds, scientists still looking for answers… "Geographically and that it lasted a year, that's unprecedented, [Kathy Kuletz, a biologist with US Fish & Wildlife Service]… "it's certainly well over a hundred thousand and it could go many times that."… "I would say possibly hundreds of thousands were killed… Almost always it's been starvation… Sea birds are top predators," [Heather Renner, biologist with Alaska Maritime National Wildlife Refuge] said. "They're sort of sentinels for our environment. They have definitely let us know that there's change going on in the ocean ecosystem"… Renner says [the birds had an] exceptionally low birthing season… This reproductive die-off meant a "total failure" of murre reproduction that year… "The reproductive die off is something we've never seen in murres before, widespread. The refuge (AMNWR) has been monitoring these colonies for 4 decades and it's like nothing we've ever observed before," Renner said…
AP, Feb 10, 2017: [T]ens of thousands of common murres… starved and washed ashore on beaches from California to Alaska… "it's because there's no fish out there, anywhere, over a very large area," [John Piatt, biologist for the U.S. Geological Survey] said. To see such effect over two sizeable marine ecosystems is extraordinary, he said… Common murres eat small forage fish [which] were largely absent when the National Marine Fisheries Service conducted surveys in summer 2015… A conservative extrapolation indicates 500,000 or more common murres died, Piatt said. Nearly all were emaciated… "In 2016, we had widespread breeding failure at all of the colonies in the Gulf of Alaska, as well as the Bering Sea," Renner said. "It was a highly unusual event. Murres don't fail regularly."… "They died of starvation because there was no food," Piatt said. "There was no food because there was no fish."…
KYUK, Jan 25, 2017: "The birds were underweight to the point of starvation," [Shannon Atkinson of the University of Alaska Fairbanks] said. The number of starved murres, and the length of their die-off, was something no one had seen before, but murres in the Gulf of Alaska were not the only seabirds to die in large numbers last year. Tufted puffins in the Bering Sea also showed up on beaches in large numbers… Scientists struggled to understand why a bird that spends most of the winter offshore eating fish would fly to the coast to die of starvation on the beach… research showed a link between the starving birds and trawl surveys that came up empty, or with only a few of the forage fish normally eaten by murres… "The main result to take away from this is the catch per unit effort for all of these species was very close to zero, meaning that the forage fish was simply not there," Atkinson said.
KUCB, Dec 7, 2016: In the past two months, 300 dead puffins have washed up on St. Paul Island, alarming residents who had only seen six carcasses over the last decade… scientists say it could be the sign of a much larger ecosystem problem… [The co-director of St. Paul's Ecosystem Conservation Office said] 'There are dead puffins everywhere.'… The carcasses came ashore in waves… [Lauren Divine, co-director of St. Paul's Ecosystem Conservation Office] said the extent of the die-off was frightening… "After we opened up the first five, it was very apparent that all of them were emaciated," she said. "Their muscles were completely atrophied. They had empty stomachs. They had gastrointestinal bleeding, which indicates severe long-term starvation. They were in very, very poor shape… So we started digging into this more," said Divine. "What is happening? Where is their food?"… [T]he ECO office is also seeing signs of stress in other species. [Divine] said the island's seabirds laid barely any eggs this season, hunters had a hard time finding sea lions, and crab quotas were cut sharply after a survey showed low numbers.
Related Posts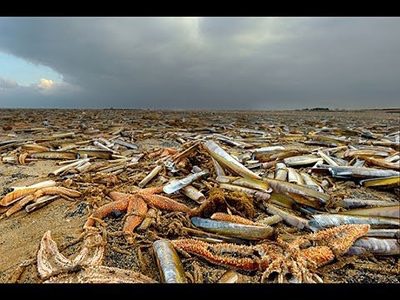 Further south in Oregon, USA, starfish began losing legs and then disintegrating entirely when Fukushima radiation arrived there in 2013. Now, they are dying in record amounts, putting the entire oceanic ecosystem in that area at risk. However, government officials say Fukushima is not to blame even though radiation in Oregon tuna tripled after Fukushima. In 2014, radiation on California beaches increased by 500 percent. In response, government officials said that the radiation was coming from a mysterious "unknown" source and was nothing to worry about.
However, Fukushima is having a bigger impact than just the West coast of North America. Scientists are now saying that the Pacific Ocean is already radioactive and is currently at least 5-10 times more radioactivethan when the US government dropped numerous nuclear bombs in the Pacific during and after World War II. If we don't start talking about Fukushima soon, we could all be in for a very unpleasant surprise.