Ban on Jehovah's Witnesses in Russia
By Pastor Hal Mayer on Dec  2017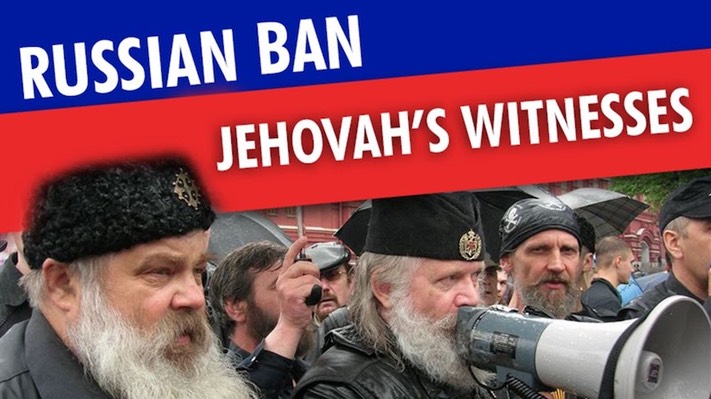 Jehovah's Witnesses in Russia continue to feel the impact of their "liquidation" and the nationwide ban on their exercise of their religion. Regional Justice Ministry branches are preparing to sell off confiscated Jehovah's Witness property. Military offices have denied several army conscripts the option of alternative civilian service. Jehovah's Witnesses also experience increased law enforcement harassment and incidents of vandalism and violence across the country.
Individual Jehovah's Witnesses remain at risk of criminal prosecution if they engage in any expression of their faith, which law enforcement officers may interpret as "continuing the activities of a banned extremist organization." Jehovah's Witness appeals to both Russia's Human Rights Ombudsperson's Office and the European Court of Human Rights in Strasbourg are pending.
Even children can be taken from their parents. A 14 November Supreme Court resolution advises courts to deprive people of their parental rights in cases of the "involvement [of their children] in the activity of a public or religious association or other organization which has been liquidated by a court order, or whose activity has been banned." 
Meanwhile, Jehovah's Witnesses are also trying to stop the prohibition of their Russian-language New World Bible (which has been labeled "extremist"). Vyborg City Court upheld a prosecutors' request to rule the text "extremist" on 17 August 2017. 
The Supreme Court's ruling that the Jehovah's Witness Administrative Centre be declared an "extremist" organization, and its activities prohibited throughout Russia came into force on 17 July, when an appeal panel upheld the original 20 April decision. Some Jehovah's Witness activities had already been halted by a 15 March suspension order issued by the Justice Ministry when it lodged its liquidation suit.
The Jehovah's Witness Administrative Centre and all 395 local communities have now been added to the Justice Ministry's list of banned "extremist" organizations, along with violent far-right and Islamist groups. They are also included on the Federal Financial Monitoring Service's list of "terrorists and extremists" whose assets banks are obliged to freeze.
Jehovah's Witnesses are in a unique position in Russia as the only centralized religious organization with a nationwide presence, which has been ruled "extremist" and liquidated, thus losing its legal personality and forfeiting its property. Other religious associations, which have been banned as "extremist," have either lacked registration (and therefore property of their own), or have been local communities.
On 1 December 2017, the European Court of Human Rights (ECtHR) ruled the Jehovah's Witnesses' appeal against their liquidation admissible and that it should be a priority case. The appeal challenges the liquidation ruling under Article 9 of the European Convention on Human Rights and Fundamental Freedoms (the right to freedom of thought, conscience, and religion), in conjunction with Article 11 (the right to freedom of assembly and association) and Article 14 (the prohibition of discrimination). It also protests specifically against the confiscation of Jehovah's Witness property. The appeal to the ECtHR now also encompasses the Supreme Court's 20 April decision to declare the Administrative Centre an "extremist" organization and ban all Jehovah's Witness activities.
Jehovah's Witnesses also sent an appeal to Human Rights Ombudsperson Tatyana Moskalkova on 9 October. They asked her to use her right to appeal against court decisions, which have come into force. They also drew attention to the "massive, growing violation of human rights that followed the court's ruling…" Believers hope she will by sympathetic. 
On 7 December 2017, after a four-hour hearing, a Judge in St Petersburg's ruled that a 17-year-old property contract was invalid, thus allowing the seizure by the state of the Jehovah's Witnesses' principal site in Russia, consisting of 14 buildings and valued at more than 881 million Rubles (15m USD). "This decision casts a shadow over the inviolability of property rights in the Russian Federation, where no organization, can have peace of mind over its transactions, even if they are officially registered by authorized bodies. Approximately 400 people were forced to move from their homes and their voluntary religious service was disrupted.
Meanwhile, buildings and land owned by local Jehovah's Witness organizations are now in the process of being sold off. Once creditors have been satisfied, any remaining assets will pass to the state and may then be sold. 
At least six young Jehovah's Witness men are potentially being denied their right to perform alternative civilian service. Of the six individuals in five different regions across Russia, three have so far received official refusals and have been called up to the army, while military authorities have yet to make a final decision regarding the other three.
On 14 December, around 40 law enforcement officers entered the Hall of Congresses, a large worship building in northern St. Petersburg and sealed the building. Throughout November alone, police detained Jehovah's Witnesses, required them to disclose their religion, often took them to police stations, obliged them to submit to photographing and fingerprinting, and confiscated their personal belongings. Police, sometimes accompanied by FSB security service officers, have also raided homes and taken the details of anyone who entered the flat. In some cases, they "expressed their scorn for their faith". So far, no prosecutions are known to have arisen from these incidents.
On 23 November in Moscow, a man allegedly pushed a 54-year-old Jehovah's Witness down the stairs of his block of flats. On 16 September, "unknown persons" broke into the building formerly used for Jehovah's Witness worship. The intruders smashed the building's internal doors, set off fire extinguishers, destroyed sound equipment, and broke the burglar alarm. Jehovah's Witnesses reported the incident to the police, and "have no doubt" that it was provoked by the Supreme Court decision.
After the Justice Ministry issued its 15 March suspension order, several Jehovah's Witness leaders were prosecuted, for participation in banned activities. After the ban, these prosecutions stopped. Now, individuals are now at risk of criminal prosecution under the Criminal Code if they continue their activities. 
Danish Jehovah's Witness Dennis Ole Christensen remains in pre-trial custody on charges of "organizing the activities of a banned extremist organization. Christensen is accused of "continuing the activities" of a local Jehovah's Witness community, which was ordered liquidated in June 2016.
The next hearing in the trial of a Jehovah's Witness elder who was accused of hate crimes for allegedly giving sermons in which he "degraded the dignity of adherents of other religions."
Consider, while Jehovah's Witnesses are not God's last day church, their treatment should be a clear indication of the way God's remnant church will be persecuted once the principles have been established. This is Russia today. What nations will be doing this tomorrow?
"Blessed are ye, when men shall revile you, and persecute you, and shall say all manner of evil against you falsely, for my sake." Matthew 5:11.