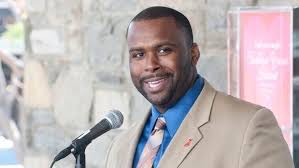 Georgia Demands Eric Walsh's Sermon Notes
October 2016 David Read
The State of Georgia is demanding that Dr. Eric Walsh produce his sermon notes for inspection and copying by attorneys representing the state.  The discovery is sought in the federal lawsuit filed by Dr. Walsh against Georgia for wrongful termination.
As we reported here last April, Dr. Walsh sued the State of Georgia for wrongful termination.  Walsh was hired as director of public health for a three-county district in rural Georgia but then let go after Georgia officials learned that homosexual activists in California had forced him out of a similar job with the City of Pasadena. 
The basic facts of the case have already been established by discovery undertaken in the administrative phase of the case, before it was filed in federal court.  What happened is as follows: (1) Georgia Department of Public Health officials interviewed Dr. Walsh, found him to be superbly qualified, and offered him the job, (2) they then learned of the controversy in California, and assigned several staffers the task of viewing Dr. Walsh's sermons on youtube, which revealed nothing but orthodox Seventh-day Adventist doctrines and beliefs, (3) they then received a telephone call from a constituent named Ken Ragan who said he was the co-chair of the county Democratic Party and a gay activist, and he would arrange protests if the state followed through with its hiring of Dr. Walsh, and (4) they decided they would rather fire Dr. Walsh and deal with any legal repercussions than to be confronted with the Rainbow Nazis and their disruptive thuggery.  
Under federal rules, discovery requests have to be "reasonably calculated to lead to the discovery of admissible evidence."  The sermon notes are arguably irrelevant and inadmissible, because anything not already in the possession of Georgia officials when they made the decision to fire Dr. Walsh has no bearing on whether that decision was rightful or wrongful at the time.  But leaving that aside, the logical premise of the demand for Dr. Walsh's sermon notes is that if his sermons do not pass muster with state officials, then it was okay to fire Dr. Walsh.  In other words, if the state does not like your religious views, you are ineligible for certain jobs.  This is totalitarianism, and a frontal assault on freedom of religion.
"No government has the right to require a pastor to turn over his sermons," Walsh said. "I cannot and will not give up my sermons unless I am forced to do so."
Georgia's demand on Dr. Walsh has been analogized to that of Houston's lesbian mayor, Annise Parker, who demanded that Houston-area pastors turn over copies of their sermons in advance of a city-wide plebiscite on whether gays would be given certain special rights and privileges within the City of Houston.  Houston Pastor Dave Welch said, "I can't believe I'm saying this, but Georgia's demand is even worse than when the mayor of Houston demanded 17 different categories of materials, including sermons, from … us."