Scientists reveal details of unprecedented mass mortality on West Coast that began summer 2011 — "Many millions" of deaths before sea star wasting syndrome — Multiple species wiped out in days — Mortality rate of 99.99% over large region — "No documented event has been so severe" June 4, 2015
Univ. of California (Davis), Jun 3, 2015 (emphasis added): In August 2011, scientists at the UC Davis Bodega Marine Laboratory walked into their labs to a strange, disturbing sight: Thousandsof purple sea urchins and other marine invertebrates were dead in their tanks, which are fed directly by seawater. [The] ocean washed up carcasses of red abalone, large sea stars, and football-sized, snail-like chitons… even more heavily impacted as a population were the millions of purple sea urchins and tiny sea stars that died along a 62-mile stretch of coast… "We might not have known urchins and six-armed sea stars were affected if lab-held animals hadn't died right in front of us," said the study's lead author Laura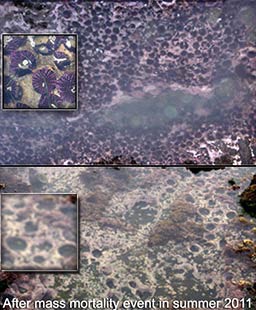 Jurgens… "We're expecting real ecological changes in how these tide pools operate"… this die-off was fast, wiping out these two species in as little as a few days. The die-off also occurred about two years before [observance of] sea star wasting syndrome…
Santa Cruz Sentinel, Jun 3, 2015: [It was] a grim scene, with dead red abalone, purple sea urchins and tiny sea stars rotting across the Northern California shoreline… the same carnage [took place] at the UC Davis Bodega Marine Lab… scientists tallied almost 100 percent mortality of purple sea urchins and six-armed sea stars throughout the 62-mile study area… Researchers found only 10 purple sea urchins in the area once home to millions…
Study by scientists from CA Dept. of Fish & Wildlife, Bodega Marine Lab, UC Davis/Santa Cruz/Merced, Jun 3, 2015: Patterns of Mass Mortality among Rocky Shore Invertebrates across 100 km of Northeastern Pacific Coastline — In late August 2011, formerly abundant intertidal populations of the purple sea urchin [and] six-armed sea star were functionally extirpated from ~100 km of coastline… studies by others indicated moderate to severe impacts on… red sea urchin… and red abalone… There were no obvious physical stressors (e.g., a storm, heavy rainfall)… we did not find a single six-armed star at these six locations… Ochre sea stars and gumboot chitons also experienced elevated mortality… We found only ten surviving intertidal purple urchins out of a prior regional population we estimate at many millions…. [The] mortality rate was therefore >99.99% over 100 km… [N]o previously documented mortality event has been so severe over such a large region… its sudden onset [is] a pattern that is rare in marine systems… typically [it takes] several months or years… [W]e cannot unambiguously ascribe the current die-off to a particular cause or set of causes… A disease outbreak is plausible… The most likely cause… appears to be a toxin produced by phytoplankton… yessotoxins have not previously been known as lethal… the possibility remains that unidentified species and/or toxin(s) were responsible.
Press Democrat (Sonoma), Feb 2014: Biologists were initially stumped by the die-off, which stunned local divers and was erroneously attributed to a red tide. The cause has since been identified as a bloom of microscopic algae called Gonyaulax membranacea, which produce a toxin called yessotoxin…
Watch a video documenting the 2011 mass mortality event here
UPDATE JUNE 15, 2015
Alarms raised on West Coast over unprecedented die-off of nearly endangered marine mammals — More have washed up in last few months than during all of recorded history combined — Experts scrambling to deal with latest wildlife crisis in Pacific — Official: "What's going to happen next?" (VIDEO)
Published: June 10th, 2015 at 10:24 pm ET 


Press Democrat (Sonoma County), Jun 7, 2015 (emphasis added): Fur seal strandings on California coast raise alarm… In what's already a grim year along California's shores for marine wildlife, concern is growing about rare fur seals that are turning up, weak and emaciated… [They're] rarely seen anywhere close to land… About 50 or 60 strandings have been reported so far, with exact numbers unavailable… crews have scrambled to deal with the new crisis… Guadalupe fur seals… are listed as threatened on the federal Endangered Species List… the impact of large-scale losses could be significant, said Moe Flannery [Calif. Academy of Sciences]… The stranding surge comes amid a scramble to address a variety of issues among marine mammals…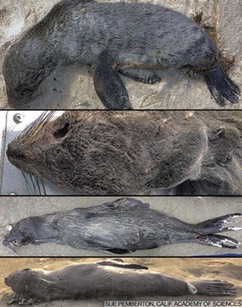 they recovered 33 dead animals in April and May alone… The most Guadalupe fur seals the [Marine Mammal Center] hospital has seen in a given year is four, though usually it's two or fewer… currently [it] has 14 Guadalupe fur seals and has lost 11 since mid-February…
Justin Viezbicke, NOAA: "We're kind of all hands on deck for the stranding community right now."
Shawn Johnson, Marine Mammal Center director: "These little guys are coming in at, basically, birth weight… They're extremely emaciated… This is the first time this has ever happened for us, so it's a surprise… and it's something to be concerned about for the fur seal pups, but also for what's going to happen next."
Sue Pemberton, CA Academy of Sciences:
May 21: Dead Guadalupe fur seal pup #29, since April 4th. Unprecedented in my 21 years of working with marine mammals

May 11: The #guadalupefurseal die-off has kicked in to high gear with #10 in the last week. This is a big hit for these guys

May 7: Collected two more Guadalupe fur seals today as the die-off continues
NOAA (pdf), Jun 1, 2015: Q: Have other marine mammals been affected by this stranding event? A: Yes, there has been an increase in Guadalupe fur seal strandings.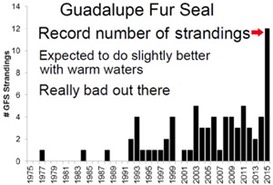 NBC Bay Area, May 27, 2015: Scientists are concerned about the impact of the die-off on the endangered Guadalupe fur seal.
Tenaya Norris, Marine Mammal Center, 2014-2015 Pacific Anomalies Science and Technology Workshop, May 6, 2015 (at 3:02:30):
"Usually we don't see very many of these [Guadalupe fur seals], 0-5 every year since our records began in 1975. This year we've had, I think it's now 16 of these guys… This is a dramatic increase from one year to the next, and from a pretty flat line."

Slide: Record number of Guadalupe fur seal strandings in 2015 — Expected to do slightly better with warm waters – Really bad out there
According to Norris' graphic on Guadalupe fur seal strandings, only 62 have been documented in the 30 years since record keeping began. The Press Democrat reports "50 or 60 strandings… with exact numbers unavailable" for the first 5 months of 2015.
UPDATE JUNE 25, 2015
"Eerie new phenomenon" attacking sea creatures on West Coast — Marine life disappearing from tide pools — Fish, octopus, mussels, urchins, limpets, sea hares "seem to be leaving… there's something going on" — "Experts have no idea what to expect next" 
Published: June 25th, 2015 at 4:29 pm ET 
By 
ENENews
Laguna Beach Independent, May 10, 2015 (emphasis added): Tide Pool Life Diminishes… an eerie new phenomenon, urchin balding, is attacking purple-spined sea urchins in Orange County tide pools, and local scientists are investigating this new mystery… tide pool conditions have worsened over the last year, said Jayson Smith, a Cal Poly Pomona marine biologist… Where once abalone, lobster and sea stars thrived, now sea hares, octopus, small fish, limpets and mussels seem to be leaving the scene, said Smith. The latest debacle leaves urchins with bald spots, where algae takes root, said Jennifer Burnaford, biology professor at Cal State Fullerton… Scientists have yet to understand the urchin-balding syndrome, said Smith… "Things are looking pretty poor right now," he commented. Educators… report seeing fewer urchins at some tide pools and more empty shells. The once-prolific California blue musselsare also becoming increasingly sparse… "We appear to have more than just the sea-star wasting," [Louise Thornton, chair of Laguna Ocean Foundation] said. "We appear to have something else going on. There's something going on because the fish are disappearing."
KUOW, Jun 16, 2015: Starfish Are Still Disappearing From Washington State… it's unclear why the disease is hitting so hard… Sea star wasting syndrome is a gruesome disease and it spread to starfish all along the West Coast. Scientists still don't know a lot about it.
KUOW, Jun 16, 2015 — Host: "Campbell says… the creatures continue to die." Katie Campbell, KCTS reporter: "Scientists are telling me there's just not that many left… When they are seeing some stars coming back, they're just not seeing them grow to adulthood yet." Host: "Wow, you mean they're dying before they even hit maturity?" Campbell: "Yes… It's very strange because this virus was in the water for decades. They found this virus in sea star samples that go back to the 1940s. So what sparked this virus that was seemingly benign to transform into this perpetrator of what's considered the largest marine disease outbreak ever recorded?" Host: "Do they know?" Campbell: "No, they really don't."
KION, Jun 18, 2015: Baby starfish vulnerable to wasting disease – UC Santa Cruz researchers said…  baby sea stars may be more prone to the disease. (Monica Moritsch, USCS Ph. D. candidate): "Right now, we have seen another spring pulse of baby sea stars showing up, and we don't know if they're going to survive the summer." Researchers say unfortunately there's nothing they can do to help those baby starfish.
CBC News, Apr 17, 2015: Researchers… suggests a virus is behind the die-off. However, although pathogen related death is natural, the magnitude of this epidemic is not. Experts have 'no idea' what to expect next… Harvell said the worst part is the uncertainty over the remaining numbers.
Dr. Drew Harvell, Cornell University, Apr 17, 2015: "In the places that we counted, we saw about 90-95% disappearance… The news is not good, we have lost a lot… We have no idea what's going to happen next, I wish we did… We've heard reports from southeast Alaska that there is a fair amount of mortality occurring there now. There is a possibility that a third wave of this epidemic could be hitting there this spring."
Alaska Dispatch News, May 12, 2015: Kachemak Bay sea stars found stricken with wasting disease… Brenda Konar, a researcher at the University of Alaska Fairbanks [said] creatures were stricken by the disease that is bringing lesions, disintegration and, ultimately, death. "They look like they're falling apart. They're melting," Konar said… Konar and UAF's Katrin Iken found disembodied sea star arms in tide pools, she said… the new epidemic is the largest and most geographically widespread on record… But what was striking about last week's discovery was the number of affected sea stars — multiple animals rather than isolated individuals — and the oceanic location, Konar said. "These guys were in a totally oceanic environment where there are no salinity issues and no sediment," she said.
KTVA, May 13, 2015: Wasting disease found in Southcentral Alaska sea stars – Sea stars in Kachemak Bay showed symptoms of a wasting disease, in numbers not seen before in Alaska… "Many scientists thought the disease was not going to come here because our waters are too cold," Konar said. "This is definitely cause for concern."