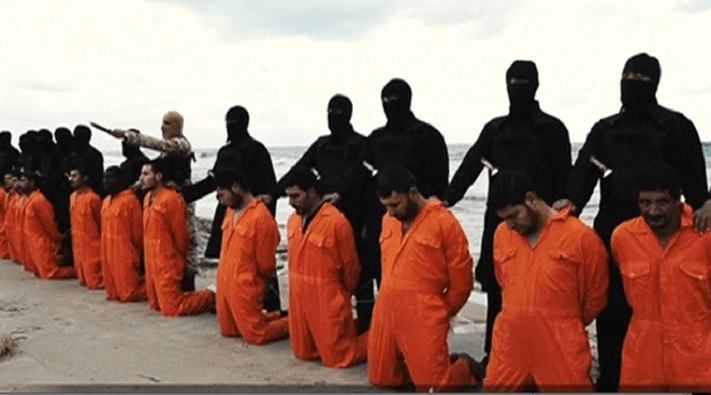 The UK Turns Its Back On Its Christian Roots
The UK is turning its back on Christians. Many have applied for asylum only to be denied. Judith Bergman stated that when the anti-Christian United Nations presented a list recommending 1,358 Syrians for refugee status and subsequent resettlement in Britain, that only four were Christian. The rest were Muslim. However, the UN was kind compared to the UK government. At the end of the day, the UK would not accept even one Christian, but did accept 1,112 Muslims.
The UK decision to maroon Christians, who would face a dire threat, ignored the fact 10 percent of the population of Syria is Christian. The UK's actions are blatantly biased against Christians.
Nigeria's War On Christians
The Christian Post is reporting that Christians are being systematically exterminated (ie genocide in the Nigeria. To date, over 6,000 Christians have been executed by Fulani Herdsmen. Most of the victims are women and children.
The Christian Post stated:
"We are particularly worried at the widespread insecurity in the country where wanton attacks and killings by armed Fulani herdsmen, bandits and terrorists have been taking place on a daily basis in our communities unchallenged despite huge investments in the security agencies," they added, saying President Muhammadu Buhari has failed to bring attackers to justice….
The mainstream media strikes again:
…Although some international news media has sought to characterize the killings as a land conflict between community groups, the church leaders, along with major persecution watchdog groups such as Open Doors USA and International Christian Concern, have all said that Christians are being deliberately targeted…
…How can it be a clash when one group is persistently attacking, killing, maiming, destroying; and the other group is persistently being killed, maimed and their places of worship destroyed? How can it be a clash when the herdsmen are hunting farmers in their own villages/communities and farmers are running for their lives?…
 …The press release also pleaded with the international community, as well as the United Nations, to intervene in the Fulani attacks, fearing they might spread to other countries as well.
Just like the MSM, the anti-Christian United Nations is silent about the wholesale murder of Christians in Nigeria.
The International Society for Civil Liberties and the Rule of Law, Intersociety, stated on Tuesday that a combined total of 1,750 Christians, along with non-Muslims, have been killed both by the Fulani herdsmen, and by Boko Haram radicals, who are a separate terror group. Intersociety also warned of a genocide in its statement.
 Crackdown In China
 On the CSS earlier this week, it was reported that the Chinese government is demanding that the flag of the government be flown on every church building.
This week, the Chinese government has stepped up the pressure on Christians. Under Xi Jinping, he has ordered several churches to be destroyed while others have been forced to remove crosses, paintings of Jesus and precious sacraments to be removed from all churches.
Researchers like Chris Kitze and Mitchell Gerber have exposed the fact that the Chinese government is arresting many minority sects and then extracting their organs from them while they are still alive. This a profit making venture for Communist party officials. Christians are among the persecuted in this endeavor.
Could It Happen Here?
It is no longer a case of could it happen here, it is a case of it is only a matter time until the fate of Nigerian Christians comes to America.
In a study entitled, "The Still Divided Academy" by Stanley Rothman, April Kelly-Woessner, and Matthew Woessner offered irrefutable and uncompromisingly strong statistical evidence that  religious and socially conservative professors must publish more to get the same academic posts. The effect was widespread
George Yancey published a study entitled, Compromising Scholarship, showed that in many academic fields, significant numbers of professors make hiring decisions,which are biased against fundamentalist Christians.
Lance Russum, a humanities professor, discriminated against a 16-year-old dual enrollment student in his Introduction to Humanities class this semester by failing her on specific assignments based on her Christian beliefs and through his otherwise "pervasive, anti-Christian bias."
In a case of "No Christianity Please at Yale, We Are About Academics", an unidentified student was failed on an opinion paper on marriage because he cited the Bible. The professor mocked him and subsequently rejected all future papers because of his Christian world view.
The research base which validates the prejudice being levied against Christian professors and students is voluminous. The number of anti-Christian statements made by professors are to numerous to count.
This may not be genocide, but it represents the marginalization of Christians at many post-secondary institutions. Marginalizing Jews in Nazi Germany's universities was a prelude to genocide. History has spoken, will America listen? America appears to be entering a pre-genocidal phase directed at Christians. Why are pastors still silent?