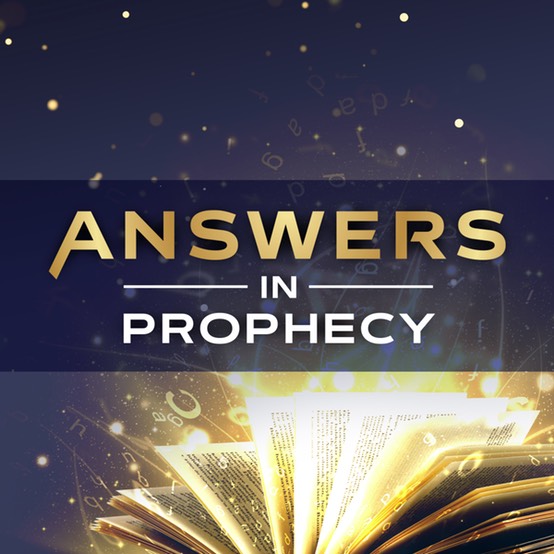 Answers in Prophecy: Surviving the Election (Ep. 1)
In a world of turmoil and trouble, discover how you can not only survive but thrive. Take a closer look at prophecies that describe the event in history that will put an end to all uncertainty forever.

Answers in Prophecy: The Rise and Fall of World Leaders 
(Ep. 2)
Take a tour through a breathtaking prophecy that will remind you that nothing takes God by surprise. He works in and through world events to ensure that His ultimate purpose for mankind is fulfilled.

Answers in Prophecy: Who Really Controls the World? (Ep. 3)
Throughout history many have tried to take control of the world but have failed. This desire to control is still present today. However, there's only One behind the scenes who really controls, intervenes, and saves. Soon His eternal plan will come to a great and grand climax.

Answers in Prophecy: Unlocking the Mysteries of Revelation (Ep. 4)
The book of Revelation is enshrouded in mystery. Yet with the right code, its mysteries can be decoded. Dig deep in the book of Revelation and discover its amazing message of hope and peace.

Answers in Prophecy: Making Sense of Signs and Symbols (Ep. 5)
Something is brewing in this world. It's not life as usual anymore. The Bible provides clues into what is happening and a way to successfully escape.

Answers in Prophecy: Prophecies of Hope (Ep. 6)
The Bible's Old Testament contains hundreds of prophecies pointing to a single event: the first coming of Jesus. That coming 2,000 years ago is the most climactic event in earth's history so far. How we respond to it defines our lives.

 "Time Prophecies That Point to Our Day" (Ep. 7)

There are several prophecies in the Bible that have a beginning, a time span, and an ending. Understanding these prophecies clarifies where in history we live and what to expect next.
 Earth's Final Warning (Ep. 8)

In the heart of the book of Revelation, a solemn warning is found. It's the kind of alarm that, if heeded, will save lives from eternal doom.

Plagues and Promises    (Ep. 9)
For over 6,000 years, the devil has abused the people of Planet Earth. His reign of terror is about to come to an end as God intervenes in a supernatural way. God's people have nothing to fear.

Beyond The Future   (Ep. 10)
When it comes to God, "Happily Ever After" is a reality. It almost sounds too good to be true, but it's not. God has amazing and eternal things in store for all those who have placed their trust and faith in Him.