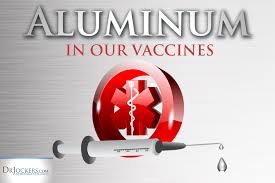 (NaturalNews) Much of the controversy over additives in vaccines has centered around the mercury-containing preservative thimerosal, which is no longer found in childhood vaccines except for flu shots. But did you know that many childhood vaccines contain potentially toxic, brain-damaging levels of aluminum?

Aluminum is included in vaccines as an "adjuvant," a component that boosts the body's short-term immune response in order to produce antibodies to the vaccine agent faster. This very function may be part of what makes aluminum in vaccines dangerous.

Aluminum is also a neurotoxin that has been linked to various types of brain damage.


How aluminum destroys the brain
Numerous human and animal studies have linked aluminum to brain damage, including Alzheimer's disease. For example, one study found that mice injected with aluminum developed behavioral changes and problems with cognitive and motor function. Autopsies later showed that the motor neurons in their brains and nervous systems showed changes associated with Alzheimer's disease, Parkinson's disease and ALS (Lou Gehrig's disease).

Another study, published by researchers from the University of British Columbia in 2013, found that the risk of autism diagnoses in children was directly correlated with how many aluminum-containing vaccines they had received.

Researchers have speculated that many of aluminum's neurotoxic effects might be due to its immune-stimulating properties. They have speculated that this property might trigger autoimmune reactions in certain people.

In fact, immune adjuvants have been linked with a variety of immune-mediated diseases, including some for which there is still no name. Conditions linked with exposure to immune adjuvants include siliconosis, Gulf War Syndrome, macrophagic myofasciitis syndrome and some post-vaccination phenomena. Notably, all four diseases share certain signs and symptoms with each other. This observation led a group of researchers from Israel's Zabludowicz Center for Autoimmune Diseases to propose a new syndrome in 2011, called Autoimmune (Auto-inflammatory) Syndrome Induced by Adjuvants (ASIA).

In a study published in Immunologic Research in 2013, researchers reviewed the evidence linking aluminum adjuvants to neurotoxic effects. They found that aluminum has been linked to both Alzheimer's disease-like symptoms and to the disease itself in adults, as well as to a disease sharing characteristics of Alzheimer's, Parkinson's and ALS. It has also been linked with Gulf War Syndrome. The researchers suggested that aluminum should be considered a potential trigger of ASIA.


Babies get 10 times the adult dose at birth
So why are our kids being injected with aluminum, and how much are they getting?

First, it's important to understand that while aluminum occurs naturally in the environment, the body reacts to injected aluminum differently than it reacts to aluminum ingested in food. That's because when the body ingests aluminum, it works to flush it out as quickly as possible to prevent levels in the blood from rising.

The FDA states that for patients being fed intravenous (IV) fluids exclusively, the IV fluids must not contain more than 25 mcg of aluminum per liter (a liter is roughly equivalent to an adult dose). It also notes that as little as 10 mcg of IV aluminum can cause kidney failure in premature infants or those with kidney problems.

So how much aluminum is in the hepatitis B vaccine, which the Centers for Disease Control and Prevention (CDC) recommend giving to babies on the day they are born? A shocking 250 mcg – 10 times the maximum adult dose!

The CDC further recommends that at the age of 2 months, children be given a round of vaccines that collectively contain between 295 mcg and 1,225 mcg of aluminum, depending on the particular combination of shots used.

By age 18 months, a child following the CDC vaccination schedule may have been injected with as much as 4,925 mcg of aluminum.

Is it any wonder that people have questioned the necessity of strictly following the CDC's vaccination schedule?

Sources for this article include: 

NaturalHealth365.com

NaturalHealth365.com

NCBI.NLM.NIH.gov

NCBI.NLM.NIH.gov

NCBI.NLM.NIH.gov

AccessData.FDA.gov